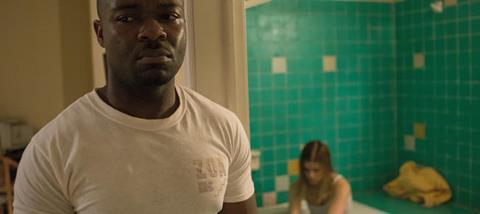 But turn back the clock ten years, and her situation was very different.
One night in March 2005, an intruder smashed his way into her apartment. His name was Brian Nichols, and he was dangerous. On trial at an Atlanta courthouse that day for raping a former girlfriend, he had broken free and shot the judge and several other court officials before making his escape.
But it so happened that Brian had taken hostage a young woman battling a life-consuming drug addiction, who shared his understanding of darkness and despair.
CHRISTIAN UPBRINGING
Ashley says she had been introduced to the Christian faith at a young age, before her own life had begun to career downhill. 'I was a Christian; I accepted Jesus as my saviour when I was about 7 years old. I went to private Christian school, my grandfather was a preacher and we were in the church just about every time the doors were open,' she says.
Ashley says that it was in her late teens that she 'began to chase the ways of the world'. Ashley's first husband, Mack, who she loved despite his short temper and violent tendencies, was killed in a brawl before her eyes. The couple had a child together, Paige. Ashley was left to bring her up alone.
She says that as a result of Mack's murder, 'I began to reach for drugs and try to cover up the negative emotions and feelings that that pain brought me.'
ADDICTION AND SEPARATION
Ashley began to use crystal meth to help her cope. 'It just began to be a way of life for me. A way of life that made me very, very miserable,' she says. She became unable to care for her daughter. Ashley's aunt looked after Paige, so mother and daughter had limited contact.
Brian too knew the pain of separation from his young child. His former girlfriend of seven years had given birth to their son, but had accused him of rape and was in a relationship with another man. Facing a prison sentence, Brian believed he would never see his son again.
As Brian held Ashley hostage through the night, the pair slowly began to share parts of their stories. At one point, Brian asked Ashley to read from the book lying on her table. It was a copy of Rick Warren's The Purpose Driven Life.
She read: 'If you want to know why you were placed on this planet, you must begin with God.'
Later that night she was able to talk to Brian about the forgiveness of God: 'What you've done…it's really terrible, and I know firsthand because someone killed my husband…but to God it's no different than what I've done by lying to my family or doing drugs or stealing from a department store or cheating on my boyfriend. It's no different…not to God. And if he can forgive me, he can forgive you.'
THE TURNING POINT
The trauma Ashley endured that night became a turning point for her: it was the day that she chose to finally give up drugs. 'I made a conscious choice from that point on to never do drugs again, and by the grace of God I haven't,' she says.
'I think when I chose not to do the drugs that I began to look at Brian Nichols through the eyes of God as opposed to through the eyes of Ashley. And I saw a sinner saved by God's grace in him, and I saw a sinner saved by God's grace in me. 'Although he had made some really bad choices and done some really bad things by taking four people's lives, to God it was no different than me choosing drugs over my daughter or any other negative things that I had done. He was loved by God the same way that I was loved by God.'
Ashley believes that it was due to this divinely inspired way of seeing Brian, and her ability to communicate graciously with him despite her circumstances, that he spared her life. After an extensive manhunt, the police tracked Brian down, surrounding the apartment – and Brian made the decision to turn himself in.
If you want to know why you were placed on this planet, you must begin with God
FORGIVENESS AND CHANGE
Ashley says that she has forgiven Brian for his actions that night. She has had no contact with him since, although she did see him in court when she had to testify for about six hours. 'He and I did not even catch eye contact,' she says. Ashley has spoken with his mother, who is a committed Christian.
She also extends grace to the man who killed her first husband, Mack – who is currently serving 25 years in prison. 'I definitely can forgive him for what he did, I mean it wouldn't be fair for me not to,' she says.
The turnaround in Ashley's life over the past ten years is marked. 'I've been married for eight years. I'm a mother to three kids…I'm an X-ray technician and CT technician, but I also do a lot of public speaking because I believe that God gave me this story to tell to help change other people's lives. That's definitely, definitely what my calling and purpose is today.'
THE FILM THAT TELLS THE STORY
Ashley says that she would never have predicted that anyone would make a film telling her story. 'If someone would have told me that ten years ago, I would have said, "I don't know what kind of drugs you're on, but you know, that's just crazy",' she says.
'But I'm definitely grateful that the film [Captive] has been made and that it's made in a way that shows the redemptive power of God. It shows people that it's never too late to turn your life around and there's absolutely nothing we can do to make God not love us. He reached down into the pits of hell that my life had become and he pulled me out. 'I finally realised, when Brian Nichols came into my life and God saved me from that, that he had something left for me.'
Read our review of Captive at Premierchristianity.com/blog