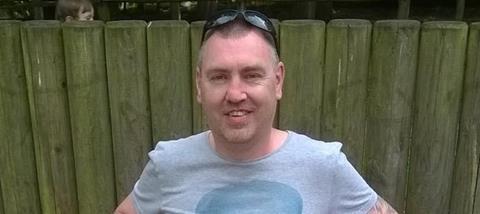 I can remember being 6 years old and seeing my alcoholic father punch my mum in the face.
I would often lay awake in bed listening to my mum screaming and crying when dad came home.
At the age of 9 I started shoplifting. A few years later this had escalated to me and my friends forcing ourselves into peoples homes and robbing them at knife point.
By my teens, I was abusing drugs too - sniffing glue, smoking cannabis and taking LSD.
When I was 15 my friend Warren and I committed burglary. As the police ran after us, Warren stabbed a policewoman in the arm twice in an attempt to get away.
Later that year I was sentenced to three months in a detention centre (DC). It was known as the "short, sharp, shock". We had to march everywhere, do hard farm labour and exercise twice a day, including long field runs. But DC didn't stop me committing crime. It just made me an extremely fit young criminal.
After being given a 10 month Youth Custody sentence for three robberies, I was sent to Rochester Youth Custody Centre.
This again failed to reform me and while on home-leave near the end of my sentence I committed various crimes and went back to the Rochester with cannabis which I smuggled in.
One day after being released, I was arrested for stabbing a man in an attempted street robbery. I was sentenced to eight years for this, which was later reduced to six years on appeal.
For the first few years of this sentence I was angry and rebellious. I regularly got into fights with inmates, and sometimes assaulted prison officers. But by the age of 19 I'd started to settle down a bit and took part in prison education classes, passed exams in English and Business Studies and learned to touch type. I also started trying to write a novel and became interested in filmmaking after I found books about filmmakers and screenwriting in the prison library.
I was released on parole age 20, and because of my interested in filmmaking joined a young offenders project called Battersea Basement Studios, where I researched, wrote and presented my first 10 minute documentary about crime and environmental problems at Wandsworth Roundabout Underpass.
But after a few months, I started drifting back into crime and was arrested for burglary and possession of firearms. I went back to jail for nearly two years. It was there where I tried heroin for the first time.
Heroin and cannabis were the main currency at Camp Hill prison on the Isle of Wight. There was a lot of violence in the jail and sometimes people would get stabbed or slashed or get boiling hot water chucked over them.
When I had 6 months left to serve I got into a disagreement with another inmate over drugs. I went to his cell and stabbed him.
I got into a disagreement with another inmate over drugs. I went to his cell and stabbed him.
After a week in the punishment block I broke down with the pressure of it all. For the first time in my life I poured out my heart to God in prayer. As I did so I was crying and I told God that I didn't want to live the way I was living anymore, or behave the way I'd been behaving for so many years. I asked God to change me and give me another chance.
The next day I was transferred back to a mainstream wing. I didn't become a Christian then, but I know God heard that prayer, and I've never done anything so extremely violent since.
After being released, I went back to Battersea Basement Studios and made an award winning film about car crime. I was also awarded a grant from Wandsworth Youth Development to buy a computer and a grant from The Princes Trust to buy a video camera. I appeared in a Channel 4 documentary and was selected to fly to Malaysia for 10 weeks to do conservation work in the jungle with Operation Raleigh.
It seemed as if everything I touched was turning to gold. But I was still regularly taking cannabis, heroin, crack and ecstasy.
I'd been out of jail for 7 months when my friend Warren asked me to commit a crime with him and I stupidly agreed. We broke into a mansion in Wimbledon Village, woke up the occupants and robbed them. On the way back to Warren's flat we were stopped and arrested by armed police.
For the first few months on remand, Warren and I smoked cannabis daily and took ecstasy once or twice a week. But something strange started happening to me. I told Warren that I didn't want to take drugs anymore, and he moved out of the cell. I then found some Christian books on the landing in Brixton prison, started reading them and attending the prison's church services. After reading a tract, I repeated the salvation prayer on the back of it.
By the time I became a Christian I was already starting to become mentally ill, mainly due to the trauma I'd experienced over the years and the subsequent drug abuse.
When my year in prison was over, I made attempts and arrangements to go to church, but soon backslid and within a couple of months had a breakdown. Three spells in Springfield psychiatric hospital followed, where I was diagnosed with schizophrenia.
I thank God for rescuing me from a very dark and destructive lifestyle
Despite all this, my faith grew. I made new friends with fellow Christians. As they watched my old films, they encouraged me to study filmmaking at college, which I did. In 1999 I started attending Penge Family Church, now Christ Central Church. I met Tara there, and we've been married 14 years. I've got two grown up step children and two daughters age 10 and 12. I've now made many short films, have had three eBooks published, and many articles, letters and poems.
Trying to live as a Christian over the years hasn't been easy, and I still struggle with some old habits. I'd regularly use pornography - even as a Christian. But I've now kicked the habit and haven't looked at porn for over four years.
One thing didn't change though. I've still got schizophrenia. Although the medication has horrible side effects and the illness is in some ways disabling, I'm still fairly well. And I thank God for my wife and family and all the good friends I've made.
Most of all, I thank God for rescuing me from a very dark and destructive lifestyle, and for giving me a future filled with hope and eternal salvation.
Paul Warwick is a 50 year old Christian writer, filmmaker, poet, film extra and photographer who suffers from schizophrenia. Find out more at paul-warwick.co.uk
Click here for a free sample copy of Premier Christianity magazine