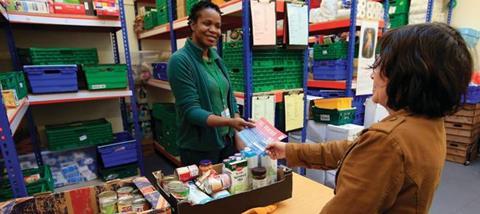 For those of us fortunate enough to have a roof over our heads, food on the table and some savings in the bank (however meagre), austerity has been a frustration, but not a deal-breaker. Rising household bills, stagnant wages and increased food prices have meant less money left over for luxuries at the end of each pay cheque. But for the 14 million people in Britain who live below the poverty line in the lowest paid jobs, or rely on benefits to pay bills, cuts to local services and welfare have hit hard.
According to the latest report on poverty in the UK from the Joseph Rowntree Foundation, poverty is rising for the first time in 20 years. Extortionate rents and changes to the benefit system are among some of the factors pushing people into destitution. The situation is so dire that now 30 per cent of children and 16 per cent of pensioners live in relative poverty – defined as someone living in a household whose annual income is less than 60 per cent of the UK's average of £25,700. There's also a growing trend of 'working poverty': people who are employed, but can't make ends meet because their jobs are too poorly paid.
But there is hope in this bleak picture: churches are stepping up and responding to people's needs, plugging the gap left by austerity policies.
Caring for the vulnerable
The Bradford-based charity, Christians Against Poverty (CAP), provides debt advice across the country through its 500 church-based centres, and its services are in greater demand than ever. Rachel Gregory, the charity's social policy and relationship manager, explains that one in ten people in the UK now live with "problem debt".'
"Our phone lines are busier than ever," she says. "One of the big trends we've seen over the last ten years is that more and more the type of debt people are coming to us for help with is 'priority debt'." These are liabilities that, if left unpaid, have serious consequences: rent, council tax and energy bills, for example.
"Increasingly it's becoming less about credit cards and overdrafts, although that's still a big part of the debts we're advising on, but more and more it's just people struggling to make ends meet."
The professional financial advice CAP offers has been widely praised. David Cameron and Prince Charles have endorsed their work, while Martin Lewis from moneysavingexpert.com has said CAP is "unsurpassed when it comes to debt help".
But as Gregory points out, there's more to CAP than financial advice: "What we see is that when someone is in a debt situation, that's normally just the tip of the iceberg – there's often lots of very difficult personal circumstances going on, whether that's ill health or bereavement. And lots of debilitating circumstances that come with the debt, which might be deterioration in mental health or skipping meals. Relationship breakdown commonly occurs because of arguments that the stress of debt creates. So actually, when we go and visit people, they are often at a very, very low point – about a third tell us they have considered suicide as their only way out of debt."
She explains that Christians volunteering with the charity are providing hope and a holistic package, which helps people rebuild their sense of self-worth. Volunteers are open about their beliefs and offer to pray with clients on their first visit, something Gregory says is welcomed, even by those without a faith.
Poverty in the UK is rising for the first time in 20 years
Last year the charity saw more than 1,000 people make commitments to Christ as a direct result of interacting with a CAP service. The charity is largely able to be upfront about faith because it is funded predominantly through donations, rather than by the government. But unlike others I speak to who believe the state is defaulting on its responsibility to vulnerable people, Gregory takes a more generous view: "It's impressive to see the scale of the Church in action – coming together and acting collectively. I think that, as much as we're dealing with really hard issues that we wish didn't exist, it has given a platform for the Church to demonstrate that actually it's still here and we have so much compassion for the people in our communities: we want to act and we are having a real impact."
Feeding the hungry
When Josh was kicked out of his family home at 16, he was taken into foster care. But several housing changes down the line and a relationship breakdown ended with him living in a youth hostel struggling to get by. "Things just went downhill," he explains. "It's not a nice way to be when you have no food."
Josh is one of the many people who has received emergency food supplies in a time of crisis. There are thousands of other stories like his – mostly ordinary people experiencing unexpected circumstances without a safety net to fall back on.
Latest figures from the Trussell Trust – the charity that works through churches and local communities to run foodbanks – show that last year more emergency food was given out than any year since their records began. A total of 1.3m packages were distributed to "people in crisis"; much of this driven by those on income support who can't afford the basics. According to their data, issues with a benefit payment remains the biggest cause of referral to a foodbank across the UK, accounting for 41 per cent of referrals.
Liam Purcell from Church Action on Poverty believes the Church has done a great job responding to the huge demand, but thinks Christians must also ask the bigger questions about cause and effect. "It's essential that we meet this immediate need and feed hungry people, but actually those numbers of people should not be going hungry in a rich country like the UK, and we need to challenge the government to take action to build a fairer society and not just leave it to churches to plug the gaps when people are left destitute," he says.
"It's the prophetic role of the Church to speak out not just to feed the hungry but to say: the kingdom of heaven is not a place where these kind of things happen and that's the kind of world we want to be building together."
Welcoming the stranger
When images hit our TV screens in 2015 of exhausted and frightened Syrian families travelling miles to escape their bullet-riddled communities, only to drown in rickety boats in the middle of the Mediterranean, a group of parishioners at St Monica's Catholic church in Greater Manchester were stirred to action and started to discuss among themselves how to help. The following day Pope Francis announced from the Vatican that he wished to see every European Catholic parish welcome a refugee family.
Sean Ryan – one of the 25 likeminded Christians at St Monica's – could never have imagined his desire to help would lead to the heart of government and pioneering a new way for the Church to partner on a crisis of international proportions. Ryan, who now holds an MBE for his work with refugees and is employed by the diocese's official charity Caritas Salford, encourages and equips other churches to welcome Syrian refugees.
He explains how St Monica's came to be the pilot parish for the Home Office Full Community Sponsorship Scheme: "Once Pope Francis made that call, obviously that gets taken very seriously by the Catholic Church, so Bishop John Arnold in Salford immediately got on the phone to the CEO of Caritas in Salford…At the same time nationally, the Catholic Bishops' Conference was also in discussions behind the scenes with government and with other faith groups – Church of England, Salvation Army and Citizens UK – to discuss what we, as a country, were going to do to respond to this refugee crisis. And out of those discussions they formed the National Refugee Welcome Board, and within a matter of weeks, Theresa May [then-home secretary] had announced that we were going to launch our own private sponsorship scheme..."
The parish group was invited to the Home Office in London to codesign the scheme, before applying to be its first parish sponsor. Three years on, the Syrians who arrived are all mastering English and have integrated into their Flixton neighbourhood, thanks to the passion and commitment of the church which pulled together to raise funds, organise language classes, enrol their children in schools and manage accommodation arrangements. Ten other parishes in Salford and nationally, across 17 Catholic dioceses, 44 groups have applied to the scheme. Other denominations are following suit, providing financial, emotional and practical support to Syrians arriving on our shores.
When I ask Ryan whether the experience was a positive one for St Monica's, he replies: "It's absolutely transformed the vibrancy of our parish, the togetherness of people, the sense of pride in collective endeavour…We feel completely blessed and enriched by meeting Samir and his family, who are just heart meltingly delightful."
We need to challenge the government to build a fairer society
You could argue that the government is getting an awfully good deal from this partnership, effectively outsourcing their responsibilities to Christians who, under the scheme, are part-responsible for providing financially for refugees. When I put this to Ryan, he says what's most important is the well-being of the families. "The place to start from is what works...and we should be following this model because it's better than anything else."
Ryan describes it as an example of Christians leading the way in "a quiet revolution in the way we welcome the stranger". He hopes the influence and reputation gained from the Church's effective and compassionate delivery of this programme will provide Christians with a louder voice on asylum policy more generally, paving the way for a less hostile environment for those seeking refuge in the UK.
Perception vs reality
Although life-changing work is going on in churches all across our country, a new survey by Barna Global, in partnership with World Vision, shows that non-Christians are as likely to "not know about the UK Church's impact in the world" as they are to have a "negative opinion of it".
Public perception is clearly taking time to catch up with reality; nevertheless what the last ten years have shown is that the Church is engaging with the third sector and government in innovative and meaningful ways. As Russell Rook, founder of For Refugees, puts it: "A cynic might say that ongoing cuts in public service spending has meant that churches have had to fill widening gaps in the welfare state. An optimist might say that government has recognised the role that churches play in helping to hold local communities together and the impact that Christians can have when they put their faith to work."
Surely we're called to be glass half-full people that seize every opportunity to share the love of Christ with our neighbours no matter the cost? In so doing we might just be better placed to access the halls of power and promote more humane social policies, which tackle injustice and reduce poverty for future generations.
Click here for a free sample copy of Premier Christianity magazine