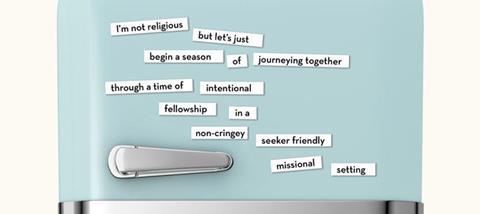 Every subculture has its own language, and Christianity is no exception to this rule. Terms such as 'holy', 'hallelujah' and 'hypostatic union' may be bandied about inside the Church. But how many Christians, let alone non-Christians, understand what they mean?
It can be difficult to explain the good news without any jargon. But while many religious words can't be avoided, perhaps some of the clichés could be?
When I pray for 'my brother in the Lord', it's normally because I've forgotten his first name. And the theological basis for 'God helps those who help themselves' may be lacking. There is a similar problem with 'God has a wonderful plan for your life'. Does our idea of 'wonderful' equate to God's idea of 'wonderful'? What about Christians who are martyred for their faith?
Then there are the phrases which seem overly pious. 'And now for a time of fellowship' can seem rather too grand a description for a 30-second chat over a digestive biscuit and cup of coffee. And don't forget the acronyms: WWJD, FROG and PUSH are three of the most common. There's also LIC, PTL and IHL. Top marks go to readers who know what they all stand for. Answers overleaf.*
This is not to invite an overly cynical attitude. While one person may scratch their head or even sneer at a Christian phrase, another believer could be drawing genuine encouragement from it.
With this in mind, author, theologian and funny-man Nick Page has analysed ten of the most popular Christian phrases for us.
1. GOD WON'T GIVE YOU MORE THAN YOU CAN HANDLE
Nick believes this phrase is theologically accurate and true (it's rooted in 1 Corinthians 10:13: 'No temptation has overtaken you except what is common to mankind. And God is faithful; he will not let you be tempted beyond what you can bear. But when you are tempted, he will also provide a way out so that you can endure it.'). But it can often be deployed at inappropriate moments.
'God doesn't give us more than we can bear: I think that's absolutely true except that at the moment it sure feels unbearable,' he says.
'In our culture we're not particularly good at just sitting and being with people. We want to fix things and help. That means we will say things that might well be true but probably aren't helpful at that moment.'
2. GOD IS REFINING YOU
'For years I thought there was some kind of secret smelting sub group of church where they would go home from church and boil lead or something,' Nick says.
'If you look at the way that image is used in the New Testament [1 Peter 1:6-7], it's about suffering. We don't use it in that way. We talk about purification but not one which involves being heated up to boiling point.'
Nick says it's often easier to sing clichés or jargon in worship songs than use ordinary language. 'A song doesn't sound worshipful if it doesn't have a lamb or a refining fire or a two-edged sword in it.'
3. THUS SAYETH THE LORD…
Nick says the more honest version of this saying is 'I think the Lord is saying…'
'But people don't like that. They want more certainty and they want to sound like an Old Testament prophet.'
Nick argues there's a discipline to being straightforward and honest with our language. 'By getting God involved it puts our motives above question. We have to be much more careful at looking at our own motives for doing things and saying things,' he comments, adding, 'I feel led to say that. Bless you.'
4. LOVE THE SINNER, HATE THE SIN
This is one of the most common Christian clichés, but its popularity may be waning. Pastor and author Jarrid Wilson argues the phrase 'isn't working'. Tony Campolo has proposed an alternative: 'Love the sinner, hate your own sin.'
Nick says the phrase works well when talking about sins such as murder. But when used in the context of same-sex relationships, this phrase can be deeply hurtful.
'The complication comes when I feel what you're calling a sin is part of me…It doesn't work where people feel their behaviour is bound up with who they are' Nick says.
5. IF GOD BRINGS YOU TO IT, HE WILL BRING YOU THROUGH IT
'What about people who get killed? I suppose he brought them through it in a way,' Nick muses. 'But I'd rather not be brought to it, if it's all the same to you?'
6. IS THIS A 'GOOD IDEA' OR A 'GOD IDEA'?
'Years ago, when we were starting things up, people would say, "Yeah, but is this your idea, or is it God's idea?" You end up going, "I have no idea! I don't know!" I had the idea and he made me, so maybe it's his? If it's not his idea I guess it won't happen. If it's my idea and he thinks, "Oh, Nick has had a good idea," I'm ok with that.
'We want to ordain everything. We want to sanctify everything. Everything has to have a bit of holy water sprinkled on it. I think sometimes good ideas are just good ideas.'
7. I'M NOT RELIGIOUS, I'M A CHRISTIAN!
This phrase, along with 'It's not a religion, it's a relationship' makes sense to many evangelicals. But say it to the average non-Christian, and they'll likely stare at you with a very puzzled look on their face.
Nick says the phrase started as 'an attempt to make a differentiation between those who observe religious formulas and those who are followers of Christ'.
CLICHÉS ARE OFTEN WAYS OF AVOIDING THE HONEST LOOK AT OURSELVES THAT GOD WANTS US TO HAVE
He says the phrase cuts to the heart of the genuine difference between being a churchgoer and a disciple. 'People have such a bad image of religion. So you want to challenge that.'
But ultimately Nick says this phrase, when taken at face value, is not true. 'If you're a Christian you are religious, because religion is to do with faith and following God.'
8. WHEN GOD CLOSES ONE DOOR HE OPENS ANOTHER
'Yeah, and quite often there's a 15ft drop on the other side of the one he's just opened!' Nick jokes of this phrase, which isn't found anywhere in scripture.
'It's the religious equivalent of "There's always another fish in the sea". If someone's girlfriend has left them and you say "there's always another fish in the sea", the answer is, "Yeah, but who wants to go out with a haddock?"'
Nick says the phrase is true, but it's not necessarily helpful.
'It's trying to say is there'll be other opportunities. They'll be something else. This is not the end of the world.
'It's true. But it lacks compassion in that moment. Clichés can lack insight and compassion.'
9. GOD ISN'T AGAINST WEALTH YOU DON'T NEED TO SELL AND GIVE IT AWAY
'It's the love of money that is the problem, not the money itself,' is another phrase you may have heard - it's rooted in 1 Timothy 6:10.
Many clichés only tell half the story. Nick calls them 'deflectors'.
'People feel defensive and perhaps they don't feel they can be honest about saying, "I'm working through this whole money issue and I don't know what the answer is. I don't feel I can give it all away."
'These kinds of sayings and clichés are often ways of avoiding the discussion we've got to have and the honest look at ourselves that God wants us to have.'
10. THAT WAS A DIVINE APPOINTMENT
The language of 'divine appointment' is common among many Christians. A chance meeting is not a coincidence, but a 'God-incidence'.
Nick says religious clichés such as 'divine appointment' are symptomatic of a wider problem where Christians are ashamed of anything perceived as 'ordinary'.
'We don't think it would be a good enough prayer to say, "I hope I'm in the right place at the right time, Lord."
That's a perfectly decent prayer. But we want to make it slightly more than that and make it a 'divine appointment'. It just makes everyone involved sound holier, including God!
'All the terms we use, all the Christian terminology we use, was once ordinary,' Nick explains.
'When the first Christians decided to call themselves ecclesia [a Greek term usually translated as 'church'], they weren't picking a new term, they were just using the term for the town council. God loves the ordinary. So I don't think we should be afraid of ordinary speech.'
DECIPHERING THE JARGON
Not all clichés were created equal.
'The point about clichés is they're clichés because on the whole they've been proved to be true,' Nick says. 'They're useful phrases for people so they have a truth to them.'
The issue with them, he says, is not so much that they're false, but rather that sometimes they are used in inappropriate or glib ways.
Nick wonders if it's time to retire some clichés, which used to be helpful. He says clichés are created when helpful phrases are overused and begin to lose their impact and meaning.
'Sometimes we can sanctify an activity by giving it a Christian name or piece of Christian jargon. Why do we keep saying "fellowship" when we just mean getting together or having a good time?'
This thinking is also behind the title of Nick's book And Now Let's Move into a Time of Nonsense (Authentic).
'You don't say "now we're going to sing" because it sounds too ordinary or basic. Instead we "move into a time" of doing it. It just sounds that little bit more holy.'
Many clichés are simply often repeated truths. Others are an invention of Christian culture.
Someone used to sign their letters and emails to Nick with 'in his grip'.
'Which is lovely,' he remarks, 'but it sounds a bit uncomfortable.'
Translating Christianese
We asked some Christians to offer translations to some common Christian phrases. Here's what they said:
'It will be a non-cringy event...' (It couldn't be a more embarrassing place to be, let alone bring a friend to.)
'We are in a season of' (At the moment)
'God's given me a word for you' (This is what I think you ought to do)
'Has anyone any items for prayer?' (Any juicy gossip, anyone?)
'Mmmmmm.' (When uttered during prayer times this means 'I agree')
'Can I tell you something in love?' (Steady yourself, this is gonna hurt)
'I feel led' (I think this is what God wants me to do, but don't quote me on it!)
'I don't feel led' (I do not, under any circumstances, in any way shape or form, want to do this)
'On fire for God' (Very excited and passionate about faith)
'A Bible that's falling apart belongs to someone who isn't' (A way to compliment friends who don't look after their Bibles)
'Glory' (pronounced 'Ger – lorrrieeee', meaning 'magnificent!')
'Let's raise our Ebenezers' (Let's acknowledge God's goodness)
'How is your walk? Are you walking with the Lord?' (This has nothing to do with physical exercise and everything to do with spiritual development)
'Amen' (I agree with your statement/prayer)
'Sow a seed' (Give us your money)
'You can't out-give God!' (But please try. We need your money)
'We're going to take up a love offering' (MONEY. Now!)
'God helps those who help themselves' (I'm not helping you)
'Let go and let God!' (Calm down)
'Bless him' (A nice Christian-sounding phrase, often uttered after a not-so-nice-comment about another person)
'Preach it, brother!' (I like what you say)
'Can I get a witness?' (Does anyone agree with me?)
'Why don't you turn to the person next to you and…' (Horror grips the congregation)
'I covet your prayers' (Please pray for me)
'Hedge of protection' (Not a gardening term)
'It's Adam and Eve, not Adam and Steve' (The least compassionate way possible of sharing your view on same-sex relationships)
'I'll pray for you' (Often genuine, but sometimes used as a way to end a conversation)
'Can I share something?' (Can I tell you something?)
'Praise report' (A story about something good which happened)
'Daddy God' (Either an appropriate or inappropriate rendering of 'Father God', depending on your theology)
'Backsliding' (A description of other Christians who are less committed than you)
'Jezebel spirit' (A description of a person, usually female, who is seductive or divisive)
Praying for 'travelling mercies' (Asking God that you would reach your destination in one piece)
'Small group' (aka community group, house group, home group, life group, connect group, mission group, cell group and…pastorate)
'How is your heart?' (This is not a medical question)
'Let's give God a clap offering' (Applause, please)
* LIC - Love in Christ / PTL - Praise the Lord / IHL - In his Love