Have you ever seen a dream die? Been so absolutely sure that something was right – that God himself was behind it – only to see it fail? That's what happened to Martin Saunders, and it took his faith to the edge
It was May 2019, and I was in the quaint seaside town of Swanage in the South of England. My family had gone to the beach for the day and I was sitting in a coffee shop with a particularly unwelcome to-do list of work in front of me. The main item: to pull the plug on the project which I, and many of the team at Youthscape, had been working on for the last year – a Christian festival for young people that I'd titled 'Satellites' (a name pretty much no one else was on board with).
Having developed an exciting concept for an event to help teenagers connect with the Christian faith, I'd failed on three significant counts. We had no venue capable of holding the event; we couldn't hire anyone with the skills to make it happen; and, most crucially of all, we had no money to pay for it. Satellites was finished, before it had even left the starting blocks.
Having made a few public announcements about Satellites – initially scheduled for the summer of 2020 – I was now responsible for making a counter-announcement; the one that no event organiser ever wants to make. I had to draft the cheery social media posts and emails that were to be released, simultaneously, at noon that day, explaining that, as it turned out, we had misheard God on this one.
It was as if the imposter syndrome I'd experienced for years had been proved right
As I tried to craft this coordinated cluster of disappointment, I was flooded with feelings of self-doubt and personal failure. It was as if the imposter syndrome I'd experienced for years had been proved right. I finished writing, sent them off to our marketing manager and waited for the announcements to appear. At midday they were released into the wild: the demise of Satellites was public.
Five minutes later, my phone flashed with an incoming call from an unexpected number. A cruel reminder of how this had all started, one year earlier.
Hearing God in the shower
I distinctly remember being in the car park of my local supermarket when Mike Pilavachi called. A very ordinary moment – complete with two restless children in the backseat – suddenly flipped into extraordinary. He was calling to tell me the news that would soon rock the youth ministry community: after almost 30 years, he had made the decision to draw the Soul Survivor youth festivals to a close. The words hit me hard in the chest. I'd grown up at Soul Survivor; my faith became three-dimensional there. I'd taken groups of young people for nearly two decades as a youth leader. It had never even crossed my mind that this institution – responsible for so much good and so many young people finding faith over the years – could one day come to an end.
And there was more: Pilavachi had decided to invite three organisations to take over the reins – not to run Soul Survivor events, but to create new festivals that would take on the baton of leading young people to Jesus in a field each summer. The Vineyard and Elim denominations were the first two. And, like Charlie Bucket sliding open a Wonka bar to see a sudden flash of gold, Youthscape was being invited to be the third.
My surprising initial reaction – remember, I'm fairly sure I'm an imposter – was no. I didn't tell Mike that, of course. I thanked him for his call and for the legacy of the event he had built, and promised to consider his proposal. Yet despite my natural excitement at being invited to be part of Soul Survivor's succession plan, I could only think of reasons why we wouldn't be able to do this. Youthscape was a fantastic organisation with a reputation for innovation, but we were small and agile.
We were at our best creating disruptive resources, provocative pieces of research and comparatively small events. A festival for young people would be a massive, expensive undertaking. While we were grateful for Mike's faith in us, I worried it was somewhat misplaced. I committed to praying about the idea but, from the start, I was preparing to politely decline.
At first, as I prayed, I heard nothing. No sense of direction from God; no rush of feelings that I could attribute to the Holy Spirit stirring my soul. So it was a major surprise when (I believe) I heard God's audible voice as I holidayed with my family some months later. In the unexpected surroundings of a French campsite shower, to be precise. When I say that God spoke, I mean that I suddenly, very clearly, heard a single word uttered right above my head. "Satellites."
I pondered this for the rest of the day, completely flummoxed. For weeks I had been overwhelmed by the enormous logistical implications of running a large-scale event; the long and exhausting effort to persuade people to bring their young people along, plus the nagging feeling that, surely, Mike had got it wrong; I was the wrong man for the job. Crucially, I didn't even have a concept idea. Besides calling it Soul Survivor 2, I felt zero creative spark about the whole thing; a fairly deadly sign in the world of innovation. But, after that shower, something inside me changed. I knew God had a plan – I just had no idea what it was or what the word 'Satellites' meant.
I had to explain that, as it turned out, we had misheard God on this one
That evening, as my wife and kids retired unusually early to their camping lilos, I sat with a notebook and scribbled feverishly. The word 'Satellites' took on a sudden, urgent and profound meaning: a metaphor for the way in which our lives should orbit God, like moons around a planet. There was more too; a complete set of values for a life lived his way: devoted to God, dependent on his Spirit, committed to his kingdom. I wrote for hours.
This was going to be the foundation of a festival for young people – one that would call them to the adventure of following Jesus, in a lifelong orbit, like satellites. I returned to England and, after conferring with Youthscape's visionary CEO, I would tell Mike Pilavachi that, unexpectedly, it was a yes from us. Satellites was born.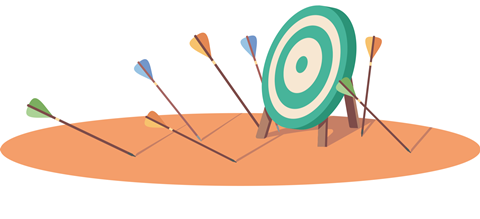 Doubting and death
Less than a year later, as I sat in that coffee shop and re-read the email that had just hit inboxes across the land, I struggled to comprehend the point of this ultimately fruitless journey. Why had God audibly spoken, only to apparently contradict himself? Had I imagined the whole thing? Or worse, was I now hearing voices?
Alongside the confusion, another emotional response was rearing up: shame. How embarrassing would this be for me personally? Not only had I stood up publicly to pronounce this apparently God-given vision, but I'd even gone as far as writing a book about it, thankfully unpublished, but now in need of some major rewrites. I thought I was about to give years of my life to something when, in fact, I'd just wasted one…on nothing.
But this is a story about faith and doubt; about seeing things die and wondering if resurrection will ever come. God gives us dreams, and sometimes they come true. Sometimes though, they seem not to, and we're left to reflect on what God might have been doing through the painful process of watching a dream die. At this point, I could certainly see that God was giving my character a gruelling examination. Maybe that was what this was all about?
I mentioned earlier that five minutes after letting the world know that Satellites wouldn't be launching, I got an unexpected phone call. I realise that five minutes sounds like a careless exaggeration, so let me be clear – it was literally five minutes after I'd drawn a line of failure under the whole thing. The call was from a friend who I'd been trying to speak to for weeks, who in turn had been trying to get hold of a wealthy friend of his for months.
He had, he explained, finally spoken to this man and organised a meeting for me. That single meeting, when it occurred, resulted in a financial gift so large that it put the entire project back on track. But it only happened after we had announced the festival's demise. Without wanting to misappropriate Jesus' words when he talks about his own death in John 12:24 – we had to experience the seed falling to the ground before it could bear any fruit.
Suddenly, other things began to fall into place; the key elements of the project by whose previous absence I'd judged my failure. A phenomenal project manager agreed to join us; the East of England Arena – home to the final few Soul Survivor events – offered us a home. Some very generous people got behind this simple vision of young people living with God at the centre of their lives. The ball was now well and truly rolling.
And then the Covid-19 pandemic arrived.
We pressed on over Zoom, hiring a small team and aiming to launch in summer 2021, but for a second time, nagging doubts began to surface. Once again, I found myself asking God: "What's going on?" This time it wasn't just about me – an individual self-indulgently wallowing in self-pity because his dream was in shreds – the whole Youthscape team was invested. People's jobs rested on our ability to make this thing happen. Despite all the answers to prayer and the sense of things falling into place, had I in fact got this catastrophically wrong all along? Was this never my place, never my calling?
While we had begun to dream up a really creative and exciting festival, there was no way that the pandemic-scarred world, fearful of meeting in large groups, would be ready for it in 2021. Through a lot of hard work, cost-cutting and yes, that government furlough scheme, we survived to the point of being able to delay for one more year. But if it didn't happen in the summer of 2022, we all knew that this time, it really was the end.
"Lord," I asked, in more than one emotional prayer walk around the woods near my home, "what are you doing?"
Resurrection moments
Above the sea of faces, I could just make out a young girl. She couldn't have been older than 13. But with a look of determination, and in front of all her peers, she got to her feet. Within seconds, others began to follow. It was as if someone had lit a match; hundreds of precious teenagers – including members of my own youth group, and even my own family – started standing in response. The presence of the Holy Spirit was tangible.
It was the hot, sticky summer of 2022, and I was standing in front of several thousand young people, simply explaining that God loved them; that he sent his Son to die for them; that their life would make immeasurably more sense if they made him their focus. Teenagers from more than 100 youth groups were crammed into the arena and, having arrived with little concept of what this event was – and in many cases, even who Jesus was – they'd found themselves drawn in to the gravitational pull of the God who loves them. The worship had been loud and celebratory; the teaching down-to-earth and real. And now, they wanted to know Jesus for themselves.
This is a story about faith and doubt; about seeing things die and wondering if resurrection will ever come
It's a cliche but, often, we cannot make sense of what God is doing in the context of linear time. Perhaps I am unusually fortunate: this story, while it took several years to unfold, has a certain sense of resolution to it. I experienced the troughs of despair and self-doubt, but I also got to stand on the mountaintop and enjoy some comprehension of what God was up to all along. I recognise that, for some, this just isn't the case. The troughs are deeper and, perhaps, more final. The waiting much longer. Sometimes, that resurrection moment is never observed; maybe it does not come in the way we would want it to. I have great friends who are still waiting for their redemption story to kick in; some who have lost hope entirely that it ever will.
I refuse to make any grand assertions about how God works. But what I do know is that he called me. He was with me in the struggles and the doubt, and I saw thousands of tiny miracles along the way. All along, God was weaving another small part of his grand story and, in his kindness, he allowed me to see the resolution and be satisfied. But even if he hadn't, he would have been no less at work in it all. Fundamentally, that is what it means to live a God-centred life. His will be done because, ultimately, he is God.
This summer, we'll hold another Satellites, and while I am sure we'll see miracles, salvation and the slow, wondrous joy of watching young hearts turn to God, I'm also expecting setbacks. But I'm learning to trust a little better, and I have also become accustomed to expecting the unexpected. This is the way of following Jesus, of course; he never promised it would be comfortable or safe. He often isn't. But as CS Lewis wrote, he is good. He's the King. The centre of our lives, who calls us into an orbit that makes sense of it all…in the end.

Martin Saunders is the Director of Satellites, a new youth event helping young people to put God at the centre of their lives. His new book We Are Satellites, is out now, published by SPCK.
View full Profile