At least 64 Christians have been killed, thousands displaced and entire villages razed to the ground in Manipur. While reports from the region vary, Ben Cohen from Open Doors says the extent of the violence has dramatically increased in recent weeks. He unpacks the factors driving it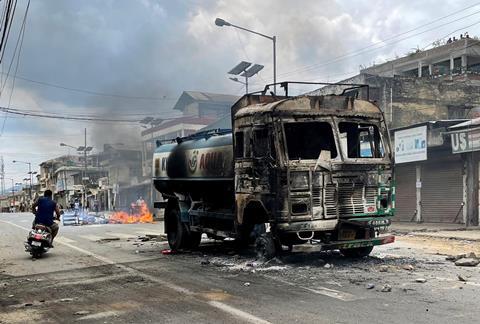 The violence in the Indian state of Manipur has made international headlines.
Ethnic and religious violence in India is commonplace, but the extent of what has happened in recent weeks is on another level.
Rioting mobs have killed at least 64 Christians, and injured hundreds more. The mobs have desecrated, vandalised, and burned down more than 230 churches. Thousands of Christians belonging to the Kuki-Zomi tribal people are now homeless after having been forcefully displaced from their homes.
The state of Manipur is in the far north-east of India, and borders Myanmar. It is populated by several tribal groups, including the largely Hindu Meiteis, who are the majority tribe. There are several other indigenous groups including the largely Christian Kuki-Zomis. There have been long standing tensions over land ownership between these groups.
Violence erupted when members of various scheduled tribe groups of Manipur held a largely peaceful 'Tribal Solidarity March' on 3 May. The initial attacks came from members of the Meitei.
Entire villages and at least 1,700 houses were destroyed in the attacks. In the end, both Meiteis and other groups were involved in the violence. However it was the Christian tribal groups, especially the Kuki-Zomis who were disproportionately affected.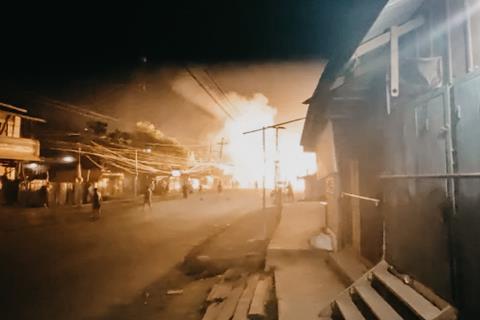 What was the problem?
Kukis were protesting a directive from Manipur High Court, which instructed the state government to give the Meitei people Scheduled Tribe status.
Kukis are among the most disadvantaged socio-economic groups in India and to address this imbalance they are recognised by India's Constitution as having Scheduled Tribe status. It means they are awarded certain rights and quotas around representation, land ownership, jobs and education as well as other forms of affirmative action.
Kukis fear that rewarding Meiteis with the same benefits would erode their own rights. They worry that it could dilute their protections and political representation as a minority.
Christians in Manipur are likely to face more persecution through forced conversion, physical violence and loss of life
Meitei people, who are largely Hindu, dominate the state's political and economic landscape and reside in the Imphal Valley in the main. They are numerically the biggest ethnic group in Manipur, making up 53 per cent of its population.
Meanwhile, tribal groups such as Nagas and Kuki-Zomis are largely Christian, and only make up around a third of the state's population. However, they live in the state's forests and dominate 90 per cent of the area geographically.
The insecurity of the Meitei community is hinged around the fear of losing their land in the Imphal area if they are not granted the Scheduled Tribe status. The Kuki-Zomi tribe has been accused of illegally encroaching upon forest land and providing shelter to Chin refugees who have fled Myanmar following the military takeover.
Ejected
In April, chief minister of Manipur ordered a major eviction drive of Kuki from their ancestral forested land, causing uproar. The minister said the move was to curb illegal poppy cultivation in the hills of Manipur. The state government also sees these villages as harbouring Myanmar immigrants, mainly from the Chin communities who have ties with the Kukis. The government says the influx of Chin refugees has led to more deforestation, poppy cultivation and drug menace within the state. In response the government carried out a massive eviction campaign, driving out several Kuki villages.
Historically the dispute over land and protected rights has very much been an ethnic issue, but tensions have been made worse by India's ruling party, the Hindu nationalist Bharatiya Janata Party (BJP) and its ideological fountainhead, the Rashtriya Swayamsevak Sangh (RSS) – a far right paramilitary group. Many accuse the RSS of stirring up nationalist sentiment among the Meitei people to push their political agenda of Hindu nationalism, otherwise known as Hindutva, in the state.
Poisoning relations
Vishnu Reddy, a partner of Open Doors in the region says the ethno-religious hostility has been stoked by the growth of Hindutva nationalism.
"Like so much mob violence directed towards non-Hindu minorities, this has been fuelled from outside the region," he said. "Members of the Hindu nationalist RSS group have been trying to radicalise the Meitei for many years now."
So, while the violence is in part a boiling over of simmering tensions, it has been greatly exacerbated by radical Hindu ideology which has begun gaining traction among the Meitei community.
Ngaineilam Haokip, an academic at university in Kolkata who grew up in Manipur, told Christianity Today that the violence had taken on a strong religious flavour. "In this pogrom, the Hindu Meiteis not only burned down churches belonging to tribals but also churches that exclusively belong to Meitei Christians," he said. "They targeted their own brethren who follow Christ by burning their churches."
Human rights lawyer Nandita Haksar wrote on news site Scroll.in that identify politics had "poisoned" the atmosphere of Manipur.
She said: "Tribal communities feel the Bharatiya Janata Party that is in power in the state is playing a dangerous communal politics by backing the Meiteis as "Hindus", as against the tribal peoples who are predominantly Christian.
"Hindu nationalism has allowed the burning of churches and growing religious fundamentalism in the valley."
Other commentators say that the three days of violence showed signs of being planned for, with allegations of Meitei people being armed with guns.
Although people from both the Meitei and Kuki communities have been killed and displaced, the violence against the Christian Kukis has been disproportionate.
The violence has calmed down for now. However, the Indian army sent in a unit of the Assam Rifles to keep the peace, a curfew was imposed, and the internet has been suspended.
Living in fear
However, many people don't feel safe to return home, if their homes are still standing. 35,000 people have fled and are seeking refuge in army-run displacement camps. Christians from both the Meitei and Kuki side have fled their homes and are being forced convert to Hinduism by Hindu supremacist group Arambai Tenggol.
On the ground, people do not have food or shelter and are still facing threats of physical violence. Food supply lines and military trucks are being burnt. Access to ATMs have has been cut off. Food prices have quadrupled, along with the cost of fuel.
Partners of Open Doors in the region fear that the situation could worsen. They say that Christians in Manipur are likely to face more persecution through forced conversion, physical violence and loss of life. There are also threats of spreading violence in neighbouring or near neighbour states Tripura, Assam, Meghalaya, and Arunachal.
Open Doors is working with its partners in the region to provide urgent aid and medical support. They will also be providing legal aid and advocacy support for those that have faced violence or destruction of property.

Ben Cohen is the head of media and PR at Open Doors UK and Ireland, a charity that speaks up for and supports Christians around the world who are persecuted for their faith. When he's not gazing at a screen he is frantically unpacking his life's artefacts or looking at the world slightly askance.
View full Profile