Natalie Williams has been the grateful recipient of many a cooked meal over the past 6 weeks. She explains what the experience has taught her about Church, community and herself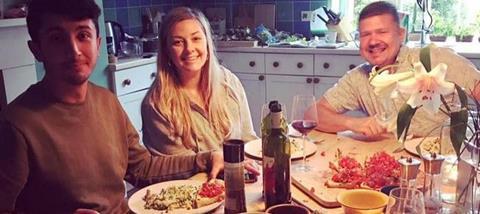 I recently turned on my oven for the first time in 47 days. For the previous 46 days, I'd eaten with friends every night (and lots of lunchtimes and a few breakfasts too).
One night, I took a friend with a chronic illness out for dinner. Once, I smuggled myself into a church venue team's BBQ, even though I hardly ever visit their venue, let alone serve on its leadership team! Another time I feasted on some glorious Syrian food at an event celebrating how Hastings (where I live) has welcomed refugees and asylum seekers. Twice, I benefited from other people's birthday afternoon tea treats, courtesy of one of the most generous guys I know.
But most of the time, my friends cooked for me. One brought lasagne to the office for me when she knew I was working through to an evening meeting. Another even came to my house to make me cinnamon toast for breakfast – especially kind as she knows that cinnamon is one of my favourite things! Six of the dinners in this run were with one family, whose house feels like it's become my second home.
Several of the meals have been out of town – I've eaten just down the road in Battle, Bexhill and Brighton, but also farther afield in Manchester, Bury St Edmunds, Norwich and Great Yarmouth. I've shared meals with families who feed me most weeks, people I've never eaten with before, and friends I haven't seen for years.
Rising to the challenge
This season of feasting with others came about because last year I inadvertently went for 17 days being fed by friends. When I realised, I mentioned it during a talk at a church in Cambridge and got a round of applause! Afterwards, I joked about seeing if I could go a whole month, and decided that if I ever noticed I was getting close to matching the 17 days again, I'd see how far I could take it.
During the 46 days I've posted about various meals on social media. It's been fascinating to see how people have reacted both online and in person. When I was about halfway into this, one friend who often cooks for me found out that he hadn't during this time, so he hastily invited me over for a Sunday roast. Another friend who has never cooked for me told me she'd be upset if she saw on social media this had ended before I'd gone to her house for dinner. "I'm a feeder," she said. I'd never even visited her home before, but I ended up having a lovely meal there.
I was planning to end the food-with-friends run on day 40, mainly because I'm an introvert and had started to crave an evening at home. But some friends conspired against me, arranging between them that the one who lives 150 miles away would order a takeaway for me, so I could get an evening home alone but still be fed by a friend. It was amazing, though I'm not sure what to make of the fact that he included an eye-watering scotch bonnet dip as part of it!
The response hasn't been entirely positive: one friend has taken to calling me a scrounger; my mum says (jokingly, I think!) that I should be ashamed of myself (though she's fed me a couple of times during this season); a few people have asked me what good I'm doing with the money I'm saving (though it's actually cost me more, as I've often taken wine, dessert or even tin foil and lime on one odd occasion); several have said they hope I plan to reciprocate and have everyone who's fed me over to mine for dinner – a couple have suggested they should all come at the same time!
Earlier on in this experience, I tended to tell people it's because I can't cook or can't 'adult', or because I've persuaded my friends that I can't take care of myself or they feel sorry for me because I live on my own.
The humbling truth
Actually none of those things is true. The truth that has been hammered home to me during these 46 days is that I am deeply loved. It has been remarkable, not for the number of meals I've had, but because of how healing and restorative it has been.
As I wrote that last sentence I started to cry. I rarely feel lonely, but sometimes I'm acutely aware of my 'aloneness' – I'm single, I don't have children, I live on my own, and the only relative I see on a regular basis is my mum. Over the last few years I've struggled from time to time with the fact that I am no one's top priority.
Please don't get me wrong. My life is pretty incredible, for the most part. I have so, so much to be thankful for. And I am. But this 46 days of food with friends has been such a precious time where the reality of how valued, loved and even adored I am by my friends has sunk in on a profound level.
The friend who ordered the takeaway for me sent it with a note saying: "Lots of people love you, celebrate you, and have been blessed by you – and I love that you get to see a little bit of how much you're loved and celebrated by being blessed in this way."
Another friend responded to some criticism of this season on Facebook by writing: "We hang out with you and feed you not because we think you can't afford food, not because we think you're incapable of cooking food, not because we think you need help 'adulting', but because we love you. We love your company – having you around enriches us and does us good!"
There's been a lot to laugh about during this season: even I have thought it was getting ridiculous at points. But God has used it to powerfully communicate to me that I am not only loved and liked by him, but by dozens of people around me too.
Please may I encourage you to invite people to dinner with you? To look out for people to welcome into your home and your family? To see if there's someone you can bless with a takeaway or dinner between meetings? Jesus ate with people all the time. Read through the gospels to see how life-changing it was to eat with Jesus, and know that he's inviting you to bring that life-change to others through the simple act of sharing meals.
The primary way I experience church and friends as family is through meals. As I've shared so many meals with others over this time I've tangibly felt hurts heal, wounds close, and restoration come. It's been beautiful.

Natalie Williams grew up in relative poverty in the deprived seaside town of Hastings. She became a Christian at 15, which changed her life completely. Natalie has been involved with Jubilee+ since its first year, and took over from founder Martin Charlesworth as Jubilee+ chief executive in April 2021. Natalie is the co-author of four books, including A Call to Act and Invisible Divides. She is passionate about the church being a place of overflowing mercy, especially for those trapped in poverty.
View full Profile