Jesus wasn't on Jodi Jackson's radar until she was invited to a Christian alternative to Halloween. Two years later, she can't stop praying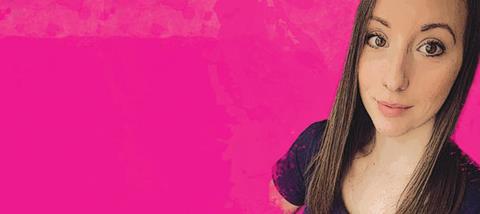 My nan was a Christian, and when I was a young girl she always encouraged me to pray before I went to sleep, but as I grew up, I never really had a faith. Two years ago I met a friend, Emma, through my children's school. I didn't know she was a Christian and I later discovered she had been nervous about admitting that she went to church. I always thought Christians were a little bit weird and talked to you about the Bible all the time, but Emma wasn't like that. One day she invited me to a Light Party at her church – St Matthew's in Tipton. I don't think she wanted to say it was about avoiding Halloween, so she just said it was similar to a bonfire night. I thought: "Oh, OK, we'll go, but I'll bring the whole family for back-up." My other half was reluctant to join us.
The Light Party was so welcoming and so warm and relaxed; it wasn't at all as I had expected. Even my other half was impressed. We walked in and it was full of normal people! I was expecting people dressed in suits fora formal Sunday service, but I turned up in my puffer jacket and wasn't out of place. Everyone was smiling and asking how we were. It was a really welcoming and lovely atmosphere. We decorated biscuits with the children and had our photo taken as a family – I've still got that picture, it's so lovely. The kids got goodie bags and towards the end of the evening there were fireworks. We really enjoyed it. It was the warmth of the people that struck us most.
Alpha
When we got home, I looked through the leaflets that were in our goodie bags and there was one for Alpha. I thought: "I'm not doing anything like that. No chance I'm going to do a course or even go back to the church, unless there's another event on." I pushed the thought aside. Then at Christmas-time Emma invited me to a pantomime at the church. Again, it was really welcoming and the kids loved it – they were in their element. I came away from that thinking: "Actually, I might try this church. I might go to a Sunday service and see what it's like." But I couldn't pluck up the courage to go.
Towards the end of the year, Emma invited me to the Alpha course starting in January. She was doing it to strengthen her faith and said it was for people who wanted to explore Christianity. I asked her whether it was going to be at the church and she said it would be at the curate's house and that we'd have lunch and a discussion. I thought that was a bit intense. I couldn't imagine just walking in there and being cooked for. It felt cheeky. But I did go – and I haven't stopped going.
The presence of God
The moment it really clicked for me was when I went to an encounter evening at the church about six months after starting Alpha. It was a healing evening and in that service I felt a warmth within me; I felt the presence of God. Right there and then I knew: this is real. I've got such a strong faith now. I'm still amazed when I think about it. The feeling and the presence of God on that evening was joyous.
During that service someone had a word about pain in their lower abdomen that I felt was for me, but I wasn't brave enough to ask for prayer. Seeing everyone else being healed in front of me was incredible. I went home and prayed about my condition and said sorry to God for not responding. After going to several church services I did eventually get the courage to ask the prayer ministers to pray with me, and my condition has improved slightly.
A new life in Christ
I'm more of a positive and calm person now that I have God to talk to. He gives me peace and good advice. I try to be more like Jesus and I often think: "How would Jesus go about this? What would Jesus do?" It's reassuring just to know that he's there and that he's got a plan for me. I used to be such a worrier. Even when I started the Alpha course they all knew that I was a worrier, and they can all see the change in me. I just think: "I'll be fine. He's got my back. He'll look after us."
We've got our own little Connect Group and WhatsApp for those who were on Alpha, and I don't know where I'd be without those ladies. We're all mums and we can bring the children to the group if we need to. We talk about everything and pray together; they are like my family. Two years ago I never would have thought I would have Christian friends who I'd be praying with. I feel really blessed to have them all. If it wasn't for them, I wouldn't have faith like I have now – they have really encouraged me.
As a family we've had a few problems financially and I've previously suffered with depression, which feels like it's trying to come back. Even now I feel I'm being pulled away from church, but I won't let that happen; I just pray harder. It seems like all I do at the moment is pray. My other half comes with me to the big services around Easter and Christmas. He's not yet a believer but he sees me praying, and when my prayers get answered he's amazed. The kids are coming to faith slowly. They come to the services and I would say they are on their way to becoming Christians.
Jodi Jackson was speaking to Megan Cornwell
Order a free Light Party Pack for your church at scriptureunion.org.uk

Megan Cornwell is deputy editor of Premier Christianity magazine. She previously worked at the Guardian and The Tablet. When she's not writing and editing features or interviewing well-known Christians she can be found scrambling around the floor with her one-year-old and pretending to be a puppy with her five-year-old. She loves all things faith, ethics and journalism, and her tea strong, with lots of milk.
View full Profile