Our editor reviews They'll Never Read That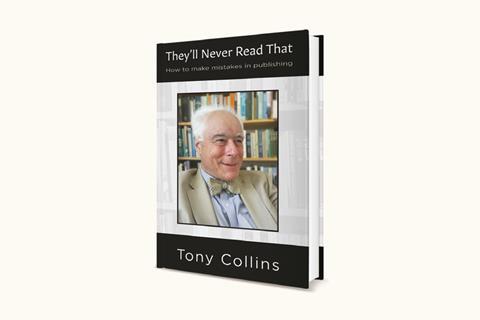 After four decades spent commissioning books, it's only fair that Tony Collins has the chance to write his own. If anyone should know what makes a successful Christian book, it's him. Despite the often self-effacing nature of this memoir (the subtitle is 'how to make mistakes in publishing'), Collins has played a vital role in bringing to print modern-day classics such as Frank Peretti's This Present Darkness, Brother Yun's The Heavenly Man and Neil T Anderson's The Bondage Breaker.
You might think that wading through 250 pages concerning the inner workings of the niche world of the UK's Christian book industry would be a bit dull. But Collins is adept at engaging the reader, and bookworms will be fascinated by this glimpse behind the scenes. He has worked for every Christian publisher you could name (and plenty you couldn't) and was at one time the proprietor of Premier Christianity's predecessor, Renewal magazine.
Collins' decision to write honestly about separating from his first wife, and the serious health problems faced by his daughter means this is a book that touches the heart as well as the mind. The publishing legend explains how his Christian faith has impacted his biggest life decisions, but he does this in a way that is down to earth and real, coming across as theologically astute, while avoiding the traps of sentimentality and being overly spiritual. As it has been said many times before in Christian publishing: "Don't be put off by the cover." This is a very good book.


Sam Hailes is the editor of Premier Christianity, the UK's leading Christian magazine. He also serves as editorial director for the Premier media group. Sam is husband to Stacey and Dad to Evelyn and Ezra.
View full Profile