The 81 year-old's latest project sees him musing on God, forgiveness and his own mortality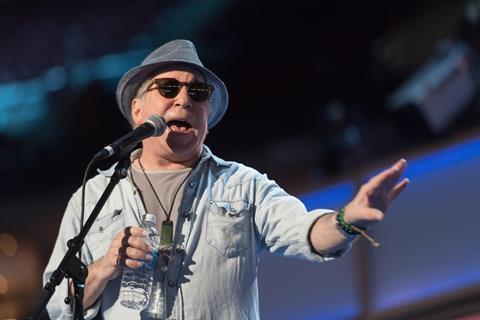 Paul Simon's new release Seven Psalms is so blatantly spiritual that it has turned a few heads, but scratch under the surface of his music and you find that he has been pondering deeper things for years.
Christianity Today magazine noted that his 2011 album So Beautiful or So What made several best-of-year lists, including their own. One of their headlines the next year was Simon admitting, "God comes up a lot in my songs."
Only four years ago, in an NBC interview, he said, "You get to a point where you have a mastery over what you're doing; then you say, 'What is it that I'm supposed to do with the time I have left?'"
Seven Psalms – both its intense lyrics and the way the release came about – has revealed some of the answer to that question.
How it came about
We often hear of artists telling us that the music was "given" to them, but Simon is very specific about how and when this one was telegraphed through.
In the trailer for Seven Psalms, he tells how in January 2019, "I had a dream that said, 'You're working on a piece called Seven Psalms.' The dream was so strong that I got up and wrote it down, but I had no idea what that meant. Gradually, information would come. I would start to wake up two or three times a week between 3.30 and 5 in the morning, and words would come. I'd write them down and start to put them together."
He even shows the notepaper he first used and the time he woke from the dream that fed him the words (1:59am). The sheet is now framed on his office wall.
Simon wasn't even sure what a psalm was, so had to go to the Bible to check it out. And between the initial advice that he would write his piece and getting those night-time phrases, he spent a year working on little guitar pieces.
What it is – and isn't
Simon insists that this is not a collection of seven songs, but a single piece of acoustic music to be heard all the way through. Despite seven headings, the first psalm, with its more discernible tune, reprises a few times throughout the work. It is the flexible spine of this meandering ragtag collection of phrases.
The first part ('The Lord') is like a conventional song, but with its verses, choruses and bridges jumbled somewhat; Simon simply singing and playing (his guitar work intricate and unexpected in places), all enhanced by the lightest instrumentation – largely a few small bells.
This whole thing is really an argument I'm having with myself about belief
Simon lists images of God ("The Lord is my engineer / The Lord is the earth I ran on…") that are fresh and respectful, but the section ends with the somewhat startling, "The Covid virus is The Lord / The Lord is the ocean rising / The Lord is a terrible swift song / A simple truth, surviving."
This darker tone reveals what lies behind much of the release. He says in the trailer, "This is a journey for me to complete. This whole thing is really an argument I'm having with myself about belief – or not."
Questions, contradictions and ponderings are sprinkled across the lyric sheet, some visible, some implied.
What about God?
Simon has previously revealed that in his questioning, he had spoken not only with the Dalai Lama, but had spent an afternoon sharing tea, biscuits and questions with evangelical theologian John Stott.
In this release, his notion of God is largely Christian. Underlying his understanding of death and afterlife are gospel concepts ("And I the last in the line / Hoping the gates won't be closed before your forgiveness") and regular references to "The Lord" underline his specific suspicion of who gives him these dreams.
From the Old Testament, Simon sings of "The sacred harp / That David played to make his songs of praise" and there is direct reference to the incarnation when he sings, "Go carry my grievances down to the shore / Wash 'em away in the tumbling tide…all that really matters is the one who became us / Anointed and gained us with his opinion."
Life and death
Simon is clearly wrestling here. It's hard to know which influence is stronger: the direct gift of the dream and words, or the increasingly acute awareness of his mortality. Either way, it seems he wants answers.
"I've been thinking about our troubled nature / Our benediction and our curse / Are we all just trial and error / One of a billion in the universe?" and later, "I have my reasons to doubt… Two billion heartbeats and out / Or does it all begin again?"
As the work comes to a close ('Wait'), he focuses on what is to come, although desperately pleading for more time.
"I want to believe in a dreamless transition…I don't want to be near my dark intuition / I need you here by my side / My beautiful mystery guide / Wait / Life is a meteor…Heaven is beautiful / It's almost like home / Children get ready / It's time to come home. Amen."
Amen indeed.


Derek Walker is an Oxford-based kitchen designer, Anglican Lay Minister and music lover, who blogs at walkerwords.wordpress.com
View full Profile