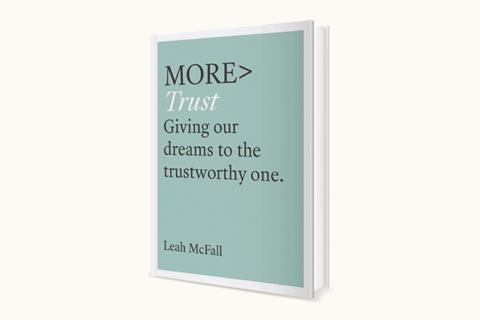 In life we're often presented with straightforward instructions. 'Mind the gap', 'look both ways', or maybe more recently, 'wear a mask'. These brief but simple directives are repeated relentlessly to make sure they really sink in. But we're not stupid, so why are we bombarded with messaging, rather than just told once? Because the more you say it, the more likely it is to actually happen.
More Trust is the Christian literary equivalent of a 'mind the gap' sign. It may not tell you anything you didn't already know, but you'll be glad of the reminder. Leah McFall uses a combination of her testimony and the Bible to offer a basic message: trust in God. The author experienced great success after finishing in second place on the TV talent show The Voice. But her story isn't one of quaffing champagne and being interviewed by Graham Norton. She also faced huge disappointment and devastating bereavement early in her life. More Trust feels like a gentle reminder that God is bigger than all of our highs and lows. McFall's message is not radical, but it is both fundamental to our faith and also profoundly difficult to live well.

At 120-odd pages, it's a concise, light and engaging read. Anyone looking for a down-to-earth, bite-sized account of relatable doubt and godly encouragement will take a lot away from this book.


Lauren Windle a journalist, author and presenter who focuses on faith, recovery and love. Her debut non-fiction book Notes On Love: Being Single and Dating in a Marriage Obsessed Church (SPCK) is out now.