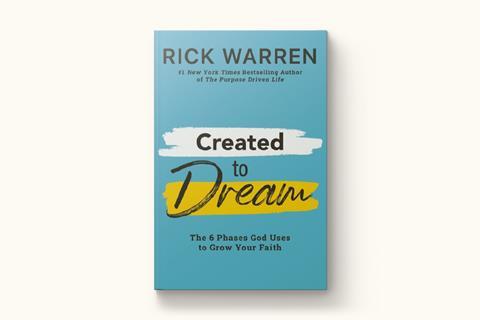 Created to Dream is Rick Warren's first book in ten years. Fans of The Purpose Driven Life will be pleased to see the pastor retaining his accessible and down-to-earth approach to theology.
This book is full of Warren's hard-won wisdom when it comes to achieving the goals we set for ourselves. It draws on his many years pastoring at Saddleback Church, California, the megachurch he established with his wife, Kay. Its 115 pages are succinct, easy to dip in and out of and based on scripture. It's an encouraging resource for busy Christians.
But it's also full of self-help style soundbites that British readers may find irritating: "We will become either better or bitter. "It's fretting without fixing. It's stewing without doing."
The book's major weakness is the way in which it glosses over the issue of unrealised dreams, simply assuming that all dreams are God-given and will, therefore, one day be achieved – if only you recognise these six steps along the journey.


Megan Cornwell is deputy editor of Premier Christianity magazine. She previously worked at the Guardian and The Tablet. When she's not writing and editing features or interviewing well-known Christians she can be found scrambling around the floor with her one-year-old and pretending to be a puppy with her five-year-old. She loves all things faith, ethics and journalism, and her tea strong, with lots of milk.
View full Profile