Those in church leadership are supposed to offer help to others, not need it themselves. Or so thought Esther* who was working as a hospital chaplain and trapped in an abusive marriage. When she finally reached a point of crisis, she found a listening ear and practical help from Clergy Support Trust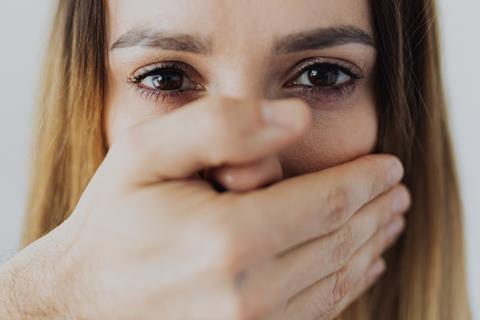 I went into the toilets of the church I was working in one day to discover the rector had put a poster on the back of each cubicle door. The poster was about domestic abuse; it said if you are experiencing psychological, financial or physical abuse, to call this number.
I looked at the poster and realised I could tick every single one of the boxes. I could tick every single box, but I couldn't phone that number. It was a church number and I was a non-stipendiary assistant priest at the church.
What kind of support were they going to give to me? I believed it would get back to my husband; that it would get back to my bishop. So, I could not risk ringing the number.
I had tried to get help already, to explain what was happening. When I talked to my rector about the crisis I was in, his response was: "Oh, I really like your husband. He should come to church more." I felt like I was shouting though soundproof glass. The Bible tells us to come as we are –it is honest about our brokenness – but my experience was the complete opposite. The church was scared of messy authenticity, and they didn't know how to cope with it.
Brutal work
Eventually, I managed to get paid employment as a chaplain in a hospital, which was pretty painful work during the pandemic. Phone call after phone call with people who were desperate and broken and scared, and I was no longer able to even hold their hand.
I remember doing a Zoom call with a dying patient who wanted absolution, trying to have a prayerful, meaningful conversation with someone. It was hugely emotional for her but also for her daughter, who was with her. To be using an iPad to talk to somebody in their last hours, who couldn't even sit up and could barely speak, was absolutely brutal.
Many clergy need regular contact with a counsellor, not just with spiritual advisers
I was a mess at work. I was a mess at home. I was reaching a point of serious breakdown. I felt like I was failing as a parent, with barely enough to hold myself together, let alone give my children what they needed.
My manager at the hospital put me on sick leave and told me to see my GP. I reached out to the church again - this time to my archdeacon - and finally I was heard. They offered me emergency housing and told me to call Clergy Support Trust.
I rang the number and, when the lady picked up the phone, I immediately had the sense that she didn't just want to help, but that she had the capacity to do so. Other people had listened and offered warm words, such as: "Oh, that's so hard. I sympathise. You should do this, or you should speak to this person…" There is a verse in James 2 which says: "If one of you says to them: 'Go in peace; keep warm and well fed,' but does nothing about their physical needs, what good is it?". That felt very real to me: I had felt trapped with nothing but offers of prayer to comfort me. But the lady at Clergy Support Trust wasn't passing the buck. She was saying: "I hear you. This is real. And that's what we're here for." I can't tell you how rare that is. I was in the Tesco car park when I got the call to say money would be arriving in my account. I sobbed.
Just beneath the surface
I am now working elsewhere and thriving. But I can't help but think my story could have looked very different. It is time we got real about the impact of ministry and the heavy emotional load of pastoral work. In my view, many clergy need regular contact with a counsellor, not just with spiritual advisers.
Burnout was already just beneath the surface, but these last few years have tipped people over the edge. Until things are brought out into the open and people have the support they need, how is anybody going to live a transformed life?
I looked at the poster and realised I could tick every single one of the boxes
Didn't we get into this because we felt called to be followers of Christ? We should be having courageous, authentic conversations and supporting each other through the real, messy stuff of life. And, in the aftermath of Covid-19 and with the challenges with the cost of living crisis, life is certainly messy!
The help from Clergy Support Trust meant that I could make good decisions for myself. I'm capable and confident in what needs to be done. It will take a couple more years before I'm financially secure, but I now feel like I don't need to prove myself or owe anything to anyone, and that's extraordinary.
*Names changed

Clergy Support Trust, a charity focussed on helping clergy and their families, supported Esther and assisted her with a separation grant. They have launched a new strategy in response to the exponential growth in demand for financial and wellbeing assistance. For more information, go to: www.clergysupport.org.uk