Following Storm Arwen 13,000 homes in the north of England remain without electricity. But as advent begins, Rev Mike Slade reflects on being thankful that God is with us, even when things are hard (and cold!)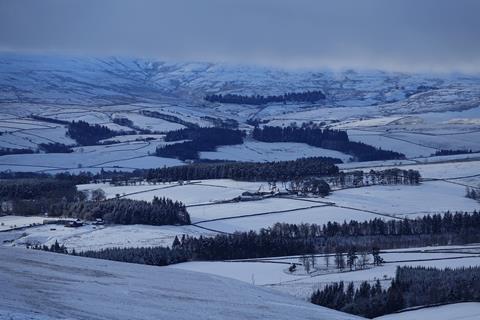 It's 8.00am and I'm having a different day.
Last night was cold. For the first time since I was a child I slept with some day clothes on: a thick rugby shirt, socks and our warmest blanket spread over the duvet. Bed followed a wash in cold water. And the morning began in the same way. I couldn't bear shaving. Its 14 hours into our second spell of no electricity - so no heating, hot water or hot food - and our second -5C night. It's arctic in here. 'Brass monkeys' comes to mind.
I scrape my son, Matt's, car clear from its frosty hold and potter down on salted roads to Hexham. I have to wait five minutes for it to open but I'm in need of a nice hot coffee and the Tesco cafe serves me well. Every seat is empty so I sit in the window watching who is coming and going this early in the morning. I notice a lot more masks and a lot of tradesmen. A mother brings in two children, aged seven and five I guess, and I wonder why they are not at school. Perhaps it's been cancelled because of the weather. (Not so in 1963 with snow to the rooftops.)
Sipping my coffee, I'm still dressed with enough layers to make me look like the Michelin Man. It's not overly warm in the cafe but it's a lot warmer than home. Two elderly people come in and order a cooked breakfast. I'm not tempted. I look out of the window again over the tidy lines of shopping trolleys waiting for their pushers. Thank you, Tesco staff, for ordering them so well.
It is becoming a little lighter. Light is overcoming the darkness yet again. I ponder my blessings. And I am moved to thank God for them:
I am sat here alone, but I am not widowed
I have enough money to afford a coffee
Unlike many pensioners, I do not have to sit in a cafe to warm up
Last night I slept in a bed in a safe house
I have nice people to speak to should I wish, and humanity is not summed up by the distant bearing of the coffee server
I have things to do today, rather than be aimless
I'm not lonely
I'm not particularly happy but, then again, I'm not sad either
My coffee is done. It didn't really satisfy but it was wet and warm.
I drive to my destination, a garage, to take Matt's car for its annual MOT and service. I can tell it will need things doing to it. The lads are bushy tailed; we joke about not having a shave for a week and having a shower every year whether we need one or not.
If I rush I can catch the 8.55 bus back to Hexham. I tell the lads I'll let it pass by. If I wait for the next one, I can get a free ride with my bus pass after 9.00. More laughter.
I'm not standing around in the freezing cold, so I decide to walk to the next bus stop. I have a half an hour to kill. I look at the app and see where the bus is. Blaydon. I have time to walk several stops down the route. I meet local people I have never met before, parents dropping off children at a school with interesting and unusual pencil-shaped bollards outside, people with dogs and others who, like me, are slipping and sliding on the ice. We all exchange greetings; after all, this is the north east. I get to the next village. It has a clean, inviting bus shelter. I'll wait here, I decide. My old organist from church rings me to check I'm OK. I tell her I'm in a bus shelter, quite a distance from home, but not to worry. I am OK. We laugh.
I am grateful that he is the light of the world shining in the darkness
The bus arrives and is, it seems, driven by Lewis Hamilton. That strange burning smell must be the tyres. In Corbridge, two young passengers object to paying full fare when, obviously, they are under 19. Mind you, everybody looks young to me these days A departing passenger asks the driver where she can get a timetable. The resulting delay requires him to make up time; we pull G around corners.
Relieved, I arrive in a strangely quiet Hexham. Boots doesn't have a Christmas present I'd like to buy, but another shop has some stocking fillers. My connecting bus up the North Tyne valley is in an hour. I find a coffee shop for cake and, yes, another coffee. It is pleasant but still not very warm, the café or the coffee. It seems people are struggling with the cold everywhere.
I make my way to the newish bus station, past the old one which still hasn't been redeveloped despite our MP's optimism. My bus arrives. It's old and white and hasn't been painted in company colours. Although an automatic it has a dodgy clutch. It is also very long. The driver expertly threads it through the tight village roads. I ding the bell for my stop and say farewell; he replies too, some drivers don't.
I recall the greatness of the Lord, his abiding presence with us despite what life throws at us
Home is still in darkness, and colder than when I left. But 30 minutes later, the electricity is back; everything suddenly springs to life. Fried sausages, mushrooms, vegetables and cheesy mash potatoes have never smelled or tasted so good.
Later, Matt will be returning from Switzerland, foreshortening his holiday with friends because of - you've guessed it - Covid and its latest incarnation, and the restrictions it brings. I will go to pick him up from the airport.
It would be easy to feel weighed down by all of this. It's been happening for the best part of two years, one way or another. I recall the greatness of the Lord, his abiding presence with us despite what life throws at us. I remember what Mary and Joseph went through in getting to Bethleham, the birth of their first born; strangers bringing gifts and hill men standing in awe of the Christ-child; later, fleeing as refugees from a despot. I'm grateful that God intimately knows how I feel, that Christ himself knew what suffering was yet encouraged us to keep the faith, to keep the love and to keep hope alive. I am grateful that he is the light of the world shining in the darkness.

Rev Mike Slade is a retired Church of England vicar living in Northumberland and is married to Fiona. They have two grown up children, Matt and Ali. Mike trained at Trinity Theological College in Bristol and has served in rural and village churches throughout his ministry.
View full Profile