Paul Garratt is no stranger to suffering. It seems a good measure, pressed down, shaken together and running over has been poured into his lap. And yet, he is trusting that God will do something beautiful through his life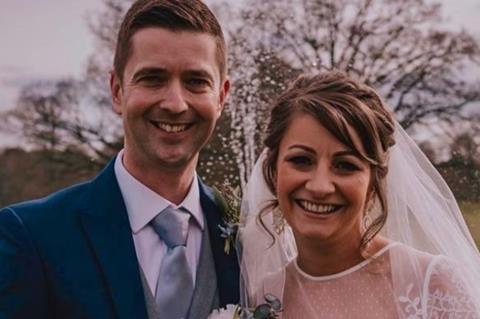 Paul Garratt clutched the sick bucket as his girlfriend, Rachel, bundled him into the car, pain shooting through him. A minor discomfort under his ribs had erupted into uncontrollable vomiting, and when they arrived at the hospital, a nurse took one look at him and rushed him to the front of the socially distanced queue. Now in a private room, Paul fell to his knees. The intense pain made standing impossible.
Five days earlier, the couple had celebrated Paul's 39th birthday. They had met on a Christian dating website and experienced a "love at first sight" moment on their first date. It came as a complete surprise to both of them. Paul had been widowed in 2018, aged just 36, after aggressive breast cancer claimed his wife's young life.
God had graciously brought them through past experiences and now they were planning a future together. Paul was excited about ministry opportunities and dared to dream about marriage again. They both longed for a baby of their own to one day join their blended family.
But now, alone in a hospital room due to Covid restrictions, Paul waited nervously for the results of his CT scan. Worst case scenario my appendix has burst, he thought. But when the doctor returned, and uttered a chillingly familiar phrase, Paul's naturally positive demeanour shifted. "This is highly unusual in a person of your age…" began the doctor. Paul had heard those words before – when his wife was told she had a malignant growth. "Immediately, I thought: He's going to tell me I've got cancer."
Bowel cancer
The CT scan showed Paul had a cancerous growth blocking his colon. He was immediately prepped for emergency surgery. "God, give me a second chance at life," he prayed. Paul's first thought was not for himself – "the fear of death wasn't there, and that's the glorious hope we have in Christ" – and it wasn't even for his family. Instead, he experienced a strong conviction: "The terror was of leaving the earth having not done what I felt God had called me to do since I was a child."
Paul committed his life to Christ aged just six, and had felt God calling and preparing him for service in the Church ever since. Preachers and speakers had singled him out and spoken prophetically that he would be "a minister of his word" and "lay hands on the sick". Much of his adult life had been spent studying and serving in order to answer this call.
Paul does not subscribe to a shallow health and wealth gospel. He is well acquainted with the pain of unanswered prayer
But, here he was, awaiting bowel cancer surgery. "This doesn't make sense, because you've asked me to do something that I've been trying to journey towards – and it hasn't happened yet – so I can't die. You've got to save me. This cannot be it."
As Paul cried out to God, a tangible sense of peace surpassed his understanding. "God was saying: 'You're not going to die. I'm going to bring you through this.'" The phrase that jumped into his mind was: declaring the goodness of the Lord in the land of the living.
Although there is a similar line in Psalm 27, Paul didn't immediately recognise it as scripture, instead assuming it was a lyric from 'Land of the living' by his favourite band, Upperroom. However, when he turned to his Bible in One Year app the following day, the reading was from Psalm 27. As Paul read its concluding line, he knew God was confirming that: "I would live to do this ministry that God had called me to do. It was a really powerful moment of realising: This hasn't blindsided God. This has not taken him by surprise. He's in the midst of all of this and I just have to hold on to him."
More bad news
But following a successful operation, there was more bad news. A second scan showed the cancer was now stage four, and had spread to Paul's liver. He had further surgery to remove the lesion followed by months of chemotherapy. "At that point, this switch [happened] in my mind, of thinking: Right, the doctors have played their part. I now need to play mine."
In between gruelling rounds of chemotherapy, Paul worked on his health and fitness. On his 40th birthday, a year after he was rushed to hospital, his oncologist confirmed that there was no longer any evidence of disease.
With relief, Paul went back to his two jobs – as CEO of Churches in Communities International and as director of business development and church engagement at Cinnamon Network UK. He and Rachel began to rebuild their lives and, in April 2022, they got married: "We were filled with hope…I was thinking: this is behind me, God's rescued me, the future is ahead…let's see if God is able to enable us to conceive, which would have been a real miracle."
Paul and Rachel didn't have to wait long. Weeks after returning from their honeymoon, Rachel was pregnant. "I was overwhelmed," says Paul. "I had gone from thinking: Maybe I have missed that season of being able to have a child? Then I was diagnosed with cancer, and then I was filled with chemotherapy…it suddenly felt that God had given us this gift."
The following day, Paul logged on to Zoom for a routine oncology check-up, still flushed with joy that he was going to be a dad. "The doctor started off by saying: 'I've got some very difficult news to tell you…the cancer looks like it has spread to your lungs and reappeared in your pelvis. Sadly, this means it is no longer curable.'"
Holding on to hope
Emotionally, Paul and Rachel hit rock bottom. "We couldn't quite get our heads around it. We were like: 'God, hang on, we thought you had done this. We thought we were through it.'
"We had people saying: 'We just heard your good news about the baby!' And we were just having to smile and nod and say: 'Yes.'…But the hospital had just told me I was going to die."
"My prayer life suddenly changed," recalls Paul. "I was telling God: 'I've had enough! My life has been plagued' – and that's how it felt. It felt like I had been cursed; like there was a mark on my back. I had taken it and taken it. And I had walked righteously. But I'm fighting back now and I will use everything at my disposal to overcome this thing – and that includes prayer."
Since then, Paul has been on his knees, knocking on the door of heaven, every day. "When I pray now, there is a righteous anger: this should not be happening. God wants me to be well, he doesn't want me to be sick. I am going to find a way through this."
I just had this sense that God was saying: 'You're not going to die.'
Paul does not subscribe to a shallow health and wealth gospel. He is well acquainted with the pain of unanswered prayer, particularly for healing, but he says his theology has been through a rapid evolution since he walked the valley of the shadow of death with his first wife. He now views healing as a kind of spiritual warfare: "The Bible says that Jesus went around doing good, destroying the works of the devil (1 John 3:80)…this was a violent ministry in the devil's eyes. Jesus was binding the strong man (Mark 3:27), liberating the people…that awoke an emotion in me that had been lost. Sometimes, when we pray, we need to carry that sense of hunger to see God move."
In addition to wrestling in prayer, Paul and Rachel (who is a GP) are exploring all options for medical treatment. Earlier this year, they set up a GoFundMe page to raise money for life-saving treatment only available in the US.
"I have this renewed hope that God's intention is to turn this around, and that something beautiful is [going to be] birthed from it…we feel that God is saying: 'This is about preparing, this is about getting dressed ready for service. There is something that is going to come from this'…so we're excited about the future."
Paul Garratt's GoFundMe page can be found here
An earlier version of this article contained a sentence which has been amended at the request of a named individual

Megan Cornwell is deputy editor of Premier Christianity magazine. She previously worked at the Guardian and The Tablet. When she's not writing and editing features or interviewing well-known Christians she can be found scrambling around the floor with her one-year-old and pretending to be a puppy with her five-year-old. She loves all things faith, ethics and journalism, and her tea strong, with lots of milk.
View full Profile