Last week's debate on whether Boris Johnson should be investigated for lying included more Bible references and Christian language than Tim Farron recalls hearing in the House of Commons for a long time. On issues of morality, we are still deeply shaped by Christian values, he says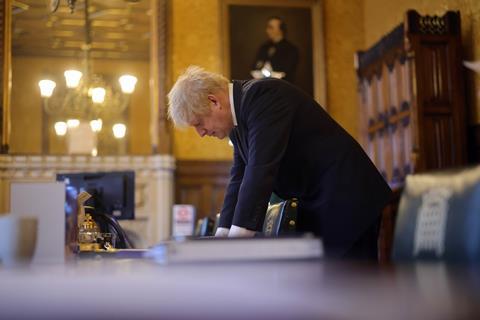 Last week, parliament debated whether the prime minister should be investigated for lying to MPs and misleading the House of Commons. This is remarkable because the government failed to block or amend the motion for debate, for the simple reason that despite having a big parliamentary majority, there weren't enough Conservative MPs willing to vote to defend the prime minister. It is also remarkable because this is the first time a serving prime minister has ever been referred for investigation in this way.
The rules of the commons require MPs to refer to each other as "honourable members". You cannot accuse a fellow MP of lying in parliament, because it is assumed that no honourable member would ever be dishonourable enough to do such a thing. But because last week's debate was specifically about the allegations that the prime minister had knowingly misled the house, the speaker made an exception and allowed use of the 'L' word!
Returning to our roots
I took part in this debate and was struck by the amount of Christian language that was being used by members on both sides of the house. MPs talked of judgement, repentance, forgiveness and justice for wrongdoing. The words "mercy," "absolution" and "redemption" were used. A number of Bible verses were quoted (including by me!) It is clear that on key issues of morality, we still turn to the language of the Christian faith.
Justice and humility are key Christian concepts, and our leaders are expected to exercise them
It is sad that we have only reached this point because of a crisis surrounding the character of our prime minister; concerns that have been magnified by the enormous sacrifices asked of the country over the last two years. During the debate I was especially affected - and impressed - by the speech made by Conservative MP Steve Baker, who had been a key figure in assisting Boris Johnson into the role of prime minister (and who will be a guest on my 'A Mucky Business' podcast in a few week's time.)
Paraphrasing 1 John 1:8: "If we claim to be without sin, we deceive ourselves and the truth is not in us", Steve acknowledged that none of us are without fault. However, he concluded that he can no longer support Mr Johnson because he sees no true contrition; no lasting change of attitude that would suggest real repentance. I do not know how contrite the prime minister is. I do not know how sincere his repentance, or his apology, are. Only he and God know that.
Forgiveness and consequences
One of the most radical, offensive and utterly wonderful things about Christianity is that forgiveness is available for everything and everyone. However, even forgiven sins bear consequences. There is no doubt that God stands ready and willing to forgive Boris Johnson. Micah 7:18 tells us that God delights to show mercy, and as Jesus cried out from the cross: "It is finished!" (John 19:30), we remember that we have nothing to add to his saving work.
When I spoke in parliament last week, I referred to the story of Zacchaeus in Luke 19. Zacchaeus was a Jewish tax collector who became extremely wealthy by cheating his fellow Jews out of more than they actually owed their Roman occupiers. When he encountered Jesus, he repented, and then he made recompense. He did more than just say sorry; he gave back four times the amount he had stolen. An apology does not mean that there is not still a consequence for both the offender and those offended against.
On key issues of morality, we still turn to the language of the Christian faith
There is a danger that the prime minister's actions could have an enduring impact on the reputation of parliament and our politics. If he retains office, it sets the bar for what is acceptable in our public life at a worryingly low level. Wouldn't it set a poor example to current and future MPs, and indeed for everyone else? Many of us feel that if there were no consequence for the prime minister's actions, it would show that it is acceptable to set rules for others and choose not to follow them yourself. In a democracy, we expect sometimes to be governed by those with whom we disagree, but those who behave in this way have surely lost the authority to continue in that role.
Still saturated
Many people in our country no longer call themselves Christians, but we are still deeply shaped by Christian values. As historian Tom Holland pointed out in his book Dominion: How the Christian revolution remade the world (Basic books): "to live in a Western country is to live in a society that is still utterly saturated by Christian concepts and assumptions." All of us are fallen and flawed and, in these increasingly intolerant times, I am thankful that we are still saturated enough in Christian values to allow for debate in parliament around forgiveness in public life.
But let's not forget that justice and humility are also key Christian concepts, and our leaders are expected to exercise them. Paul tells us in Romans 13:1 that "there is no authority except that which God has established". But God expects those in authority to behave honestly and show compassion for the people they rule. In the powerful words of Micah 6:8, we are told: "What does the Lord require of you? To act justly and to love mercy and to walk humbly with your God."
Whatever our political views, let us all pray for leaders who will live out these words and seek to serve our country with integrity.

Tim Farron is MP for Westmorland and Lonsdale, and former Leader of the Liberal Democrats. He is the author of A Mucky Business: Why Christians should get involved in politics. Tim is also the host of Premier's 'A Mucky Business' podcast, which you can listen to on your chosen podcast provider.
View full Profile