At Christmas, we remember our Servant King, who gave up the status and privilege of heaven to take on human form. But Jesus also commands us to follow his example and serve others rather than ourselves, says Billy Hill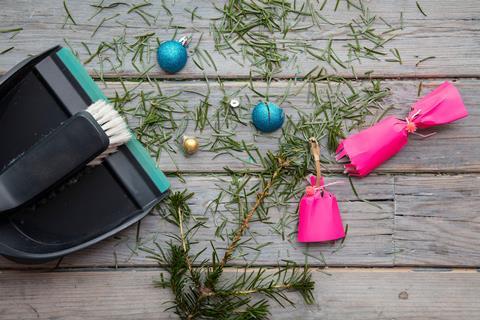 The renowned pastor, AW Tozer, once told this Christmas story: A Sunday school teacher in Toronto asked the six-year-olds in her class to stage a Nativity play entirely by themselves. They ended up with three Marys, two Josephs, six shepherds, two wise men and one boy who played the cow.
Impressively, one little girl volunteered to be the midwife who would assist at the birth. The teacher consented and the presentation began. During the play, the 'midwife' picked up the doll and carefully wrapped it in a blanket. Then, with a big smile on her face, turned to the Marys and Josephs and said: "Congratulations, you got yourself God!"
We may not all be able to do great things, but we can all do small things in a great way
The church was amused at this spontaneous declaration but when Tozer began his sermon, he said the little girl had grasped the true meaning of Christmas. She had a better understanding of the incarnation than many, much older Christians.
Immanuel, God with us
The baby born in Bethlehem was God the Son. Jesus Christ left eternity and stepped into time (John 1:14). In so doing he did not cease to be God in any sense, but he also became man in the fullest sense.
This union is truly staggering and mysterious. Every Biblical doctrine is connected to it, especially that of redemption. If Christ had not taken on our human nature, he could not have saved us. As it says in 2 Corinthians 8:9 "He became poor for our sakes, that we might become rich."
The incredible news the angel proclaimed carries with it a serious obligation for the believer. Salvation is absolutely and wholly of God but, once saved, we are invited to be co-workers with him. This is God's purpose.
The servant king
Paul tells us that our thinking should therefore be very different to that of unbelievers. In Philippians 2:5-7, he says: "Your attitude should be the same as that of Christ Jesus: who, being in very nature God, did not consider equality with God something to be grasped, but made himself nothing, taking the very nature of a servant."
Serving is not a popular topic. It is contrary to the world's idea of greatness and importance, which are defined in terms of power, possessions and esteem. In contrast, Paul challenges Christians to adopt Jesus' supreme example of love and servanthood in our daily lives.
Despising the small things
Even the disciples argued about who deserved the most distinguished position. Today, Christians still jockey for prominence in churches and ministries. It's a sad fact that there will always be more people willing to do "great" things for God than "little" things. But in God's economy there are no little things.
It may seem unimportant to stay after a meeting to help clear the cups or stack chairs, but it reflects the right attitude. No special gift is required to invite someone for a meal or pay them a visit; anyone can be a servant. We may not all be able to do great things, but we can all do small things in a great way and impact those around us.
That's the attitude Paul was writing about. When real servants see a need, they meet it, just as the Bible commands us: "Therefore, as we have opportunity, let us do good to all people, especially to those who belong to the family of believers" (Galatians 6:10).
Sadly, many miss the opportunity to serve because they lack sensitivity and spontaneity. Wonderful opportunities to serve never last long. They pass quickly, sometimes never to return again.
Fruitful service
On his death the great violinist, Niccolo Paganini, gave his treasured violin to the city of Genoa on one condition – it must never be played. He didn't fully appreciate that while being played and handled, the wood of this instrument wears very little. If, however, it remains unused, it begins to deteriorate.
Eventually, Paganini's once-beautiful violin became worm-eaten and useless. Similarly, a Christian's unwillingness to serve in what they deem to be insignificant ways may well destroy their capacity for usefulness in God's kingdom.
A Christian's unwillingness to serve may destroy their capacity for usefulness in God's kingdom
To be fruitful in God's eyes does not depend on status or importance but faithfulness and service. The Bible says: "Serve wholeheartedly, as if you were serving the Lord, not men, because you know that the Lord will reward everyone for whatever good he does" (Ephesians 6:7-8).
What a tremendous promise! Nobody knows the sacrifices you've made better than God. He sees your secret, selfless acts on behalf of others, and his word says: "Then your Father, who sees what is done in secret, will reward you." (Matthew 6:4). God treats anything we do for others as though those things were done for him personally.
Heavenly rewards
In heaven, God is going to openly reward some of his most obscure and unknown servants. There will be people we have never heard of on earth but who are known and honoured by God in heaven for all they have done.
But helping and serving others also brings compensation this side of eternity too. In Man's Search for Meaning, Viktor Frankl says that the more "one forgets himself – by giving himself to a cause to serve or another person to love – the more human he is and the more fulfilled he becomes".
His statement echoes the old Chinese proverb: "A bit of fragrance always clings to the hand that gives you roses."
This Christmas, let us remind ourselves of the example our Lord set for us to follow. He led by serving. He washed feet, fed people, healed the sick and spent time with those no one else cared about. In John 13:15, he spells out the message loud and clear: "I have set you an example that you should do as I have done for you."

Billy Hill lives and worships in Bournemouth. He loves golf, cycling and football and was the editor of the local council magazine for some years. He is now retired and enjoys writing articles about faith
View full Profile