The issue of gun control has long divided Christians in the United States and beyond. But when the gun company who made the weapon used to kill 21 people in a Texas school uses scripture to advertise their weapons, it's time to speak up, says Emma Fowle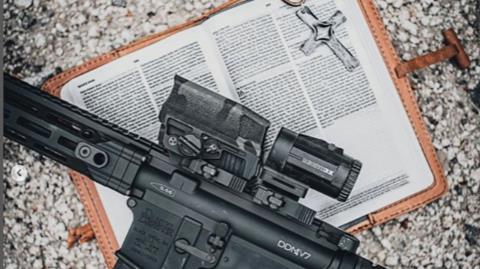 In the aftermath of Uvalde, I came across a screenshot on Twitter from the now-private account of Daniel Defence, the gun company who made the weapon that killed 19 children and two teachers in a school in Texas. In their advert, a small child, no older than four, sits on the floor, cradling an assault rifle. The caption reads: "Train a child up in the way he shall go and when he is old he will not depart from it." The Proverb (22:6) was accompanied by a praying hands emoji.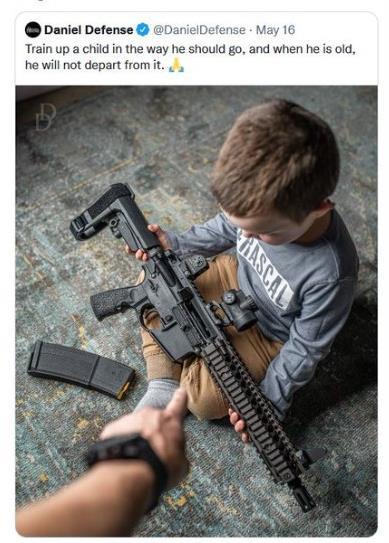 A quick scroll through the company's Instagram feed throws up equally disturbing images, including an Easter day post captioned: "He is Risen!" on top of a picture of what appears to be the same rifle as that used by the Texas shooter lying across the pages of an open Bible, topped with a cross.
I'm not, on the whole, a fan of wading into other people's politics. As a British person with a fair few American friends, I hope that I have learned enough from them to avoid assuming that all Christians in a nation nearly 40 times larger than my own can be lumped together into one homogenised group. And as a Christian, I pray I have the wisdom to tread carefully when it comes to making judgements on a place that I have never lived and on people that I have never met.
When I see the Bible being used to sell weapons, I see why so many would choose to reject the Church
I know that mass shootings in the States always draw a swift, often condemnatory, response from the rest of the world. To put it bluntly, we cannot fathom how some Americans ignore what seems, to the rest of us, to be blindingly obvious. Without gun control measures, more children will die.
I doubt that I am alone in struggling to process last week's events, or those in Buffalo the week before, or the Californian church shooting on 16th May. Or, in fact, the 221 people that have died in 202 separate mass shootings in the USA so far this year. But what really breaks my heart is seeing how mixed up Christianity has become in this toxic conversation.
A Christian voice
Two days after the Texas shooting, one of America's most famous evangelists Franklin Graham tweeted: "We are seeing more & more violence displayed across our nation. One day this country is going to have to come to grips with an entertainment industry that feeds a constant stream of violence to our youth. Contrary to what some want America to believe, it isn't the guns. You can put all the guns in a pile in Central Park & not a single gun will kill anyone. It takes a human being to plan & execute such brutality. Only the power of God can cleanse the human heart & transform it. He is the missing element in so many homes, schools, & communities."
There are, of course, some half-truths in the above statement. He is correct that a gun cannot fire itself (which is why we ought to be careful who we let buy one). And yes, as Christians, we pray for a day when such evil will not exist, and recognise that God alone can bring that day about.
What really breaks my heart is seeing how mixed up Christianity has become in this toxic conversation
But - as many people rightly pointed out as they poured onto Franklin Graham's mentions - to rely on those two arguments alone is a gross over-simplification. The UK consumes much of the same media as the US, and many here own guns for shooting and hunting (members of my own family included). Yet, since the 1996 massacre in Dunblane, where 17 people died, there have been no school shootings here. In America, there have been 139 so far this year.
Others objected to Graham's inference that school shootings were in any way related to the state of a nation's spirituality. After all, there are plenty of non-Christian nations with little or no gun violence.
There is something that can be done, came the countless voices from around the world. Mass shootings in schools need not be inevitable. And yet many Americans – and often Christians, it seems – can't bring themselves to do what needs to be done.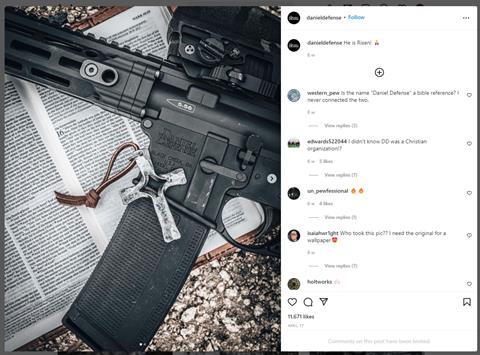 Paying the price
In recent years, people much more qualified than myself (ie actual American Christians) have written hugely intelligent and necessary books, taken part in powerful podcasts and endlessly debated the state of white evangelicalism in the US. It's not an area I am fully qualified to speak into. But when I see the Bible being used to sell weapons I cannot stand by. And when I hear Christian politicians and prominent Church leaders doubling down on their positions at the expense of conversations on how to ensure the safety of innocents - I suddenly see why so many would choose to reject the Church.
"The idea that an 18-year-old kid can walk into a gun store and buy two assault weapons is just wrong," said President Joe Biden shortly after the massacre in Texas. "What in God's name do you need an assault weapon for except to kill someone?"
He's right. And I would add: When in God's name are Christians in the US going to do something about it?

Emma Fowle is assistant editor of Premier Christianity and editor of Voice of Hope, Premier's quarterly devotional magazine. Emma is a trustee for Christian festival Creation Fest and lives in Cornwall with her husband and two teenage daughters. She loves to read, swim in the sea, play netball and lift weights with her dad.
View full Profile