Daniel Chand was headed for prison when God turned his life around. Today he is an evangelist, committed to spreading God's word. He shares his reflections on the Asbury revival and what we can do to see God move here in the UK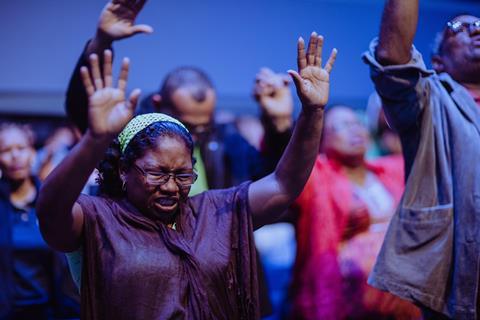 What is revival some may wonder? Revival simply means that which is dead has come back to life. This is a term that has been used all throughout Christendom and is being spoken of more and more each year.
Revival is where the masses gather and experience a supernatural touch from God. It involves repentance, worship and surrender to God. When revival takes place, it resuscitates your prayer life, your adoration and devotion to God and, ultimately, restores Jesus as your first love.
When an individual experiences revival, it has a positive impact on family, friends and those around them. Sadly, over time, many Christians lose their passion and hunger for the things of God's kingdom; they become religious, bored in their relationship with God or even experience burn out, which can pull you back into the world. Spiritual apathy is something many Christians can struggle with.
Revive us again
In Psalm 85:6, we read a prayer to God: "Will you not revive us again, that your people may rejoice in you?" When you open your heart to God in humility and allow the fire of Holy Spirit to burn up the chaff - idols, religion and anything that we have put before God - this results in a personal revival.
There is a difference between a 'revival' and a 'spiritual awakening'. Within an 'awakening' you will get revival but, in some ways, it is much more. An awakening does not just affect the Church or individual Christians, but flows into the realms of government and marketplaces; it impacts cultures and the very foundations of world systems.
If you seek revival, you will get performance. But if you seek Jesus, you may well get revival
Recently, there was a move of God in America that has come to be known as the Asbury revival. It all started on 8 February 2023, when an ordinary chapel meeting at a Christian university simply didn't stop on. It went on for two weeks continuously. The unique aspect about this revival was that it had no well-known guest speakers, evangelists or worship leaders; it was just an ordinary gathering who were simply in adoration of Jesus.
This proves that, in a day of social media and entertainment, God needs no grand production. His requirement is simple; a hunger for his presence. God is looking for people that will seek God, not for his hand, but for his face.
Here and now
Let's have faith that if God can do it around the world, he can also do it in the UK. Our time is now! As I reflect on what God did in Asbury this year, it reminds me of a prophetic word spoken by evangelist Smith Wigglesworth in 1947: "When the Word and the Spirit come together, there will be the biggest movement of the Holy Spirit that the nation, and indeed the world, has ever seen. It will mark the beginning of a revival that will eclipse anything that has been witnessed within these shores, even the Wesleyan and the Welsh revivals of former years. The outpouring of God's Spirit will flow over from the UK to the mainland of Europe, and from there will begin a missionary move to the ends of the earth."
Let's pray bold prayers, then actually take risks, stepping out and glorifying Jesus
When I first read this prophetic word years ago, I felt a surge of faith go through me. From that moment, I made a vow to God to pray, contend and evangelise across the UK to see him move in this nation.
The UK has a rich spiritual heritage. John Wesley (1703-1791) was an evangelist who led the Methodist revival. The welsh revival (1904–1905) was the largest Christian revival in Wales during the 20th century. Such historical events give us hope for another much-needed revival. My prayer is that we, as the Church, not only have hope, but also faith.
Stepping out
There are many people who are praying for revival; some may even be hoping for one. I believe we need to keep Jesus at the centre and step out in faith. Prayer is an essential ingredient, as is hope, but faith is the missing link. Let's pray bold prayers, then actually take risks, stepping out and glorifying Jesus.
Taking inspiration from revivals of the past, my call to action has been taking action. We are now mobilising outreaches, tent meetings and revival services. We have seen people refreshed by God's tangible presence and miraculously healed. Believers have been inspired to tell others about Jesus. We have been witnessing this millennial generation encounter Jesus in a life changing way!
Here are a few thoughts from my reflections on the Asbury revival. May they inspire you to believe for more, and act upon it:
1. Don't despise the next generation. Sometimes students are more open than scholars.
2. Worship God with purity, not for his hand, but for his face.
3. While you are looking for the spectacular, don't miss God within the simplicity. God doesn't need your marketing, production and special guests.
4. If you seek revival, you will get performance. But if you seek Jesus, you may well get revival.
5. Hope is important but faith is the missing link. Don't just pray about it, step out!
Walking Like Jesus will be gathering for a national day of outreach in Trafalgar Square, London on 3 June. Their annual tent revival takes place this August in Bedfordshire. Find out more at: www.walkinglikejesus.org

Daniel is the founder and director of Walking Like Jesus. He frequently speaks at churches, conferences and on TV. After graduating from university, he completed the Reinhard Bonnke School of Evangelism and, as an evangelist, has travelled to over 15 countries and witnessed thousands being led to Christ.