This year's Christmas ads cover a myriad of emotions from joy to heartache, says Tim Bechervaise. From the controversial M&S offering to Shelter's heartbreaking reminder that all is not sparkly and bright for everyone this festive season, here's his analysis of what Christians can learn from them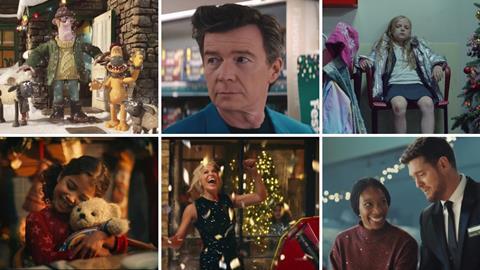 It's quite the paradox. Normally when adverts appear on TV, we tend to make a cuppa, or at least hit mute. But from early November when the festive ads appear, suddenly these attempts to sell us stuff become the hot topic of conversation.
So let's dive into this year's ads, and analyse what messages they're promoting:
1. Michael Bublé can act – and he's a Christian
In the celebrity stakes, Rick Astley and Graham Norton make witty but fleeting appearances for Sainsbury's and Waitrose respectively, while Michael Bublé stars as Asda's Chief Quality Officer.
The crooner approves the supermarket's Christmas fare and sings 'Walking in a winter wonderland'. Who knew that Bublé has such good comic timing? I didn't and Asda have expertly utilised it.
It's just a shame they didn't tap into his Christian faith – which he's been increasingly open about – but, admittedly, it's unlikely to get people rushing for their Truffle & Parmesan Pigs in Blankets.
2. Store worker outshines celebrity
Arguably, the star of the Sainsbury's ad is not Rick Astley, but the store worker who says to him, "Come on Rick, cheese before pudding? You know the rules." An expertly delivered line.
The supermarket cast real-life employees, providing them with an opportunity to showcase their hidden talents. Perhaps this can inspire some of us to explore ways we can give people who usually go unnoticed an opportunity to shine?
And let's not forget about said 'rule'. The clip will likely inspire debates over the 'rules' of Christmas dinner, which is always a lovely way of sparking conversations and deepening relationships.
3. M&S got everyone talking – but did it need to?
Days before releasing their ad, M&S posted a snippet showing Christmas hats being thrown in a fire. The green, red and silver hats instigated a slew of complaints, due to traditional festival colourway also reflecting the colours of the Palestinian flag. Despite the ad being filmed in August, sadly, M&S caved by apologising and deleting the image. Sigh.
But the controversy didn't stop there, with one headteacher furiously complaining that the ad, showing celebrities binning their least favourite Christmas traditions, "puts two fingers up" to Christmas values. Again, sigh. Actually, for many, the ad makes a pertinent point. Festive traditions can be burdensome, something also alluded to in the John Lewis ad.
Christmas ads are a welcome source of joyous relief. Why get angry about them? Embrace them for what they are without taking them too seriously.
4. Shaun the Sheep is funny and ethical
Funny moments are plentiful in this year's ads.
There's a 20-foot Venus flytrap spewing gifts, an amusing selection of items given to people by a mother and daughter on the way to the North Pole, Connie and Trevor and singing oven gloves. But they're outdone by Barbour, who have Shaun the Sheep and his intrepid gang attempting to repair their owner's worn jacket. Their intentions are noble, if a tad amateur, making for a hilarious advert that nods to the company's repair and re-wax service.
It's refreshing to have an ad that comes with the welcome (and amusing) reminder to buy ethically. Ending is not always better than mending.
5. Generosity is for life, not just for Christmas
Unsurprisingly, many of the ads focus on being virtuous. Coca-Cola has people demonstrating their "inner Santa" with acts of goodwill. Aldi's Kevin the Carrot is given "the cheese to the factory" for getting the "true meaning of Christmas" (being good). Amazon has a woman buying padded seats for her and her lifelong friends to go sledging, and Lidl have a raccoon rescuing a child's toy monkey (highlighting the store's toy bank).
It's interesting to see people praise the ads for honouring the festive spirit. I don't disagree, but the comments – and indeed the ads – reflect the pre-eminence of such virtues at Christmas, when they're needed every day. It's also striking to note how much we resonate with such virtuous behaviour, reflecting how we're wired for selfless living. No wonder the Bible talks so much about it.
6. An antidote to commercialism
If there's one ad that should leave a particularly lasting impression, it's Shelter's. It features a young girl seeking to be good in the hope that she'll get her wish of a new home. When Christmas morning arrives, she makes a heartbreaking discovery. It's powerful stuff, and an important antidote the commercialism of other ads – and one that, for many of us, perhaps feels very close to home.
While most ads play it loose with realism, Shelter go with cold-hard reality. In the end, we need both on our screens.
7. "God with us"
This year's ads cover a myriad of emotions, from joy to heartache. How wonderful that, wherever Christmas finds us this year, we have the promise of Emmanuel, "God with us." (Matthew 1:23) Let's be sure to keep this message in our hearts, because however good the ads are, we can't rely on them for sharing the true meaning of Christmas.

Tim Bechervaise lives in Hatfield with his wife, Laura. He is a copywriter for Open Doors UK & Ireland, and freelance writer. Coffee, street photography and Tottenham Hotspur count among his other interests
View full Profile