Matt Hancock's decision to appear on reality TV show I'm a Celebrity…Get Me Out of Here! is a classic sign of a midlife crisis, says Rev George Pitcher - something vicars are well used to dealing with. Here's his advice to the former health secretary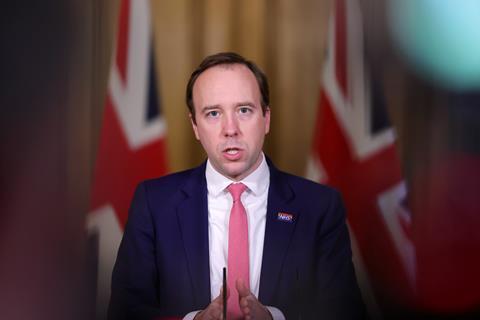 There won't be many vicars, like me, who haven't wondered over the past few days what they might have said and done if Matt Hancock was a member of their congregation.
In writing that sentence, I have of course omitted the usually mandatory words 'former health secretary'. But, really, the priest in me is more concerned with addressing the 'current human being'.
Because here is a man, in his mid-40s, who was fired from one of the most high-profile jobs in the UK government at the height of arguably the greatest health crisis the country has faced since the last world war. Then he left his family for the person for whom he was caught, all too publicly, in flagrante. And now he's just taken a career decision that's beyond bizarre to appear in the reality TV show I'm a Celebrity in which alleged unreal celebrities are humiliated through exposure to equally unrealistic hardships.
Mid-life meltdown
At the age of 44, it may have come earlier for Hancock than for most men, but does this not look like a weapons-grade mid-life crisis? And, if it is, is he not a candidate for the sort of pastoral care that vicars dispense on a weekly basis?
Clamber out of the cold lake and put your clothes back on. Stop trying to reclaim a youth that has passed
At this point, a full disclosure is very nearly overdue: Hancock's partner, Gina Coladangelo, and I worked together some years ago, and I count her as a friend. It's not just that we've been to support Arsenal together (which in some parts of north London would qualify as a blood bond) but I consider her a first-class operator and communicator (though Hancock may not have heeded her advice lately). She wouldn't have been traduced in the media in the manner that she has been if she were a man.
But this isn't about her or about infidelity. It's no part of this column to moralise. As parish priests know all too well, it's not that family life is complicated, so much as families and life are complicated. We don't get anywhere by finger-wagging. Besides, there but for the grace of God and all that…
A cry for help
So, if Hancock walked into my church next Sunday, would I say: "We should talk."? Yes, absolutely. Why? Because of all those little-boy-lost cries for attention and help. The Putinesque, stripped-down swimming in the freezing Serpentine. The lockdown press-ups. The photo-controlled leaping of knee-high park fencing (Thank goodness you're here, Groundsman!).
Then the toe-curling snubbing by new prime minister Rishi Sunak at his victory parade which, in a despotic regime would have signalled exile to some remote hell.
No need for that though. Hancock has auto-exiled, saving his oppressors the trouble of terminating his political career, by having the telly people fly him to an Australian pretend-jungle to pretend to argue with pretend celebs about eating animal genitalia and (he hopes) dyslexia. This is what contemporary TV means by reality.
Sharing the faith
It's part of the role of any parish pastor to reach out into the alternative reality that some people create for themselves, to offer the relative calm of the reality that the rest of us share. This is seldom about evangelising the faith – we're not so much offering the cup of salvation as a cup of tea.
I wondered, rather idly, whether a priest had ever reached out to Hancock. A moment's research revealed that the Reverend Canon Ian Finn (now retired) did indeed do so in 2018, inviting Hancock to St Mary's, Haverhill, in his Suffolk constituency, to give a speech on "Faith and Values in Public Life" (no sniggering at the back).
Does this not look like a weapons-grade mid-life crisis?
In his short homily to the people of Haverhill, Hancock said that his faith was "very Church of England: steadfast, resolute, yet unobtrusive. A source of calm contemplation when things don't make sense, and a source of joy when they do. A source of hope when things go wrong, and a source of humility when they don't."
Nicely put, that. He added that "politics can be a noble calling". It can also be "lots of fun. Crikey, last week I was at the Brits with Ronnie Wood… It has its perks."
Be still and know
For the parish priest, that might have been the "Ah!" moment. Lately, perhaps, there's been a little too much Brits and not enough Britain in Hancock's public service. But then, as he went on to say himself a few sentences later: "We are all fallen. We are only human. We have flaws and vices and failures of character and of resolve."
Amen to that. Hancock seems to answer the question he raised himself in church in 2018 – and the questions he has raised more recently – about his public service.
Were this a pastoral moment at our own church, then, I might well sit him down, pour him another cup of tea, or even something stronger, and say this: "Matt (if I may). Listen to yourself. Your source of calm, joy, hope and humility (your words) – listen to it."
"As the psalmist writes: 'Be still – and know that I am God' (Psalm 46:10). We may not always get the second part of that, but try starting with the first two words – be still. Clamber out of the cold lake and put your clothes back on. Stop trying to reclaim a youth that has passed. Your time of life is now. Own it. Step up to the plate. And step out of the jungle."

George Pitcher is a visiting fellow at the LSE and an Anglican priest.