We might not feel like singing much at the moment, but worship can be a powerful way to move the hand of God, says William Long, and the Ukrainian people are in desperate need of a miracle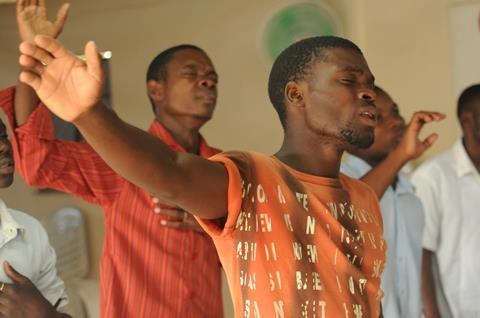 The American pastor, John Piper once said: "Singing is not merely a response to grace — singing is a means of grace. Singing is power. When you sing, the Holy Spirit comes and does something."
As we watch the war in Ukraine unfold, fearing what might come next, I would implore Christians not only to pray, but to sing.
A week after the Russian invasion began, my wife and I attended an evening of intercessory prayer for Ukraine led by a church in our town of Hertford. After the prayers had finished and people started to make their way home, my wife and I both felt that as well as praying, we needed to sing.
It's natural for us to turn to music in joyful times and it might not feel natural to sing worship during difficult times, but worship and hardship go hand in hand. There are many classic hymns that were born out of tragedy. 'It is well with my soul' was written by Horatio Spafford after his daughters were killed in a shipwreck. 'Tis so sweet to trust in Jesus' was written by Louisa Stead after her husband drowned while trying to save a boy at the beach. In their mourning, and in the throes of sorrow, they both turned to God and worshiped.
Singing in the Bible
There are two events in the Bible that highlight the Holy Spirit acting in response to singing: the first is in 2 Chronicles 20 when the enemies of the people of Judah rose up against them. As they prepared to fight, the Holy Spirit said to them: "You will not have to fight this battle… the Lord will be with you." So instead of fighting, Jehoshaphat appointed people to sing. He dressed them in holy attire and placed them before the army. When they began to sing, God sent an ambush against their enemies and the three armies that were set to fight Judah destroyed each other. Even though the conquest was God's, it was the singing of the choir that evoked the victory.
The second example is in Acts 16, after Paul and Silas were arrested. They sang hymns to God in prison, and as they opened their mouths, the prison shook like an earthquake, causing all of the prison doors to open, all of their shackles and bonds to fall off and for their jailor to accept Jesus as his saviour.
Anointed songs
There is power in singing to God. During the UK's first lockdown, British worship-leader Tim Hughes brought together 65 churches to create a UK version of 'The Blessing' by Elevation Worship. The video has had over 5 million views on YouTube, with the comments section full of personal accounts from people who encountered the Holy Spirit through this song. Some speak of answered prayers, while others speak of healing from Covid-19. 'The Blessing' was a powerful antidote to the fear that many felt at the time. It became an anthem that helped those who used it in their worship to conquer the anxiety brought on by the pandemic, and to be healed through the power of the Holy Spirit.
As we look upon the war in Ukraine many of us feel powerless to help, but there is power in prayer and worship. In 2 Chronicles 7:14, God promises amazing results when we pray. He says, "…if my people who are called by my name humble themselves, and pray and seek my face and turn from their wicked ways, then I will hear from heaven and will forgive their sin and heal their land." The forgiveness of sins and the healing of land is a direct response to prayer. God will do what he wants to do, but when we pray God listens and can decide to act based on our prayers. In 1 Corinthians 14:15 Paul says, "What am I to do? I will pray with my spirit, but I will pray with my mind also; I will sing praise with my spirit, but I will sing with my mind also." Sung worship isn't just about the words we sing, or the quality of our voice, it's about our spirit while we sing.
I would like to encourage you to sing as well as pray in your times of intercessions, particularly during the war in Ukraine but also during future hardship, both personal and global. When we sing to God, there is power. When we sing, the Holy Spirit acts. So come, let us sing.
If you don't know where to start with singing as intercession, I suggest starting with the worship song that you're most familiar with. If you can't remember the lyrics, you can find them online, and if you need music to accompany you, you can find instrumental versions of most songs online too.
Remember, it isn't just about the words that you sing but your heart when you sing them. Below is a version of the Lord's Prayer put to music and accompanied by images of the current conflict, which you might find helpful as you call out the Lord for the Ukrainian people.

William Long is an author and film editor from Hertford. He has published two books about hymns, Hymns of Note and Hymns Of Note: Rejoice. He has edited three feature films, and his short documentary Life In North Korea won first place in the FiLMiC Pro Places film festival. To see more of his work visit @hymnsofnote on Instagram and www.hymnsofnote.com