When Rick Warren addressed Saddleback Church for the final time, there was an enormous sense of completion says Larry Ross.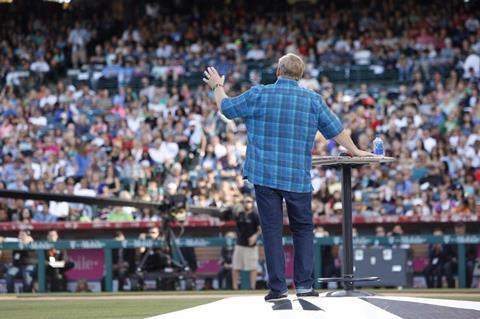 The final episode of comedian Jerry Seinfeld's award-winning, prime-time sitcom, Seinfeld, came full circle, ending exactly as it began a decade later with the opening and closing scenes featuring a conversation between Jerry and his best on-screen friend George Costanza obsessing about shirt buttons.
Similarly last Sunday, more than four decades after founding Saddleback Church, Pastor Rick Warren re-preached word-for-word the exact same sermon, 'A Daring Faith' that he delivered in the first Saddleback worship service in 1980. But this time he spoke in past tense, to demonstrate that his founding purpose-driven vision had become a reality.
During the 43-years in between, Warren delivered more than 6,500 messages, sermons and studies; trained 1.1 million pastors in 164 nations; and grew Saddleback into one of the largest churches in the US, encompassing more than 200 ministries, with 20,000 people attending weekly across 11 campuses in the US and Germany, Argentina, China and The Philippines.
Seinfeld's iconic program has been described as "a show about nothing," often focusing on the minutiae of daily life, which was reinforced in the final episode that ended where it began without any resolution. But Warren's global ministry was filled with purpose as he urged audiences to invest their lives in something of eternal value.
It has been a privilege for our team and me to represent Warren, his wife Kay and Saddleback Church for more than two decades, during which he has been a mentor, colleague – and most importantly, friend – who consistently modelled Jesus to me and everyone with whom he interacts.
I first worked with Warren in 2002, when I was tapped to help him prepare for a national media tour in advance of the launch of his best-selling book, The Purpose Driven Life during which I saw his servant's heart, passion for training other pastors and burning burden for souls. The book has since been translated into 137 languages and sold over 50 million copies in multiple formats.
Two years later Warren and I worked closely together again when he served for a season as chair of the Communications Committee for the Greater Los Angeles Crusade at the Rose Bowl conducted by evangelist Billy Graham, for whom I was privileged to serve as personal media spokesperson for nearly 34 years.
One afternoon Warren wandered into the Crusade press office, sat down on my desk and outlined his global vision for The PEACE Plan on a scrap of paper – and I was blown away. The PEACE Plan empowered ordinary people to create sustainable transformation in communities around the world, by doing the things Jesus modelled during his ministry on earth. I had never heard such an aggressive, comprehensive – and anointed – vision in my life. Today, that vision that can be attributed to Warren's lasting impact on missions and ministry around the globe.
When finished, the beloved pastor pulled out a card, flipped it onto the desk and said, "Give me a call when Billy passes…," and walked out. I ran down the hall after him and said, "We don't have to wait until Mr. Graham dies," and two months later began working with him and the Saddleback team.
In the ensuing years, I have had a front row seat on all God has accomplished through the Warrens' unprecedented transformative impact, travelling to Rwanda; Korea; disaster sites in New Orleans and San Francisco; Mexico and Toronto for International AIDS Conferences; and anywhere he was making news, including his star on the Hollywood Walk of Fame, Inaugural Prayer for President Barack Obama, Civil Forums and countless conferences at Saddleback.
Along the way I sat in on countless media interviews at critical times for our nation and the global Church and coordinated the largest press conference in which I had ever been involved – hosting more than 525 media representatives at The Saddleback Civil Forum on the Presidency with presumptive nominees then-Senators John McCain and Barack Obama in 2008.
Once a reporter asked me to explain the difference between Warren and Graham's ministry and message, to which I replied, "Mr. Graham proclaimed a timeless message; Rick Warren preaches a timely message." Indeed, no one is better than he at framing the Gospel in a cultural context, and putting the green grass of message of salvation down low where even the goats can get it.
Warren went well-beyond the short-sighted agendas of others to develop friendships and love the disenfranchised as Christ commanded us to do. He served as a global "ambassador of Jesus' love," with a priority to lift up his name everywhere he went. With exemplary humility, Warren has a heart and vision to equip and empower laypersons to do the work.
Most importantly, he values and affirms all the sinners for which Jesus came, and includes himself in that group. He has never possessed a judgemental spirit, but rather maintains a supernatural love for and openness with anyone he meets.
My life has been profoundly changed as a result of working with the Warrens, and I thank the Lord for their influence in my life. With "hats off to the past," I know its "coats off for the future," and wish them God's continued favour and success in their next venture heading up the collaborative Finishing The Task initiative to fulfill completing the Great Commission by AD 2033, the 2,000 Anniversary of Jesus' command to proclaim the Gospel.

Larry Ross is founder and CEO of A. Larry Ross Communications; media advisor to numerous American evangelical leaders, including serving as personal media spokesman for evangelist Billy Graham for 34 years and media representative for Pastor Rick Warren for more than two decades.
View full Profile