Jesus warned us that "those who exalt themselves will be humbled", says Tim Farron MP, as he recaps a tumultuous week in politics and argues that if service is beneath a politician, then leadership should be too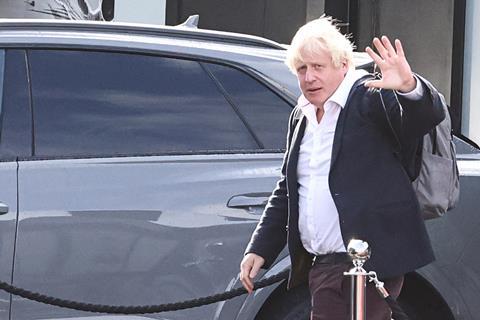 The government ship has hit the rocks – once again – despite a new Chancellor being appointed only a week ago to steady the ship.
A plague of political turmoil continues to wreak havoc through Westminster and Downing Street. You would be excused for thinking that everyone has completely taken leave of their senses. 
On Wednesday, the Home Secretary, Suella Braverman, resigned after sending an official document from her personal email address. "I have made a mistake; I accept responsibility; I resign", she said. But there was no hiding that it was a message to the Prime Minister. 
In a Commons debate, many Conservative MPs furiously put on record their disgust at government plans to resume shale gas fracking in the UK. This proposal blatantly contradicts the party's own 2019 manifesto, yet MPs were being asked to vote in favour of it. Conservative Whips – the officials responsible for keeping their MPs in check –sent an email around declaring "This is not a motion on fracking. This is a confidence motion in the government."
And if a Prime Minister loses a confidence vote, it is normal for them to resign.
During the vote, allegations were made that senior Conservative MPs 'manhandled' and 'bullied' rebel MPs into the corridors known as division lobbies used to cast votes. A lot of yelling. Some MPs were in tears. Rumours circulated that the Conservative Whips had resigned. It then turned out they hadn't. 
Although the government won the vote, Liz Truss had lost control of her party. On Thursday, she did the right thing for the country and resigned.
The country is about to have its third Prime Minister in as many months.
In 2 Corinthians 2, Paul gives us clear instructions for handling truly repentant offenders: "The punishment inflicted on him by the majority is sufficient. Now instead, you ought to forgive and comfort him, so that he will not be overwhelmed by excessive sorrow."
We seem flooded with political leaders who seek power over purpose
Liz Truss is the shortest serving Prime Minister in British history. She will undoubtedly feel humiliated and even attacked. As Christians, it is perfectly possible for us to disagree profoundly with her politics, and perhaps even with her motives for seeking the job in the first place – but we should show empathy for what she is going through. We must treat her with dignity, respect her decision, care, and pray for her.
Now, I confess that the latest political assassinations at the top of the Conservative Party are fascinating to watch. But families and businesses are unable to plan their finances, unable to bear the cost of their mortgages and energy bills, cutting down on items that were once supermarket staples, and afraid that years of preparing for retirement will now be worth much less. 
Equally seriously, the handling of the upheaval of the last few years – Brexit, Covid, partygate, and more – has haemorrhaged respect and confidence for politicians and politics. Even as I write, a Labour MP has quit after allegations against him of serious sexual misconduct were upheld by the parliamentary watchdog.
Whether you look from the left or the right, the prospects of British politics can appear bleak. We seem flooded with political leaders who seek power over purpose. I don't wish to be gratuitous, but during all this upheval and while Parliament has been sitting, Boris Johnson was enjoying time on a beach in the Caribbean. If service is beneath a politician, then leadership must surely be beyond them too?
Christians can look directly at Jesus' teachings as a model for our own service. In Matthew 23:12, Jesus warns us that "those who exalt themselves will be humbled, and those who humble themselves will be exalted". In verse 23, he criticises the teachers of the law who outwardly do what is expected of them, but neglect "the more important matters of the law – justice, mercy and faithfulness".
It's important that we don't paint all politicians with the same brush. Most MPs are horrified by the current instability. They can see how much damage the current chaos is doing to the welfare of their constituents and they're trying to get on with serving them.
Nonetheless, we desperately need more people who see politics as means to serve rather than a means to acquire status and satisfy ambition. If you're dismayed by the state of affairs, God might just be prompting you to get stuck in and join the fray? If you want to know more about how Christians should approach politics, you could pre-order my new book, A Mucky Business: Why Christians Should Get Involved in Politics, which comes out next month!

Tim Farron is MP for Westmorland and Lonsdale, and former Leader of the Liberal Democrats. He is the author of A Mucky Business: Why Christians should get involved in politics. Tim is also the host of Premier's 'A Mucky Business' podcast, which you can listen to on your chosen podcast provider.
View full Profile