53 migrants travelling in the back of a lorry have lost their lives in what has been described as the deadliest human trafficking incident in US history. George Pitcher responds to the local Catholic Archbishop's comments that the "lack of courage" in dealing with immigration reform is "killing and destroying lives".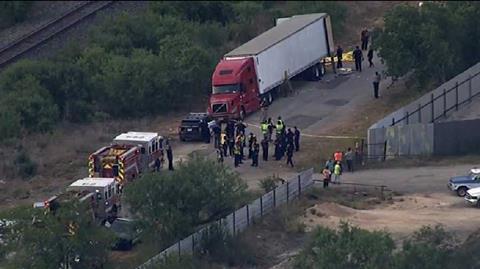 The news this week that 53 souls have perished in the back of a sealed truck near San Antonio, Texas, is the latest grotesque episode in the protracted story of the developed world's failure to tackle the migrant crisis.
It's also horribly reminiscent of the UK tragedy two years ago, when 39 bodies of Vietnamese were discovered in the back of a lorry in Essex, for which four men were jailed for manslaughter. Even the lorries from these two terrible events look the same – the red cab pulling the white, unmarked (of course) trailer.
That's 93 human lives suffocated in terror in the blistering heat of unventilated vehicles, in two of the supposedly most civilised nations on earth. But where do we stop counting? In 2017, 10 immigrants were found dead in a tractor-trailer in a Walmart car park, also near San Antonio. And why stop at trucks? In the worst small-boat accident in the English Channel last year, 27 drowned (out of a total 44 such deaths in 2021).
And so to the third question: How can this human carnage be stopped? For some, the models for discouragement of migrants, on both sides of the Atlantic, are ex-President Donald Trump's wall along the Mexican border and UK Prime Minister Boris Johnson's plan to relocate asylum seekers to the mid-African state of Rwanda.
What these policies have in common is that they're both as bonkers as they are cruel and ungodly. President Biden promptly abandoned the wall when he was elected last year. As for the UK, the first flight to Rwanda was grounded by the European Court of Human Rights (ECHR), but by then, farcically, it was carrying just one asylum seeker. That has led to the British government not to examine its policy, but hurriedly to try to dismantle its adherence to international law.
Perhaps they could swap policies. Johnson could try building a wall along the beaches of south-east England (an added bonus would be an end to cliff-erosion). Biden could try flying migrants to Greenland or Indonesia.
Apologies if that sounds glib in the face of such human tragedy, but it's meant to underscore and central, very simple and three-word truth about these policies: They don't work.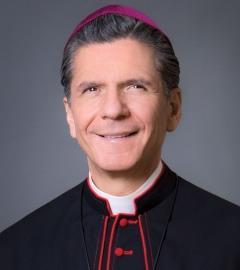 You may expect me to say that the answer may not be found in politics, but in religion. The Roman Catholic archbishop of San Antonio, Gustavo Garcia-Siller (pictured, right) nailed it in his pithy response to his state's latest immigrant death toll: "Lord have mercy on them. They hoped for a better life… Once again, the lack of courage to deal with immigration reform is killing and destroying lives."
Let's deconstruct that brief statement. Mercy is a quality – one that isn't "strained", as in constrained or restrained, according to Shakespeare's Portia in Merchant of Venice – which may be unfamiliar in this context for the unchurched.
It means compassion or forbearance shown to someone instead of what they deserve. It differs subtly from the grace of God, which is a gift given freely to those who definitely don't deserve it. The archbishop is praying that the dead migrants are offered the mercy that we failed to show them in this world.
The archbishop is praying that the dead migrants are offered the mercy that we failed to show them in this world
A word about deserving one's fate. One of the ugliest outcomes of this crisis is the suggestion that migrants deserve what they get – they embark in an unsafe boat in France or a sealed truck in Texas and they must know the risks, so they get what they deserve.
No. The point about mercy, which "droppeth as the gentle rain from heaven" according to Portia, is that we're called to offer it as God offers it to us, free and without conditions. It's consequently Christ-like – and therefore sacramental – to show it in our lives. And it's too late to offer it to people lying dead in the back of a truck.
Of course they were looking for a better life. The 18th-century American Declaration of Independence states that "all men" (not just US citizens) "are endowed by their Creator with certain unalienable Rights, that among these are Life, Liberty and the pursuit of Happiness." That formed the grounding for the American constitution.
The UK has no such encoded constitution. But it's proposed Bill of Rights replacement clearly has as its aim the ripping up of the European Convention, the only thing that comes close to the American equivalent. Nowhere in the Bill of Rights will you find a phrase such as all people being "endowed by their Creator with certain unalienable Rights".
The lack of courage, to which the archbishop refers, to deal with immigration reform, which is killing and destroying lives, may be the consequence of a lack of moral fibre in our leaders, who are constantly faced by the short-term electoral demands of racist, bigoted and isolationist voters.
But unless and until we have leaders big enough to take a worldview, big enough to do what is right rather than what appeals to the basest instincts of their electorates, and who will be bold enough to know that these kinds of leaders carry even their opponents with them, then this sordid story will continue.
To slow migration, we need leaders who will address wars, from which the suffering flee; to share the fruits of our prosperity equitably with the poor of undeveloped economies and to address the climate change that they didn't create, but suffer from most dismally.
Sound familiar? It's all in the gospel, as the archbishop of San Antonio clearly knows.