The lyrics written to accompany Big Ben's bongs are little known, even by Christians. When the worship leader Chip Kendall discovered the world's most famous clock was issuing an hourly call to prayer, he couldn't keep the news to himself. Here's what happened next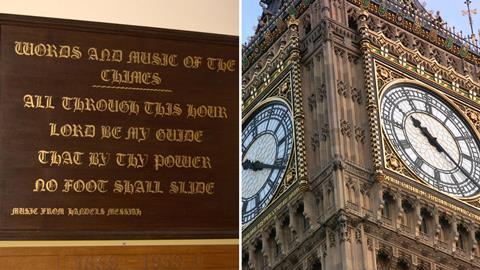 From across the lawn where I was standing, I could see that the open-top double-decker bus waiting at the traffic lights was rammed. Even though it was a hundred meters away across Parliament Square, I knew I had to seize this opportunity. There were around 100 of us gathered there, praying, prophesying and worshiping together, right across the street from Big Ben. Add to that another few hundred tourists taking selfies in front of the Houses of Parliament. I was holding the microphone.
"Can you guys hear me over there on the bus?" They all started waving at us.
"Did you know that the chimes of Big Ben have words?" I continued. "There is a plaque inside the Elizabeth Tower that reads: 'Words and music of the chimes: All through this hour / Lord, be my Guide / That by thy power / No foot shall slide. Music from Handel's 'Messiah'.'
"We are here today, gathered from churches around the nation, lifting one voice to Jesus, the King of Kings, asking him to guide us once again. We believe that he is the answer to finding hope in these turbulent times."
All of us cheered, and the bus pulled away. We knew it was a significant moment; a tiny glimpse of where we're headed as a nation.
Time to rise
Six years ago, God whispered to me that it was time for his Church in the UK to start singing the words of Big Ben.
Most of us are familiar with the melody of 'The Westminster chimes', but I only knew about the lyrics because I'd been invited to lead worship in the Houses of Parliament years earlier, and had stumbled across the plaque in my research. Based on Psalm 37:23, 31, they are so full of power and promise. I thought to myself: What would it sound like if a more contemporary British worship leader, like Tim Hughes, led that song?
We believe that we are living in significant days. God is speaking to us as a nation
I began to play around with different rhythms, and when I finally found the right one, a second part to the chorus poured out easily: "For you, you are our King / For you, you have all authority / And you, you're the reason we sing / For all the world to know / That Jesus reigns".
Now, keep in mind that when God was giving me these words and thoughts around his kingship and Big Ben, we still had a queen here in the UK and Big Ben had been silenced due to restoration work. There was no way I could have predicted that, within a few short years, our headlines and TVs would be dominated by images of a coronation with oil, swords, scepters, crowns, choirs and a king - or that it would all coincide with the scaffolding coming down from around the world's most famous clock and it's largest bell!
I worked with some friends to finish the song. We called it 'All through this hour (Jesus reigns)' and it has now been released on YouTube and most major online music platforms. Worship leaders from England, Brazil, Norway and Israel can be heard on the recording including, incredibly, Tim Hughes himself!
A clarion call
The song has become something of a calling card for believers from all walks of life. It is a call to worship and an invitation to join a prophetic prayer and justice movement called 'All Through This Hour'.
Many of us gathered that day in Parliament Square had only ever met on Zoom. Ever since Covid-19, the Holy Spirit has been drawing us together in small groups to pray and prophesy remotely. As we came together in person, to officially launch a movement that we believe will facilitate many more gatherings in the future, our hearts were stirred. We believe that we are living in significant days. God is speaking to us as a nation, and we all have a valuable role to play in his story.
How will you respond?
Watch the video and join the movement at allthroughthishour.com

Chip is a songwriter and recording artist with a big heart for using music to connect people with God. The frontman of dance/alternative evangelistic team thebandwithnoname, he is also part of the Soul Children movement in the UK, serves on the missions team at !Audacious Church in Manchester and as a UK ambassador for Maoz Israel
View full Profile