The return to cabinet of a canny political operator is a reminder to Christians to seek God's will and discern his timing, says Sharmila Meadows. Let's sharpen our spiritual radar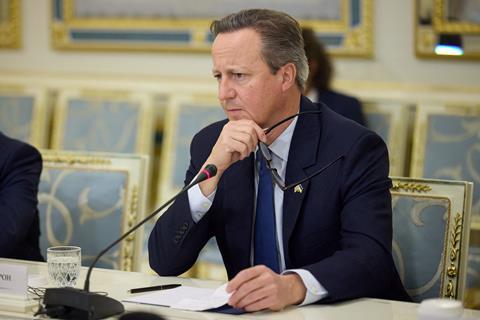 The return of former Prime Minister David Cameron to government this past week may have seemed a curious choice. To some, it may seem a backward step, to others, a master stroke. However you see this appointment, seven years on from his post-Brexit departure, Christians can examine his return - and the lessons we can learn from it - through the biblical concept of seasons.
In the Book of Esther, Mordecai advises Esther that perhaps she was given royal status "for such a time as this" (Esther 4:14), calling her to use her position as queen to save the Jewish people from a genocidal edict. Ecclesiastes 3 is clear that there is a time and season for everything under the sun. Looking through this lens asks us to consider whether and why Cameron might be a man for this season.
Reasons and seasons
There are of course political arguments for Sunak's decision to return Cameron to office. As a former prime minister, not only does he offer experience domestically and internationally, but his years at No 10 imply a battle hardiness that are invaluable qualities for life in Westminster.
Yet for me, Cameron brings more to the political stage than his Downing Street savvy. When he became Conservative Party leader, he might have appeared 'just another Tory' – yet he was to demonstrate an ability to read grassroots' sentiments in ways that his steady run of predecessors had not.
Christians need to seek the heart of God rather than presume the Christian position
Cameron's elevation to party leader in 2005 followed a third successive election defeat for the Tories. He managed to grasp why the Conservatives had languished in the polls: how the party had failed to shake off the "nasty party" reputation cemented in the Thatcher and Major years. It was an understanding of the season that would pay off.
Political triumphs often owe much to what precedes them: 1970s' Britain prepared the ground for Thatcher, as Obama did for Trump. Seasons matter. Similarly, this latest Cabinet reshuffle – and indeed any political manoeuvres over the coming year – must be framed by their season: the need to be election ready. A looming general election raises already high political stakes, with the media and public watching for the slightest perceived error.
Cameron is a proven election winner, albeit by small margins. It always felt to me that his real skill was to persuade the floating (or returning) voter that he was worth a punt; voters who had become disillusioned with New Labour, voters who had once voted blue but somehow become yellow. Crucially, he made those who had never done so – or even conceived of doing so – vote Tory. He made Blair voters veer right. In brief, he made the Conservatives electable.
God's timing
Such skills speak of understanding one's season. And there's a spiritual lesson for Christians here. Only time will tell how Cameron's appointment will unfold, but we do know that top of the in-tray at the Foreign Office will be the conflict in Israel. Cameron was traditionally pro-Israel and a strong supporter of the Jewish community. Tackling anti-semitism and the Holocaust Memorial were features of his communities agenda when in office.
Scripture is underscored with God's heart for Israel and the Jewish people. As Christians, we cannot ignore that. Perhaps the climate is right for a voice to speak into this space when so many are speaking to the contrary.
Ecclesiastes is clear that there is a time and season for everything under the sun
If the Bible speaks of seasons, Christians, like politicians, must give time to discerning the season before we respond to it.
Too often, weare more influenced by the media or political leanings than what the Bible has to say about issues or by intimate prayer. Even in the realm of social justice, secular narratives have replaced the Gospel rationale for why and how Christians posture themselves and express their concerns.
Just as a capacity to understand the zeitgeist is essential to political electability and longevity, Christians need to seek the heart of God rather than presume the Christian position. We need to sharpen our spiritual radar through a deepening awareness of the Holy Spirit and scripture before we assess the political landscape. David Cameron's canny could be a lesson for us all.

Sharmila Meadows is a freelance writer and copy editor. A former government policy adviser and private secretary in Westminster, she writes primarily on Christianity, cricket and poverty
View full Profile