As the publication of Prince Harry's tell-all memoir Spare continues to generate headlines, the Royal Family have thus far not spoken out. But behind the scenes, relationships must be strained. Emma Fowle offers some advice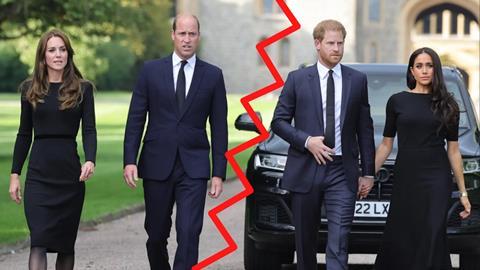 Full disclosure, I have only just finished watching all of the Harry & Meghan Netflix series. At one point, I wasn't sure whether I wanted to watch it at all. Part of me still wishes I hadn't.
Despite the many miles of column inches written about the royal couple and their now spectacularly-estranged relatives, it's still all mostly speculation about a family - however privileged – and relationships which would, more likely than not, have been better off kept private.
It is hard to see kindness in Harry and Meghan's very public airing of their disagreements, whatever the justice of their cause
No matter what I watch and read, I'll never know the full truth of what went down between two brothers in the privacy of their own homes; between a father and his son, a grandmother and her grandchild.
There are, undoubtedly, some very real issues that need dealing with. But at this particular moment, I'm less fussed about picking a side, assigning blame or getting caught up in the scandal of it all, and more heartbroken for them as a family.
Gearing up for grief
Less than two months after the death of Queen Elizabeth II, the Royal Family has just celebrated their first Christmas without her. Like all families, they will have keenly felt her absence, as a mother, grandmother, aunt and matriarch; of traditions she is now no longer part of and a place at the table she no longer occupies.
If I had one prayer for the Windsor family, it would be that they didn't also have this searing division at the heart of their family.
Not just that Harry and Meghan hadn't made the documentary, done the Oprah interview, written the book or left at all (although I wish that all of those things hadn't happened, if I'm honest) but that it hadn't come to that in the first place.
Because, at the heart of it, there's a fractured family who need God's grace and peace. And anyone that's ever fallen out with a relative will know the pain of that truth.
So what should Harry and William do? Here's my advice for anyone struggling with conflict in their family:
1. Sit down and talk about it
Preferably face-to-face. In our internet generation, it can be easy to fire off an email or send a text when you're cross but, as we all know, it's easy to misinterpret someone's intentions when you can't read their body language or look into their eyes.
If you're dreading an up-coming family reunion or are aware that there are some unresolved issues that you need to deal with, a quick chat can often clear the air and stop tensions from mounting. There's a reason the Bible says not to let the sun go down on your anger (Ephesians 4:26), or to seek reconciliation with others before coming before God (Matthew 5:21-24). When we let things fester, it can quickly spiral.
2. Be honest about how you're feeling
Depending on your personality type, you may or may not like confrontation. Family dynamics are complicated, and sometimes it may feel like one person dominates, always gets their own way or is difficult to communicate with.
While it may feel easier to not confront a dominant personality when something has hurt or upset you, burying your feelings can be equally damaging in the long run. It may damage your own mental health, or result in an explosive outburst when you can no longer keep it in.
3. Try to see the other's point of view
The Bible tells us to be "quick to listen, slow to speak and slow to become angry" (James 1:19). Key to good communication is the willingness to hear another's viewpoint, even when we're feeling hurt.
Sometimes, the pain we feel so strongly can be unintentionally inflicted, or there are things going on in the lives of others that may have caused them to be less kind, patient or thoughtful than usual. Rather than escalating tensions, listening well to how another is feeling, or how we may have unintentionally caused them offence, is a vital skill we would all do well to practise more.
4. Examine your heart
"The heart is deceitful above all things… Who can understand it?" says Jeremiah 17:9. We are all wired with our own subconscious bias that always favours…us! We might not like to admit it, but we're all naturally selfish, self-centred and self-serving when left to our own devices. Luckily, God promises that he can redeem us from that, and gives us the Holy Spirit, telling us to examine our hearts and ask God to search us (Psalm 139:23-24).
When faced with conflict, ask God to reveal any areas in which you need to repent, change and say sorry – most conflict is not as one-sided as we think it is, and apologising for any fault that lies at our feet is a good way to bring our own stubborn hearts into line, as well as paving the way for peaceful resolution.
5. Give it to God
Despite our best efforts, it isn't always possible to resolve all conflicts. "As far as it depends on you, live at peace with everyone" says Romans 12:18 (emphasis mine). When you've prayed, talked, listened and apologised where necessary, giving the situation to God is sometimes the only thing left to do. The Holy Spirit is our wise counsellor, and we can ask for peace, guidance and instruction on how to handle conflict - and when to walk away from a damaging or hurtful situation, trusting him to do what we cannot.
Bridging the divide
Romans 12:19-20 continues: "Do not take revenge, my dear friends, but leave room for God's wrath, for it is written: 'It is mine to avenge; I will repay,' says the Lord. On the contrary: 'If your enemy is hungry, feed him; if he is thirsty, give him something to drink. In doing this, you will heap burning coals on his head.'"
Whatever your view on what went on, God's command to be kind, even when we have been slighted, is clear. For me, it is hard to see kindness in Harry and Meghan's very public airing of their disagreements, whatever the justice of their cause - although others may disagree.
But even if it wasn't meant unkindly, it may feel that way to a Royal Family who cannot respond in kind with their own side of the story. Ultimately, I wonder whether the collateral damage caused to the family relationships in the process will be worth it, and whether a different response might have avoided such fallout.
As they continue to be separated by both physical distance and the gulf that has opened up between them, I pray they'd all find a way to keep the door to peace open.

Emma Fowle is assistant editor of Premier Christianity and editor of Voice of Hope, Premier's quarterly devotional magazine. Emma is a trustee for Christian festival Creation Fest and lives in Cornwall with her husband and two teenage daughters. She loves to read, swim in the sea, play netball and lift weights with her dad.
View full Profile