With new legislation on it's way that would limit the rights of some workers to strike, Tony Wilson says Christians should oppose the government's plans to crack down on industrial action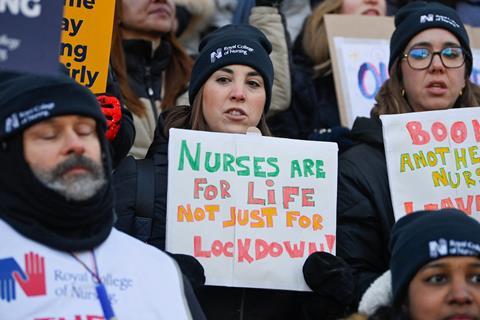 A new bill aimed at limiting the impact of strike action has recently passed its second reading in the House of Commons. The Strikes (Minimum Service Levels) Bill seeks the right to force workers to resume their duties during periods of industrial action, under the threat of losing their job.
How can Christians think through the ethical issues involved with this legislation? Is the right to withdraw labour so fundamental that it is unthinkable to remove it?
The Bible tells us that work is something that dignifies the individual. A quick romp through the book of Proverbs makes it clear that choosing not to work is the path to all kinds of ruin (Proverbs 24:30-34, see also 12:11, 12:24, 13:4 14:23). So, starting with the premise that work is a good thing, we can agree that the withdrawal of labour is only to be used in exceptional circumstances.
Workers rights
The principles of social justice, which have found expression in the Church down the ages, include workers rights. As the agrarian age gave way to the Industrial Revolution the working classes suffered long hours of exhausting labour and atrocious living conditions. Enter the pioneers from the non-conformist world who challenged this paradigm.
Building garden cities with good housing, space to play sports and enough time off to enjoy recreation with family and friends were the guiding principles of industrialists such as Cadbury, Fry, Rowntree and Salt.
In the modern day we find similarly inspiring people such as Julian Richer (Richer Sounds) who gave away 60 per cent of his business to his employees in proportion to their length of service. He decided he had more than enough to live on and wanted to value the people who helped create the wealth.
So, we can all agree that people should work in proportion to their ability, that they should be paid appropriately. We should support the worker who decides to withdraw their labour when their employer falls short of these basic rights. But what should we think when the employer is the government and the worker is providing an essential service to the public?
Widespread strikes
We are in the middle of a crisis in public sector employment with postal workers, teachers, healthcare workers, rail workers, firefighters and border staff all in some form of industrial action.
While striking teachers might cause disruption, absent medics might lead to unneccessary deaths. Is the government's proposed legislation therefore reasonable under the circumstances? Isn't this a necessary move by the government to protect the public?
Personally, I think not. People who join the caring professions are, by their nature, reluctant to strike and put those in their care at risk. It is precisely for this reason that they are vulnerable to being overlooked when it comes to pay awards and conditions of service. How else could we explain why a care-worker in a nursing home barely earns a minimum wage, while a currency trader wins a bonus large enough to buy a house? We can't honestly say the reward reflects their respective contributions to society.
When you listen to the nurses, doctors and ambulance drivers in this dispute, what becomes abundantly clear is that this is about more than just money. I hear people at the end of their tether, fighting to work in a system that is irredeemably broken. They don't just want more money, they want to work in a functional health service where they can go home and not spend the night in tears because of the stress they have experienced during their shifts. Believe it or not, an ambulance driver actually wants to spend their time moving people into hospital rather than parked outside waiting for their patient to be admitted.
The health service is so broken that, strikes or no strikes, people are suffering unnecessarily and sometimes tragically dying because the NHS is not able to offer a safe service to the nation on any given day. The healthcare workers know that their action is bound to temporarily put more people at risk but a strike is a last resort to make government sit up and take action.
On the principle that it is sometimes necessary to create a measure of pain in order to avert a worse situation in the future, I think these strikes are justified and that Christians can, in good faith, oppose the government plans.
While more pay may help our caring professions, it is not the solution they crave and which society requires. Sadly, the reasons for this crisis are complex, have been growing for more than a decade and won't be solved easily.