With Christian Conference Trust reporting they're on track for a record-breaking 2022, it seems many Christians are ready to stop holding online events. Mark Rowe explains why he believes in-person is better for everyone's mental and spiritual health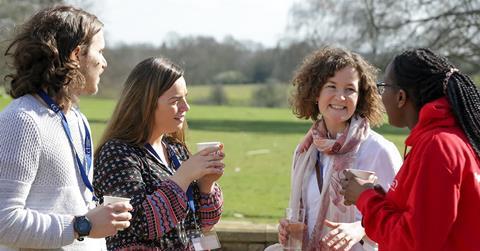 Followers of Christ have been coming together since Jesus called his first disciples in the book of Matthew. Throughout the gospels, we read of the many occasions that Jesus and the apostles met, not just to learn but also to eat, walk, talk and share together.
Up until very recently, the Christian community has continued to worship and fellowship by meeting face-to-face as one body. As technology has evolved, new ways of meeting have been invented. Slow to take off at first, video conferencing became the only way for us to connect during lockdown in 2020.
Video conferencing did exactly what it said on the tin. It helped us broadcast to an armchair audience. Free to choose from thousands of online messages, many decided to get their weekly sermon from any number of YouTube preachers and churches, and some switched off altogether.
We were grateful for the way this new technology helped us in our ministries but essentially, we are all relationship people who are designed to spend time together, in person. There are undoubtedly some benefits to meeting online such as reaching people worldwide at a lower price, but what is the real cost to our congregations if we continue to stay pixelated?
By keeping events solely online and not returning to face-to-face interaction, I believe that we are in danger of missing out on a much better way of interacting. As we can see from the many accounts of the disciples gathering together in person, the benefits of spending time away with Christian brothers and sisters far outweigh those offered by online events. We have a duty of care to all our people, many of whom are struggling with the isolation, anxiety, and depression that two long lockdowns created.
Being in each other's company offers a space to relax and recharge. Online events can't finish with a chat over coffee, a stroll around the grounds or a deeper conversation over dinner. Even the best online events won't give you the chance to visit new places, eat good food or create memories that last a lifetime.
Meeting in person allows relationships to grow stronger, last longer and have a deeper connection
Church weekends, conferences and youth group breaks offer people the chance to shake off the dust of the world, say what's really on their minds, ask challenging questions and receive support that may not be possible if your only connection is via a screen. Meeting in person allows relationships to grow stronger, last longer and have a deeper connection.
Research published in 2015 by the Journal of the American Geriatrics Society found that having limited face-to-face social contact nearly doubles someone's risk of having depression.
Taking people away from their laptops is not only beneficial for their mental well-being, it also inspires openness, creativity and boosts morale. Christian ministry becomes so much more effective when people are together in person, away from life's stresses and challenged by a new environment. It has been said by many that a youth leader can achieve an entire year of ministry in a single weekend away. Many of us have fond memories of going away as a youth group or church, eating marshmallows around a campfire or getting soaking wet in a boating lake.
Getting people together, whether in a Christian conference venue, activity centre or even a campsite, is vital. It's been a blessing to see first-hand many thousands of Christians coming together in person at High Leigh, The Hayes and Belsey Bridge since we reopened last summer. As I walk around our venues I see smiles and hear laughter, worshipping and chatter coming from all parts of the building. I see friends eating together and sharing stories around a fireplace over a drink or two late into the evening. This is what life is really about.
I believe we need to get our people offline, consider the real cost to them of not going away together and invest in our future generations before it's too late and they've switched off altogether.