God's anointing is not just for kings. The gift of the Holy Spirit means all believers are part of the royal priesthood, with all the authority that brings. Let's use it well, says Andy Flannagan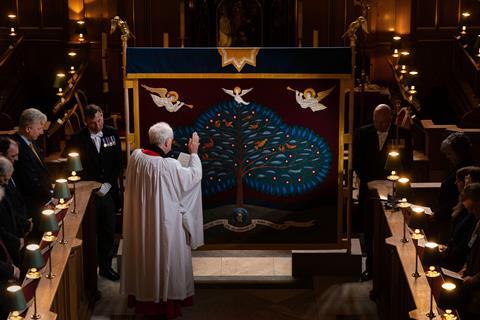 Most of us are aware that we don't live in Old Testament times. I, for one, am pretty glad about that. I'm not sure how my marriage would survive me kicking my wife out of the house once a month (see Leviticus 15).
But, as we watch (or not) the coronation this weekend, it's important to remember that it is Old Testament imagery that we are stepping into. The coronation service itself doesn't hide this fact. These words, from Handel's 'Zadok the priest' will be sung: "Zadok the priest and Nathan the prophet anointed Solomon king / And all the people rejoiced and said: God save the King! / Long live the King! May the King live forever! / Alleluia! Amen!"
Set apart
The tradition of anointing a monarch with oil goes a long way back. Anointing was designed to mark that an object or person were qodesh – holy and set apart for the task they had been called to. Oil was used only for the priests of Israel and the Tabernacle articles but, later, its use was extended to include kings. "Then Samuel took a flask of olive oil and poured it on Saul's head and kissed him, saying, 'Has not the Lord anointed you ruler over his inheritance?'" (1 Samuel 10:1).
The coronation service will, helpfully, also quote Jesus, quoting Isaiah 61, when he says: "The Spirit of the Lord is upon me, because he hath anointed me to preach the gospel to the poor; he hath sent me to heal the broken-hearted, to preach deliverance to the captives, and recovering of sight to the blind, to set at liberty them that are bruised, To preach the acceptable year of the Lord." (Luke 4:18-19).
You don't need oil flown in from Israel. You just need a heart surrendered to God and open hands
This reality is later written of in Acts 10:38: "You know of Jesus of Nazareth, how God anointed him with the Holy Spirit and with power, and how he went about doing good and healing all who were oppressed by the devil, for God was with him."
A glorious democracy
This anointing is by the Holy Spirit. And we are promised that it is available to everyone.
Here is the glorious democracy of anointing: it is not just for the special people or the leaders, it is for you and me. It is for every person watching the coronation (or not) and for King Charles III.
2 Corinthians 1:21-22 tells us that "it is God who establishes us with you in Christ, and has anointed us, and who has also put his seal on us and given us his Spirit in our hearts as a guarantee."
More on the coronation of King Charles III
According to one scholar, quoted in Smith's Bible Dictionary (Thomas Nelson) this anointing "expresses the sanctifying influences of the Holy Spirit upon Christians who are priests and kings unto God".
By his Spirit, we are all anointed to fulfil our holy calling to preach the gospel to the poor. By his Spirit, we are all anointed to heal the broken-hearted.
In our celebrity-obsessed age, the finery and ceremony of King Charles's coronation - however well-meaning - may function to shift our mindsets even further towards to those of consumers or mere subjects, rather than the anointed leaders we are called to be in our streets and neighbourhoods.
Authority to do more
The idea of anointing is connected to the idea of authority. After the release of the hymn 'Tears and celebration' last year, which marked the late Queen's passing, the highest percentage of comments I received were about the third verse: "In the midst of coronation / She once knelt in silent prayer / Oil was poured in Christ's commission / Called to lead her people there / May we know that same anointing / Move in royal authority / Then speak liberty and healing / To a world in need of peace."
In a world where legislation has to jump through so many hoops before it becomes law, we forget the authority that comes from our royal anointing. As with monarchs of old, from the moment words leave our mouths, they become 'law'. If we speak with true authority, under the anointing of God, we can literally speak things into being (Matthew 17:20-21).
By his Spirit, we are all anointed to fulfil our holy calling
So let's celebrate this weekend (if that's our thing) but let's not allow our own lives to be dragged back into an Old Testament way of thinking, where only the folks in the fancy clothes get to do the cool stuff. We are not just passive observers, deciding which leaders we like or not. We must move from commentating to participating.
Whether it is healing, administration, words of knowledge, deliverance – the anointing of God is for all of us. Our response must be to allow ourselves to be filled with the depths of his Spirit, rather than whatever shallow, social-media-fuelled tide of novelty we swim in. You don't need oil flown in from Israel and scented with sesame, rose, jasmine, cinnamon, neroli, benzoin, amber and orange blossom. You won't need a spoon that's older than nearly any other object in the UK. You just need a heart surrendered to God and open hands to receive his blessing.
Good leadership of a nation is important. Anointed leadership can bring transformation.
But good leadership of your street is also important. Anointed leadership can bring transformation.

Andy Flannagan is a Luton-based Irish singer-songwriter and executive director of Christians in Politics
View full Profile