The straight-talking New York City-based pastor speaks to us about embracing God's heart for the lost and why he'll always value honesty over self-preservation
When he was just 28 years old, Jon Tyson started a church in his apartment in Manhattan. Sixteen years later, Church of the City New York has an annual budget of $4m, and a membership of 1,500 people.
Tens of thousands of people listen to Tyson's sermons online, and he has a large following among younger leaders in the UK. But his journey to becoming a pastor was far from conventional.
Born 10,000 miles away in Australia, Tyson dropped out of school to become a butcher's apprentice, but a supernatural encounter with God convinced him of his calling to become a pastor in the USA. He spent three years praying and fasting one day a week to confirm this calling, before being miraculously offered a Bible college scholarship in the States.
Tyson tells me that the past 18 months have been the most brutal of his ministry life. Covid, race riots, politics and mental health crises have taken him to the edge. But despite the challenges, he refuses to quit, or take it easy – on himself or the Church. In a recent sermon, he spoke openly about his disappointment in baptising nine people last year. It might seem a decent number to many church leaders, but for Tyson, leading a thriving church in a city of 8 million people, it was a "painful" admission. So why speak about it publicly? Good leadership "leans into hard things", he tells me, even if it means risking your reputation.
I'M ALIVE DURING ONE OF THE GREATEST DECLINES IN THE WESTERN CHURCH, PRAISE GOD
It's another example of the approach that's earning Tyson a growing reputation as an unusual leader. He is outspoken on topics that many fear to address (one of his sermons was entitled 'The Controversial Jesus: Jesus, Gender, and the Trans Community') preferring to provide leadership on the issues which "affect people's lives" than protect himself by avoiding them. His preaching is peppered with quotes and cultural references, a clear result of his love of books (he reads 200 a year!) and a desire to reach the believers, sceptics and seekers that fill his city, regardless of the cost.
What was it about New York that made you want to start a church there?
I first came [to New York] in 2001. I stayed up all night, walking around, praying. I felt a deep love for it, and a deep sense of call. So when I was 28, we sold our house, gave the money away, like we read about in the book of Acts, and started a church out of our apartment. It's been a wild ride ever since.
That's a big thing to do at 28! You must have felt some trepidation…
I should have had more, if I knew what I was getting into! I did a 40-day fast and on the last day, somebody wrote us a cheque. They said: "Clear your debts and do whatever is in your heart." I felt like that was the final confirmation.
That first year was very overwhelming. I definitely did some unlearning and repenting. God humbled me in some very painful ways. In 2006, I got invited into a mentoring programme with Tim Keller. It genuinely transformed my ministry.
Tim Keller once warned you about making Christians too comfortable in church. You said you weren't sure you agreed, but you've wrestled with it ever since.
I think I was trying to soften it, because it's such a contrarian idea, but he said, that the worst thing that can happen for Christians is they get settled with a group of Christian friends, and turn their lives inward. We need that propulsion of love to point us out. That still impacts my thinking.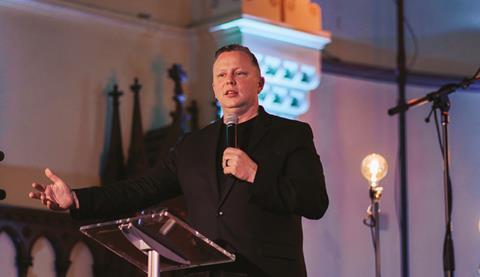 What have been your biggest challenges in leadership?
One of the greatest challenges is transience. Zygmunt Bauman wrote Liquid Love and Liquid Life (Polity) about how nobody builds strong ties to one another anymore. When your greatest command, as a pastor, is to cultivate love for Jesus and sacrificial love for one another, it makes it very hard when no one wants to do the 'sacrifice for one another' part.
People say: "Do you think there's a big scandal coming to your ministry?" but I think it's just a tiredness of people perpetually leaving. And that accelerated during Covid. Hundreds of people moved away. I'd just see them on Instagram, going to other churches. That's painful.
If we're in a moment of deconstruction, where everybody's angry, are they still listening for Jesus? A lot of folks are too busy tearing things down to hear the knock of Jesus
There's a suspicion towards institutions and authorities that makes it hard to pastor people and win their hearts. There's a lot of barriers that I didn't experience ten years ago. And so many people are wrestling with anxiety. Mental health is a huge crisis. But I've got a resurrection lens. I'm alive at the time of one of the greatest declines in the Western Church, praise God. You either look at that as a tremendous opportunity, or with weeping despair. I say: "Thank you for the opportunity, and help me to be faithful in this time."
In the light of all the challenges, how do we continue to build a Christian community that draws people to Jesus?
Jesus said: "You seek first the kingdom, I'll build the Church." (Matthew 6:33 and 16:18). A lot of time when we're disillusioned, we're disillusioned with what we've built, not what Jesus has built. We've been seduced by power, and the flesh is operating. Jesus goes hard on the churches in Revelation, but he also calls those he loves to repent. His invitation is always: "Behold, I stand at the door and knock" (Revelation 3:20, ESV). So if we're in a moment of deconstruction, where everybody's angry, are they still listening for Jesus? A lot of folks are too busy tearing things down to hear the knock of Jesus. I'm trying to elevate that knock to see what Jesus could do if he's let back inside the Church.
It may not look like much, but when Christians gather around a table, eat a meal, confess their sins, pray for one another, ask how they can meet each other's needs – there's very few places in the world where that happens. I want more of that.
You recently spoke about your disappointment in only baptising nine people last year. You don't often hear leaders speak publicly about things like that…
I mean, what do I say? I was embarrassed. I was disappointed in my own leadership. There's a million factors – we didn't even meet for half the year – but I'm not taking the easy way out. I just wanted to ask: "Does our heart match the heart of Jesus?" And the answer was, no. We've collapsed inward to get through the pandemic. That was painful for me. I wept over that.
It was hard to say, but people respond when you tell them the truth. The reports I've got of people who've reached out to their non-believing friends, it's so encouraging.
Sometimes you've got to get over your own self-preservation and do that for the good of the kingdom. I'm not in the business of brand management, I'm in the business of leading our church into God's mission. Good leadership should be willing to lean into those hard things.
I've heard you're quite a reader. How many books do you read each year?
Pre-pandemic, maybe 200. But I limit my media consumption to two hours a week, so I'm stealing time away from very morally neutral activities to read. I read broadly, and primarily for joy. My technique is three books at a time, one chapter a day of each. But in the pandemic, I read 28 books. That's all! I decided to go back and re-read classics and master the material. That was so life giving!
That's interesting. A lot of people probably read more during the pandemic…
I have never worked so hard as I did during the pandemic. When I hear pastors say: "Oh, it's just a great time with family," I'm like: That was not my experience. I was in pastoral crisis mode! You're trying to respond to [Covid-19] and pivot online, then the death of George Floyd, trying to navigate all the racial complexities, dealing with all the crazy stuff that happened in the Capitol – it's just been a whirlwind.

What was the hardest point for you in that 18 months?
The riots during Black Lives Matter. For a lot of folks, it was a real awakening about the disproportionate effects of racial injustice. I've never received the level of accusation in ministry like I did during that period. [As] a white pastor, people needed scapegoat figures to discharge their anger on. I can handle that – I signed up for that as a leader – but it was just the intensity. We were still burying people from Covid and this happened.
I'm very grateful for friends who said: "Stay the course, keep leading through this." The Bible speaks a lot about perseverance. If you have a formation lens, that God's ultimate goal is to form you into the image of Jesus, then all these things are opportunities to examine neglected parts of your heart. I definitely came out tired, but a more loving man. I would never want to go through that again, but the fruit of it has been beautiful.
YOU ONLY GET TO PREACH 52 SERMONS A YEAR, AND YET PEOPLE TAKE IN HOURS OF MEDIA CONTENT EVERY DAY. SO THEY'RE DISPROPORTIONATELY FORMED BY SECULAR IDEOLOGIES, NOT BY GOD'S WORD
You're known for teaching on hot topics many avoid in the Church. Was that a concious decision?
People need leadership. You've got to help people with the issues that are affecting their faith. That's a form of love. Failure to address the things your people are wrestling with – out of fear, to avoid controversy, or as self-preservation – is just a form of selfishness. I haven't done it perfectly, but at least I've had the courage to say: "We're going to talk about this." Otherwise, it just turns into toxicity. People fill in their theology based on whatever culture says, rather than what God's word says.
Have you received any criticism for that?
I absolutely receive very negative feedback. But that comes with the territory. Jesus said: "Woe to you when everyone speaks well of you" (Luke 6:26). I don't like being criticised, but I do find that people respect my thoughtfulness, even if they disagree.
How do you teach the Bible faithfully while engaging with a wide range of viewpoints?
You only get to preach 52 sermons a year, and yet people take in hours of media content every day. So they're disproportionately formed by secular ideologies, not by God's word or a Christian theology. So you have to talk about the absolute core of an issue, because if you're not clear, people will look for clarity in other places. You can't do it all through the pulpit. For me, knowing where to point people [to extra resources] can often be as good.
What is it that you think God is doing in the Church at the moment?
God's heart is always for a "first love" Church. He always wants his Church to turn back to him, to love him the way that they've been loved. We've had such a reaction to [Covid-19] – and we had to – but I think we loved our neighbour more than we loved God. And that sort of disordered love will take a toll, even if it's just for a season in a crazy crisis. It's best when we're loving God through loving our neighbour, but I think we were in such shock and trauma and exhaustion, we weren't able to do that. So I sense God just drawing us back to himself, getting our eyes on him again. "Draw near to God, and he will draw near to you" (James 4:8, ESV). What an invitation!
To hear the full interview listen to Premier Christian Radio at 8pm on 12 March or download The Profile podcast

Emma Fowle is assistant editor of Premier Christianity and editor of Voice of Hope, Premier's quarterly devotional magazine. Emma is a trustee for Christian festival Creation Fest and lives in Cornwall with her husband and two teenage daughters. She loves to read, swim in the sea, play netball and lift weights with her dad.
View full Profile