George Verwer travelled the world and the organisation he founded is still touching hundreds of thousands of lives. But when Premier Christianity caught up with him, the evangelist revealed that despite his passion for mission, he still struggles with doubt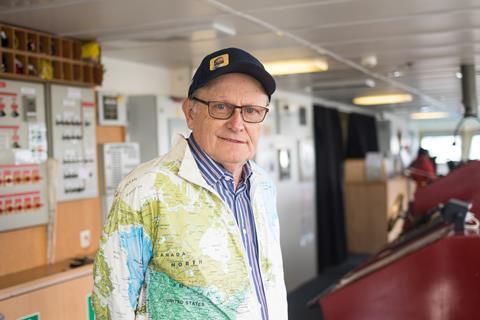 Most interviews for Premier Christianity are conducted in a reasonably formal way. We'll sit down with the person in question, maybe in their office, and stay there until we've recorded enough of our conversation to make an interesting article. From quite early on, it's clear that interviewing Operation Mobilisation (OM) founder George Verwer isn't going to be a 'normal' experience. But why should it be? He's led an extraordinary life, after all.
We conduct the interview in his cabin on the Logos Hope, the ship which is in its first year of service with OM, travelling the world with its crew of missionaries. Although he's rarely on board, he keeps a cabin here so he can drop in.
My first impression is shaped by how Verwer reacts to the crew (and they to him) as we walk through the ship. They're always pleased to see him and ask if he's well, while he's constantly on the lookout for little jobs that can be done to make life easier for visitors.
He spends the entirety of our interview standing while packing a suitcase. He's finding the time for me before a quick visit home to see his wife in Kent, then a preaching engagement in Yorkshire that evening. During our chat, we're interrupted by phone calls, the ship's announcer wondering aloud where he is, and a matter that needs his urgent attention elsewhere. That's not to say he's distracted – he makes sure we pray before the interview – and genuinely seems to enjoy telling me about the mountain of work he's still involved in, aged 71. His enthusiasm for the gospel, and for the people yet to hear it, is infectious. I can understand after just a short time in his company how he's managed to rally thousands of people to give up years of their lives to travel the world and keep the work of OM strong.
He's also amazingly candid. Verwer's confession about struggles with sexuality is one of the most frank I've heard from a senior Christian figure. He says, "I would have been totally wiped out by pornography if it wasn't for Jesus. I didn't just love women – I worshipped women". So maybe it's this honesty as much as his enthusiasm that OM staff have responded to.
But if that's what keeps them going, what about him? He's clearly desperate to spend time with his wife, and is delighted when he introduces me to his grandson who's currently working in the ship's engine room – family is something he seems to take very seriously. His admiration for Billy Graham is obvious and I don't think it would be too much to describe him as Verwer's role model. Another area in which he's disarmingly honest is his struggle with God over suffering. It's surely something most Christians can relate to, but it's interesting to hear him articulate those struggles so strongly. The way he found Christ has been key to his ministry ever since, so it seems like the appropriate place to start the interview…
Take us back to the age of 16 when you had a conversion experience.
Well I'm not from a Christian home; my grandfather was an atheist from the Netherlands. My other grandfather was Irish with Scottish and English blood which was basically toxic. He was a drunk – my grandmother divorced him. At 16 I was just a selfish, typical New Jersey kid, son of an immigrant, causing some grief here and there. But a woman put my name on her 'Holy Ghost hit list' and not only prayed I'd become a Christian, she prayed I'd become a missionary. She sent me a copy of the Gospel of John through the post and that had an impact on my life. As I read it, it prepared me for a Billy Graham meeting in New York City – March 3rd 1954. That was it – I heard the gospel, I believed, I went forward and trusted Christ and I've never been the same. Of course there were lots of things that God had to do in me, even as a young teenager.
Did that lady get a chance to see the seed that she sowed come to fruition with OM?
Yeah. She supported me financially, prayed for me. They were not wealthy people and she came to England and visited the first ship 38 years ago. She gave her testimony in an open air meeting in Scotland. It's people like her that have kept this going all these years.
Were you passionate about evangelism from day one?
I just thought 'This is the most important thing in life. My school friends need to know about this.' [The same lady] had been praying for that school for 15 years. I went back to school. I'd been elected as the president of the student council, which means I had a lot of clout. I got the headmaster to give me permission to distribute Gospels of John. A thousand students promised to read it – this was a really pagan place, but there were a lot of people trying to be good, trying to be the right kind of person.
God really did some amazing things. One meeting I spoke at, about five or six hundred fellow students came and 125 stood and believed in the Lord. That's an example of what God did. So my first mission field wasn't Mexico, Europe or India... It was my own hometown. People say "that's so hard", but I found people responsive. I owned a fire-fighting equipment company so I was going door to door with fire extinguishers. Then I switched and started going door to door with Bibles and Christian books, and I used that money to finance my first trip to Mexico.
It's amazing what God did from the very beginning. Are we in danger in the church today of wrapping young people in cotton wool too much?
Are we in danger of losing 'edgy' mission?
There are all kinds of young people today. I speak at huge youth events and I have as many respond now as when I was their age. It's quite humbling for an old geezer like me! But I think the majority are used to living a soft life. I remember the first time one girl had to wash her hair in cold water. This was like a crisis!
We used to send everybody to India – that was our big training base. Now OM India is mainly Indians, so more of our recruits get sent to this ship. This is a transformational, life changing experience. I believe God has called us as Christians into community. Relationship is important, friendship is important and helping people in their physical situation is very important. In OM today, proclamation comes together with social action. This ship is a major voice for the unborn; it's a major voice on HIV/AIDS.
India is a place close to your heart. A lot of Western missionaries have had a difficult time there, and in China. But these are two places where the church is growing massively. Does that tell us something about cross-cultural mission?
I think you've touched on an important thing. Most of our workers in India are Indians, but it was all started by Brits and others. It's not either/or with national or international [missionaries]. It's clearly both. God leads different people in different ways.
Other countries are nowhere near India in terms of the church, so if missionaries don't go there, it's not going to happen. I have 40 nations listed in my notebook that all have less than 1 per cent of the witness we have in London. We believe London is pretty needy. Here are 40 nations that have less than 1 per cent, so we need workers.
You recently got to go back to India after a long time away because of visa problems. What do you make of what's going on there with the conversion of Dalits and others?
Going to India was the greatest trip of my entire lifetime. That's where my wife and I laboured. Many of our dreams have not come – the dreams for Iraq, Afghanistan, and Turkey – things have not happened that we've prayed for our whole lives. But what's happening in India is beyond the dream. OM is just a part. We've seen 2,500 new churches; we're opening 100 schools for Dalits.
OM grew from just you and your vision to reaching tens of thousands of people. How do you do that? Is it just a case of learning as you go along?
One step at a time. God gave me the gift to mobilise people and to love people. I was a delegator. When I got the key man for Spain, I left Spain and let him carry on the work. We were always more concerned about people's spiritual health than what they could do. That made a huge impact.
A lot of people, even in Christian ministry, feel used. People knew we were committed to the long-term. As men we would all share, because we all have sex problems. And that would bond us – men had never talked to anybody about their struggle with sexuality. I would have been totally wiped out by pornography if it wasn't for Jesus. I didn't just love women – I worshipped women. Thirty-two women by the time I was 17, and this was the age of 'romance' not the age of 'jump in bed now'. So people see this as real. My first message isn't missions. It's grace, forgiveness and Jesus.
I have a lot more doubts than the average Christian leader
I understand you recently got to meet Billy Graham. How was that?
Well I'd met him before, but only for a few minutes. I thought 'Lord is that it? I've prayed for all these years to get time with Billy. Is that it? Five minutes?' I'd given up. But then a few things happened that indicated he'd be willing to see me.
Going to his home and sitting down with him was one of the highlights. No matter how spiritual we are or committed to integrity and reality, we're still human, and human things encourage us. To visit that home in the mountains, and see his dogs and sit with him was a real blessing. He's a real and humble man and is willing to be used. He's run the race to the end. That's been an encouragement to me because I've wrestled with a lot of discouragement. It's a struggle.
I have a lot more doubts than the average Christian leader, I think. That's why Philip Yancey's Disappointment with God is one of my favourite books and Ronald Dunn's, When God is Silent. I have had a struggle with why God allows so much suffering. Why doesn't he intervene more? Especially when I hear somebody agonising in prayer. I don't know why people are not more concerned. How can we live in this world and not be concerned by suffering? When we suffer we get concerned, right?
But do you sense in the church something that wasn't there 15 years ago? A real coming together of evangelism and social action?
Yes. Some groups were way ahead of us – [Salvation Army founder William] Booth for instance. But the majority of the church was not there. Then we had the Lausanne Congress in 1974. Thousands from all over the world – Billy Graham, John Stott. At the end there's this document – proclamation comes together with social action. In our own work it took years before we grasped it. How do we make that happen? Where does the money come from? But actually some people here in London opposed John Stott in this idea that the two go together. [They said] "The priority is to win people to Christ". It's not that simple. That created a wrong paradigm, and that is radically changing.
Unfortunately there are still a lot of Christians who don't read that much, they're in their own little world, their church hasn't proclaimed this and so we have a lot of Christians who aren't really moving with this which is really not new any more. It takes a long time to bring change into the body of Christ.
Do you see a new generation of leaders starting exciting ministries?
Absolutely. But it's not just all in the Anglo-Saxon world. The church is global and OM has been a part of that. We have graduates starting every kind of ministry. We also believe we need leaders in existing ministries. God does not abandon a church because it is 100 years old, or a ministry because it is 50 years old. We have a whole generation of people in their 20s and 30s and 40s and 50s, and they're going to carry OM and the ships forward for a long time.
We never say it's going to be easy. Of course there are great leaders, but you don't always see them. Do you think I was considered a great leader for my first years living in Great Britain? No. There were people who wouldn't even talk to me. It takes time. I've now been given a Doctorate – this is the joke of the century – I don't have any degree – I went to Moody [Bible Institute, in Chicago]. They give you a little Diploma.
You've handed over leadership of OM. How hard was that, having founded the organisation?
I didn't just hand over day-to-day leadership – I did the whole thing. I really wanted to be out of the whole thing. I'm not on any committees; I'm not running this as chairman of the board. That's an unusual choice. A lot of other 'founder types' like me want to stay in and meet with their leaders. I chose a different road of total closure. I've found it wonderful. I carried that load for 46 years, and never really wanted to. I'm a recruiter, I'm a project person, I'm a relational person – I've got 5,000 people on my Facebook. I have more than enough to do! I hardly even talk to Peter Maiden; the leader of OM. He's got a great team. I'm hardly on the ship, but this happens to be the time when the ship is in my city. I live in Britain – we've sailed from Cardiff so this is my big time on the Logos Hope. Once it sails to the Caribbean, they will not be seeing me.
But you're certainly not retiring and slowing down...
There's so much to do without being a leader. I am the leader of a little thing called Special Projects, which is a fund I have to just give away money. I love that work, because the key word in my life is 'catalyst'. I've had 50,000 sermons downloaded, I've had a million copies of my books in 50 languages go out around the globe. Can you imagine just trying to follow up on that? Especially as I give a lot of attention to prayer.
If someone sends me an email, there is a high chance they will be prayed for as I type that reply email. We give away tens of thousands of books. Moving into this holistic ministry – it's the busiest period of my life. I'm involved in AIDS, pro-life, impure water, and global poverty. I have more invitations to speak than I know what to do with; I take 300 meetings a year. I'm not doing this because it's compulsive – I'm a normal brother, I even play golf, I love music, I love going to great films! But I believe the Bible. I believe men and women need Jesus.
I know Jesus. He's blessed me so much; how can I possibly keep that to myself? So every minute of the day I want to do all I can to help others and see them come to know Jesus.
George Verwer died on 14 April 2023 (read our obituary here).This interview was first published in September 2009