Eddie Holman is a veteran soul singer whose 'Hey There Lonely Girl' million-seller is still heard on radio and TV today. He is also an ordained minister with a newly re-issued gospel album. But it's Holman's phenomenal popularity on the North of England's Northern soul scene which recently brought the singer to Blackpool, as it did journalist Tony Cummings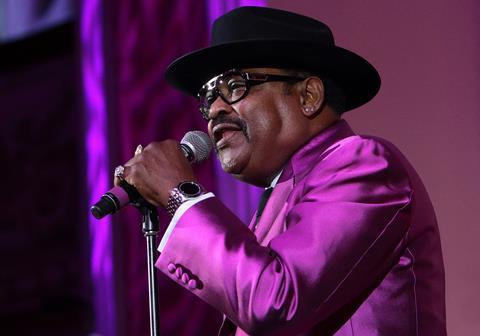 It's a coldish and blustery day in Blackpool but it's not stopping them dancing. Neither is their age.
Thirty or so men and women, all of them over 60, are ducking and weaving to the pounding music outside St John the Evangelist Church.
Another 30 pensioners are standing a little way back, watching the dancers and clearly, by their nodding heads and tapping feet, are enjoying the pumping music.
Each time the provider of the relentless rhythm, a smiling DJ in a small, tented cubicle near the church's side entrance, changes a record three or four of the dancers leave the throng but their places are quickly taken by several others joining in on the windswept concrete which has become a temporary dance floor. On the opposite side of the square is the huge Winter Gardens complex which is hosting the fifth Blackpool International Soul Festival.
I have come up to Lancashire's renowned holiday resort to talk to the singer Eddie Holman who is the headline live music attraction. He is truly an international recording star. A British record company will shortly be re-issuing the first of his two gospel albums. But it is not gospel music he will be singing before a packed out crowd at the Winter Garden's Empress Ballroom. Nor, with the exception of one million-selling song with which Eddie finishes every live set, is it sweet soul ballads that Holman will be singing in Blackpool.
People have to see God in you, the way you talk and walk
The music which has brought Eddie to Blackpool are the sounds which since the late 60s had entranced tens of thousands of working class young people from the north of England. Though in 2022 those men and women have lost their youth, they have not lost their passionate love for this music. Inside, there are hundreds more - some considerably younger - dancing to the pumping rhythms of Northern soul.
At the Queen's 70th Jubilee celebration, televised on its slow progress down London's Pall Mall, Northern soul was commemorated. Among the records being danced to on that anniversary float were two Eddie Holman singles.
Keep the faith
Over the years the Reverend Eddie Holman, with a staggering 14 recordings, has found favour with Northern soul DJs and their supporters. Ninety nine per cent of these records will never be heard outside of the enclaves of Northern soul. But in this underground counter-culture Eddie Holman is a superstar.
The way in which Britain's working class youth asserted their musical tastes was to reject the hits that the music industry brought them, instead choosing to enjoy and dance to flops and flipsides of the vast recorded output of Black America.
In so doing, they created their own fashions, drug taking habits and dance styles that have for decades fascinated social historians and pop music scribes.
The religious nature of Northern soul here in Blackpool is transparent. The most popular slogan of the numerous sew- and stick-on badges which are everywhere on bags and clothing is 'Northern Soul: Keep The Faith'.
The first song I learnt how to sing was 'The Lord's Prayer'
Remarks the Rev Eddie Holman to me at the beginning of our Blackpool International Soul Festival chat, "Northern soul isn't the faith, of course. But soul music is a spiritual movement. Soul music, after all, is derived from gospel music. And the best soul music can touch the souls of many who hear it."
A couple of hours before my chat with Eddie, a charming lady from Silver Fox Records talked with me. Silver Fox specialises in ultra-rare Northern soul and its musical successors modern soul and funk. The rare soul scene is such that well-healed record collectors are sometimes prepared to pay eye-watering prices for the most sought after items (an original pressing of Frank Wilson's 'Do I Love You (Indeed I Do)' was last sold for £25,000). She spoke about the Northern soul movement. "Soul music is our Jesus. And a gathering like this, Northern soul refuses to die. There are new scenes now - modern soul and funk. But Northern soul singers like Eddie Holman are absolutely revered."
And so he is. The night before, the 76 year old singer had received a truly rapturous reception.
It was not only his Northern favourites like 'She's Wanted In Three States' and 'This Will Be A Night To Remember' which had the 1,100 crowd clapping, cheering and dancing. His seven minute plus rendition of 'Hey There Lonely Girl' showed that even at age 76 he has lost none of his dazzling vocal ability.
It was an ability that the church he grew up in was quick to recognise. He remembers, "The first song I learnt how to sing was 'The Lord's Prayer' which my mother taught me. My first public appearances were in church. I have been in church all my life. From the start of singing to this day I have been greatly influenced by the kinds of music that is done and performed by the choir and singers in the black Methodist church."
Eddie's extraordinary vocal range was to be a crucial factor in giving Eddie his hit record. Since the early 50s large cities across America had provided the US music market with black male harmony groups which with the right song could soar high into the charts. These "doowop" groups, as they became known, tended to be one-hit-wonders but the sound of doowop balladry with its ethereal harmonies and lead singers often singing in high falsetto, remained an alternative musical influence on 60s soul record producers. So it was when producer Luther Randolph recorded Holman on a self-written ballad 'This Can't Be True' that Holman finally secured a chart hit (number 17 in the R&B chart). Another sweet soul hit, 'Am I A Loser (From The Start)', also charted and now demands were coming in for Eddie to sing in clubs and theatres across America.
'Hey there lonely girl'
In our chat I ask Eddie approximately how many keys and octaves he can sing in. "I don't know exactly. All I know is that since 11 I've been developing a voice that can sing any song I hear, in any key."
Has Eddie ever come across another singer who can do that? "I don't know of one," he responds simply.
Eddie's first ABC single, the ballad 'I Love You' was written with his wife Sheila. It was a reasonable R&B hit and decades later was sampled on a platinum selling album by rapper NAS. But it was the next single which was to become a million-selling international hit.
'Hey There Lonely Girl' was a dreamy ballad written by Leon Carr and Earl Shuman as 'Hey There Lonely Boy'. It had already been a Top 30 US pop hit for Ruby & The Romantics. Holman's high falsetto rendition of 'Hey There Lonely Girl' shot all the way to number two in the US pop charts in early 1970. And the singer and song repeated the feat in Britain in October 1974 when it made number four in the UK pop charts.
By the time of his Top Of The Pops television appearance Eddie was startled to learn that half remembered flip sides and flops were now being danced to on the Northern soul scene. The following year that scene reached its epicentre of mainstream popularity when an instrumental, 'Footsie', made it to TOTP and number four in the UK pop charts. Over the next year or two record companies large, small and illegal (bootlegs, known on the scene as pressings) endeavoured to cash in on Northern soul with floods of re-issued singles and album compilations.
But when mass public interest in venues like Wigan Casino ebbed away, its hardcore supporters did not. Northern soul returned to being a self-contained scene with All Nighter and All Dayer DJ marathons in what Black Music magazine had once called "the ultimate underground."
By the late 70s disco had become the dominant single force in international popular music. Eddie himself was signed to one of the new record companies specialising in disco, Salsoul Records. A big budget disco-orientated album This Will Be A Night To Remember was released. But after seeing first-hand how debauched the notorious New York gay disco scene had become Eddie began to question his whole continuance in show business. He explains, "Salsoul were really big into the disco scene but I just couldn't relate to that scene. I'd been a Christian since the age of 16 and after kind of backsliding - slipping around and doing drugs - I was getting myself sorted out spiritually, and suddenly I was being pitched into something that was like something out of Sodom and Gomorrah."
From 1978 to 1981 Eddie stayed away from showbiz, preferring to work at a management course with Xerox and "get plenty of spiritual food from the church where I was originally converted."
Then Eddie began to tentatively ease back into the touring circuit. In 1982 he entered the International Bible Institute and Seminary where he studied for a doctorate in theology and in May 1984 was ordained into the ministry. The Rev Eddie Holman became for a season an associate pastor at Philly's Faith Fellowship Baptist Church.
With the loyal support of his wife Sheila, the one-time recording star began, in 1982, to painstakingly piece together a gospel album. That album, United, contained many musical elements of the "old" Eddie Holman. The songs, all self-penned, dug deep. The doowop flavoured title track featured some of Eddie's best vocal ducks and swirls since 'Hey There Lonely Girl' while the liltingly beautiful 'Eternal Love' contained one of the most spinetingling five seconds - the word "Jesus" broken into a 12-syllable falsetto soar – ever captured on record.
When released in Britain, with no Christian bookshop distribution, United didn't sell, though the fact that copies of the album are now selling for £100 has encouraged Charly Records to re-issue it.
The last few decades have seen the singer releasing occasional CDs on his Agape label. He has become something of a globe trotter, demonstrating his extraordinary versatility as he tours the world carrying what he calls a "message of love".
He can wow a supper club and cruise ship audience with Nat King Cole standards and his wife's favourite, 'Where Do I Begin', the theme from the Love Story movie.
In church he can sing 'The Old Rugged Cross' and 'Thank You For Saving Me'. And in UK clubs and festivals he can run through some of his fourteen propulsive Northern soul hits.
His philosophy towards his music and faith is transparent. "I put God first, my wife and family second and myself third and everything will follow up. I believe that before you open your mouth, before you tell people about God there has to be evidence in you as a person. People have to see God in you, the way you talk and walk. Everywhere I go I am his representative and he knows it and people know it. The kind of music and songs I sing are love songs. God is love. I have sung love songs all my life. I don't tell people I am a born again, they can see that, they know that. When I sing one of my love songs the audiences can see something special because they are witnessing a man who loves God."

Tony Cummings' journalistic career started in 1963 when he started a black music fanzine originally called Soul, then Soul Music Monthly and finally Shout. By 1971 he was writing occasionally for Record Mirror and then in 1973 joined Black Music magazine. He later became the editor of Christian music magazine Cross Rhythms.
View full Profile