Once part of the "the most violent band in Britain", Nick Cave has trodden an unlikely path back to his Christian roots. Embracing pain and doubt, the Australian rockstar says he has found refuge in the Church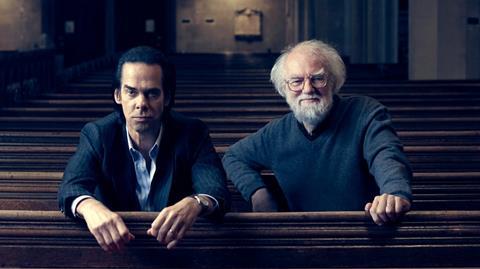 Occasionally an interview or article in a national newspaper will do the rounds among Christians on social media – perhaps because it says something controversial, provocative or insightful about faith, or because someone famous unexpectedly opens up about their own relationship with God.
That's what happened last weekend, when an interview with Nick Cave by Rt Rev Rowan Williams, former Archbishop of Canterbury, in The Sunday Times Magazine began circling. What was especially notable about this piece was that faith was front and centre of the article and the magazine. "The rock star Nick Cave tells Rowan Williams how the death of his son brought him back to church," proclaimed the front cover, with Cave pictured reclining thoughtfully on a church pew. It was as striking as it was surprising.
Who is Nick Cave?
But before we delve any further, who is Nick Cave? He's best known as the frontman of Nick Cave and the Bad Seeds (if you like Peaky Blinders, their most famous song, 'Red right hand', is the programme's theme tune). He's also a composer, poet, actor, sculptor – and, perhaps to some, a pastor.
The church allows me a lasting structure that can contain my unbelief and belief both
Cave was raised an Anglican in Wangaratta, a rural town in Australia. For a time, he sang in the church choir, but the God he knew seemed distant and impassable. So, when his father died, and teenage rebellion set in, Cave had little foundation to fall back on. A career in rock duly followed, as did a two-decade addiction to drugs. Shows by his first band (later called The Birthday Party) were so chaotic that they often involved fights with the audience, prompting them to be branded "the most violent band in Britain".
Drawn to Jesus
But remarkably, a common thread ran throughout Cave's life and lyrics. He's spoken about turning to the Bible for inspiration and says he was first drawn to the violence of the Old Testament. "I had a burgeoning interest in violent literature, coupled with an unnamed sense of the divinity in things and, in my early 20s, the Old Testament spoke to that part of me that railed and hissed and spat at the world," he said.
He wrote these words in – wait for it – Introduction to the Gospel According to Mark (Canongate) released in 1998, which offers a fascinating insight into Cave's faith journey. He read the gospel story after a vicar suggested he take a break from the fire and brimstone of the Old Testament. "The Christ that emerges from Mark, tramping through the haphazard events of his life, had a ringing intensity about him that I could not resist," he writes.
Joy from sorrow
Faith continues to emerge in Cave's more recent work, but through the aching prism of grief. In 2015, his 15-year-old son Arthur died after falling from a cliff in Brighton. Four years later, his band released Ghosteen. On one of the songs, 'Sun forest', he sings: "And a man called Jesus, he promised he would leave us / with a word that would light up the night, oh the night / but the stars hang from threads and blink off one by one / and it isn't any fun, no it isn't any fun / to be standing here alone".
But through these laments, hope - and even joy - emerges. Cave explores this more fully in his book Faith, Hope & Carnage (Canongate) an engrossing record of conversations with music journalist, Sean O'Hagan. In his interview with Williams, he talks about how the book "allowed me to bring the scattered fragments of my thinking about religion together".
Among these fragments are reflections on things such as prayer and suffering. Of prayer, he says: "it is not so much talking to God, but rather listening for the whispers of his presence", while "suffering is, by its nature, the primary mechanism of change…God bestows upon us these terrible, devastating opportunities that bring amelioration and transformation."
After writing the book, Cave returned to church. Although he'd stop short of calling himself a Christian, wary of the connotations that it can bring, he finds in the Church a place of refuge, where he is free to feel and express pain and doubt, even as his grief only deepens (his eldest son, Jethro, died last year, and his mother passed away in 2020).
Pastoring the masses
It's a freedom Cave invites others into through his website theredhandfiles.com through which people write in to ask questions, seek advice or simply share their struggles. Cave personally responds to each one. "Even though I go to church when I can, I am by no means an advocate of organised religion," he writes to one enquirer, Claire.
Suffering is, by its nature, the primary mechanism of change
"Like you, I struggle with it. However, I feel the church I attend allows me a lasting structure that can contain my unbelief and belief both – that is to say, my love for the motion, direction and energy of faith, albeit nested in a certain scepticism of its ultimate destination."
By all accounts, this deep and pastoral engagement with people even emerges in his concerts – a far cry from more the violent spectacles he once fronted.
In his interview with Williams, Cave wonders whether the pandemic has brought questions to the surface that have, for many, lay hidden for years. He says that he's aware of more people who have quietly admitted to popping into a church once or twice. No doubt, many of them come with the pain and doubt Cave is so familiar with, just like the ones writing to him and attending his concerts.
How beautiful it is that Cave not only invites tough questions and unfiltered honesty, but responds to them with a grace and hope that has much to do with a man he has long been captivated by – Jesus.
No wonder we're so keen to tell others about the faith of Nick Cave.

Tim Bechervaise lives in Hatfield with his wife, Laura. He is a copywriter for Open Doors UK & Ireland, and freelance writer. Coffee, street photography and Tottenham Hotspur count among his other interests
View full Profile