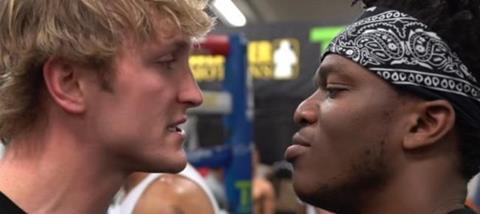 It was a Saturday evening in August 2018 and, according to my 13-year-old son, "the biggest event in internet history" was about to unfold. Two stars of YouTube, Logan Paul and KSI, were due to meet in a boxing ring in Manchester. Their fight would be live-streamed around the world.
I like to think of myself as a well informed, tech-savvy sort of person. But I had never heard of either participant, nor could I grasp why my son and his teenage friends (who had no prior interest in boxing) wanted to watch two vloggers (video bloggers) slug it out in an amateur boxing match.
But watch they did, along with 21,000 people at the ringside in Manchester Arena, and an estimated 800,000 paying YouTube viewers. An additional 1.2 million watched the livestream for free on pirate channels with the videos of the match since accruing millions of further views.
So, what can the biggest-boxing-match-you've-never-heard-of tell us about a generation being raised in the new world of YouTube stars?
A global audience
If you are an adult with access to the internet, you've probably watched a YouTube video at some point in your life. Since its launch in 2005 the website has been the ubiquitous go-to platform for anyone uploading or watching online videos. But the YouTube of today is a very different beast to the entity that launched 14 years ago. The advent of ever-more powerful smartphones and endless data-streaming allowances have seen the platform's popularity balloon to nearly 2 billion regular users uploading more than 400 hours of content to the platform every minute and watching more than a billion hours of video every day.
We need a new generation going to the mission field that exists in the palm of everyone's hand
This proliferation of content is provided by a sprawling community of gamers, artists, entertainers, hobbyists, pundits, marketeers, businesses and brands. The key metric of success is the number of subscribers a YouTube channel attracts (similar in nature to Twitter followers or Facebook likes) and the number of views your videos get.
Hit the sweet spot of YouTube's search algorithms and the views can come piling in. Views equal advertising dollars (approximately $1 per 1,000 views at present). Many people make a living from it, and the most popular vloggers are raking in significant sums as they monetise channels aimed at specific demographics.
Even established media giants are being beaten at their own game by nimble start-up companies. ChuChu TV, which produces simple nursery-rhyme cartoons aimed at preschoolers, has amassed more than 30 million subscribers across its channels (by comparison Disney has 3 million). After the channel was started by an Indian IT worker to amuse his baby daughter, he realised there was a huge market for video content that busy parents could safely sit young children in front of. Their most popular 'Johny Johny Yes Papa' video has more than 1.5 billion views, and there's a team of animators working on similarly colourful and catchy new videos every day.
Teenagers and young adults also form a huge slice of YouTube's demographic pie. Those at the highest levels make millions from advertising, and even more through lucrative sponsorship deals. Paul and KSI's boxing bout is estimated to have generated at least $11m in ticket revenue, and a much-hyped rematch later this year will doubtless generate even more.
If, like me, you are in middle age or beyond, it's more than likely that "the biggest event in internet history" passed you by and that (until you read this article) you had been blissfully unaware of Paul, KSI and their boxing match. More importantly, perhaps you are unaware of just how many people, especially our youth, are being shaped by the predominant personalities on YouTube.
Young people aren't turning to TV and radio anymore. On mobile alone YouTube reaches more 18-49 year olds than any broadcast service, the majority of them male. Top-ranking YouTubers like Paul and KSI, both still in their 20s, are idolised by a legion of fans who see their fast-found celebrity as the new normal.
5 Christian YouTube channels you should know about
The Bible Project
With a growing library of brilliantly animated videos, The Bible Project has produced an accessible theological guide to the whole sweep of scripture. It's suitable for teenagers and adults alike.
Jon Jorgenson
A mixture of spoken word poems, Q&A videos and daily vlogs have made Jon Jorgenson a significant voice to many young Christians on YouTube.
Speak Life
Glen Scrivener's creative videos are a brilliant evangelistic resource, including the Christmas series Meet the Nativity.
Kristin Johns
This American vlogger has clocked up more than 48 million views on YouTube on her fashion, interior design and make-up channel. She's also upfront about her Christian faith.
Bishop Robert Barron
Addressing a wide range of theological questions, this US Catholic bishop has established a unique ministry to a new flock of believers, doubters and seekers.
Screen stars
So who else is capturing the eyeballs of our younger generation? DanTDM (real name Dan Middleton) is one of the UK's most successful YouTube stars. He built his channel playing Minecraft, Roblox and other online games popular with a younger audience (his viewers are aged five to twelve years old on average). Currently standing at 21 million subscribers, his fame has led to bestselling comic books, sold-out tours and branded merchandise. In keeping with his young audience, the 27-year-old's videos are clean in terms of language and the content is largely harmless (albeit banal – much of it consists of filming himself laughing while playing quirky internet games).
There are plenty of positive, creative and inspirational video makers out there. Dude Perfect, which ranks among the top ten most subscribed to channels on YouTube (currently 38 million), consists of wildly popular trick-shot videos like this one:
The five friends who create the stunts are all Christian guys who met at a large church in Texas. Their videos, while not explicitly Christian, tend to reflect their positive values.
Other channels are less concerned with keeping their behaviour (or language) wholesome. Felix Arvid is a Swedish comedian who runs the most popular channel on YouTube – PewDiePie – with more than 80 million subscribers. Much of the 29-year-old's content consists of baiting other popular vloggers, to the delight of his fans. In the world of YouTube there is even a regular 'diss' season, in which vloggers take it upon themselves to create raps and spoken word poems that put down their competition. Yes, it's all a bit silly, but it tends to support a culture on the platform in which aggression and insults are the norm. Venture into the comments section of such videos and you'll find the bad language and insults amplified a hundredfold.
The dark side of YouTube
As the number of content creators has proliferated, so the competition for clicks on videos has intensified. 'Clickbait' titles with brash thumbnail images ('Dawkins DESTROYS dumb Christian') are the stock-in-trade of many channels. Shock value sells and has resulted in an ever-escalating one-upmanship for the most extreme stunts, resulting in both bizarre and tragic incidents.
In 2017 a British man cemented his head into a microwave and had to be rescued by emergency services (the video has nearly 7 million views so had the desired result).
In June last year, vlogger Pedro Ruiz died in front of his three-year-old daughter after being shot in the chest by his girlfriend. He was holding a book in front of him that he believed would stop a bullet fired at pointblank range. It didn't.
I'm the father of four children who have never known a world without YouTube. Nowadays, by the time they hit their teens, most young people have unrestricted access to it via their smartphones. So just how aware are we of who they are choosing as their online role models and the lessons they are imbibing on a daily basis?
It's not necessarily that they're watching explicit or violent material. Thankfully the site manages to censor most adult material that makes it onto the platform. But YouTube nakedly reinforces the idea that popularity is the benchmark of your worth. And (like the offline world) popularity usually goes along with being good-looking, charismatic and entertaining. Some of the most successful YouTubers also tend to be ostentatious about wealth and success. The message is: if you're not winning at life, you're not worth much.
This brings me back to the Paul vs KSI boxing match. Certainly, the hyped-up spectacle struck me as bizarre, but what worried me most, as I began to research them, was the behaviour of both parties in their pre-match antics.
Paul had already fallen foul of pushing the shock factor too far. In early 2018 he uploaded a vlog of himself exploring a "suicide forest" in Japan where he discovered (and filmed) a suicide victim's body hanging from a tree. The video caused widespread backlash, resulting in Paul deleting it, issuing a sombre apology and donating $1m to a suicide prevention charity. The controversy didn't appear to hurt his continuing popularity, however, as he gained an additional 3 million subscribers over the next twelve months.
Later in the year, once the boxing event with KSI was scheduled, the trash-talking video exchanges began in earnest. Profanity and insults are common in this alpha-male world, but I watched in genuine shock at the sight of the press conference in London. KSI, already notorious for his objectification of women in his videos, led an auditorium filled with thousands of baying teenage boys in a demeaning chant about his opponent's girlfriend. Paul stormed off and the stage was set for their grudge match.
Rates of anxiety and depression among youth have sky-rocketed in recent years. Living life online means that young people get no break from the expectations and aggravations of their peer group. The finger is often rightly pointed at social media giants such as Facebook, Twitter and Instagram, who have come under increasing pressure to regulate the way content impacts the mental health of users.
Thus far, YouTube has gotten off relatively unscathed, yet you don't have to dig far to find that there is also something rotten at the core of how the video platform encourages users to build their audience. Even if it's not outright bad behaviour, the example set by some of its most popular stars is still profoundly troubling.
There is hope
Before beginning to sound too much like a "down-with-this-sort-of-thing" prophet of doom, we need to acknowledge that there's lots of great stuff happening on YouTube and also ask how the Church can bring salt and light to this immensely popular platform. After all, there is no space, be it physical or digital, where the Church isn't called to go and announce the good news of the hope of Jesus. Here are three questions that I believe we need to ask ourselves:
1. Parents: do you know what your young people are watching?
Mentors come in all shapes. The personalities and channels they follow will (like it or not) be hugely influential in shaping their values and attitudes. Get yourself acquainted with the world they already live in and you may find you have the opportunity to positively influence which voices they choose to speak into their lives.
2. Leaders: are we preparing our congregations for life online?
YouTube is but one expression of the way many young people's social life exists as much on their smartphone as it does in the 'real' world. Yet the messages coming from our pulpits, books and conferences often remain rooted in a pre-digital world. Preachers may be happy to use YouTube clips to illustrate their talks, but how many sermons about YouTube itself have you heard? People need direction for navigating life on social media, just as much as the school playground, office and home.
3. Evangelists: how should Christians be salt and light on YouTube?
Often where Christians are present on YouTube they exist within their own cultural bubbles, creating and sharing inspirational preaching clips or uplifting worship songs with pretty sunsets behind them. There are relatively few creative Christian vloggers engaging the wider community, or challenging the toxic end of YouTube's culture. Historically, churches have spent massive time and resources in training people to go to different countries to share the gospel. Now we need a new generation going to the mission field that exists in the palm of everyone's hand.
Let's begin
The march of new technology never stops, and it's no surprise that the Church is usually behind the curve. In less than 15 years YouTube has grown to be a globally influential platform, and most Christians have barely begun to engage with its potential.
Yet, despite the challenges, we all have the power to do something. The device we all now carry in our pockets can reach people in ways that St Paul and the apostles could never have dreamed of. More importantly, we all have access to the same Spirit that led those first Christians to go and change the world. As we face the unique mission field of a global online video community, let's be as bold, creative and hope-filled as Christ has empowered us to be.
Enjoyed that? Get more articles covering news, culture, faith and apologetics in every print issue of Premier Christianity magazine. Request a FREE copy of the latest issue now
Do you want to communicate credibly and effectively online? Join us at the Premier Digital conference this November and hear from over 40 contributors on a variety of topics including social media, evangelism and digital theology. Super early bird tickets are available at premierdigital.info/conference