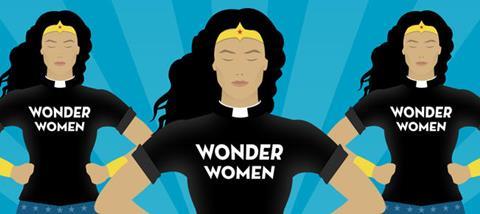 This month marks the centenary of Constance Coltman's ordination. As the first woman to be ordained by a UK denomination, Constance (pictured, right) is viewed as a brave forerunner by advocates for women in ministry. Theological beliefs and church structures have historically impeded women from serving at the highest levels of church leadership. And while some evangelicals retain a belief that scripture prohibits women from either teaching or leading church congregations, most no longer object.
Constance (1889-1969) was raised in a Presbyterian family and read history at Somerville College, Oxford. After realising she couldn't pursue her vocation within her native church because they wouldn't ordain women, she applied to Mansfield College, Oxford to study alongside those training towards ordained ministry in the Congregational Union of England and Wales (later to become the United Reformed Church). The principal, against his initial reservations, accepted Constance's application.
Despite the offer of a place to study, there was no guarantee that she would be ordained at the culmination of the three years of theological education. Notwithstanding the uncertain outcome, Constance commenced her study at Mansfield College. It was there that she met and became engaged to fellow ordinand Claud Coltman. In September 1917 the pair were ordained side by side. The next day, they got married.
Despite the expectation that once married, Constance would give up paid employment, she combined ministry, matrimony and, eventually, motherhood. She and her husband operated a ministerial job-share, living on one stipend. Because of her affluent background, Constance was able to use her private money to subsidise their household. Constance didn't just pursue her own call to ministry, but opened the door for others to follow. After retiring she became a founding member of the Society for the Ministry of Women, supporting women as they trained for ministry. She even learned Swedish in order to support efforts to open up ordained ministry to female ministers in the Church of Sweden. By the time of her death, Constance had established a legacy from which women in multiple denominations now benefit.
Quakers, Salvation Army and Wesleyans
Although the Congregational Union of England and Wales were the first to ordain a female minister, the denomination was not alone in giving women a platform to lead, preach and, where tradition allowed, administer sacraments.
Women in the English Quaker Church were allowed to preach and prophesy as early as 1656. After committing the crime of publicly preaching against the established Church, Mary Howgill was imprisoned. The bravery of preachers such as Howgill laid the groundwork for the role of women to be prominent throughout Quaker history. The structure of a meeting – where space is made for anyone regardless of age or gender to speak freely – also helped foster female ministry within the denomination.
The Salvation Army has a long history of raising up female leaders. From its foundation in 1878, women have been able to hold any position within the organisation. The movement's co-founder Catherine Booth believed that any biblical case for denying women's ministry was a misinterpretation. Her husband, William, said: "I insist on the equality of women with men. Every officer and soldier should insist upon the truth that woman is as important, as valuable, as capable and as necessary to the progress and happiness of the world as man."
The wives of early Methodist leaders were highly respected, something that was socially pioneering for the 1700s. Some of the movement's women were allowed to preach, though often only to groups of women, or men of a lower class.
A significant moment came when Sarah Crosby and Mary Bosanquet Fletcher were given the authority and approval to preach by a reluctant John Wesley. But this affirmation of women's ministry changed after Wesley's death in 1791 and women were positively discouraged from preaching (the ban on women preaching to mixed congregations held until 1910).
The first ordination of a female Methodist minister took place in 1974, more than 200 years after their foremothers had publicly preached the gospel. In 1993, Kathleen Richardson was elected president of the Conference, becoming the first female head of the Methodist Church and one of just a handful of British denominational leaders who are female.
An emergency ordination
Two years after the Methodists ordained women, the Anglican Church also changed its rules and allowed female priests. Women bishops in the Church of England were not allowed until 2015 and the Church has yet to appoint a female Archbishop of Canterbury.
Female Anglican priests and bishops worldwide owe a debt to their denomination's wonder woman, Rev Dr Florence Li Tim-Oi.
Li Tim-Oi's unusual ordination took place in 1944, during the Sino-Japanese War. The exceptional circumstance of the Japanese military occupation meant that her home parish of Macau was inaccessible for priests to visit. This meant that parishioners had no way of receiving the sacraments, including the Eucharist. In order to support the island parish, Bishop R O Hall ordained Li Tim-Oi as a 'Priest in the Church of God', ensuring her community's access to the Eucharist.
Bishop Hall told William Temple, the Archbishop of Canterbury at the time: "I'm not an advocate for the ordination of women. I am, however, determined that no prejudices should prevent the congregations committed to my care having the sacraments of the Church."
At the end of the war, to avoid controversy, Li Tim-Oi handed back her licence though she remained a priest. It wasn't until 30 years later when the Church in Hong Kong ordained two more female priests that Li Tim-Oi's ordination was recognised.
Outnumbered
Although women are now ordained to all three orders within the Church of England (deacon, priest and bishop), fewer than a quarter of those seeking ordination under the age of 30 are female and fewer than two per cent of leaders of larger Anglican churches are female.
Although women are outnumbered by men when it comes to the number of people pursuing ordination, there has been a 17 per cent increase in the number of female ordinands commencing training this autumn. Catherine Nancekievill, head of vocation for the Church of England recognises there is a "long way to go" until the priesthood reflects the Church's diversity but is "delighted" that increasing numbers of Anglican women "feel that a life in ordained ministry is for them".
According to Liz Graveling's 2015 research, while fewer than ten per cent of male clergy are non-stipendiary (not receiving any financial support from the Church), one quarter of female clergy fall into the same category. This is partly due to the later age at which many women are being ordained (close to retirement age and therefore not applicable for stipendiary ministry). But other clergy women confess to feeling pressured into non-stipendiary ministry by their usually male senior clergy.
One key issue across all denominations is the absence of visible female leaders. For example, only two of the eight members who make up the Pioneer network's core team are female. Of the 20 clergy employed by Holy Trinity Brompton, only four are female.
New Wine have a better record with four of their ten National Leadership team being female. Holy Trinity Brompton, after several years of criticism, appear to be responding with 'Arise' – a gathering headed up by Rev Rachel Bedford and Rev Sarah McDonald, both young clergy currently serving their curacies at HTB network churches. Arise exists to encourage the next generation of female church leaders within the evangelical group of churches. McDonald says the focus is on providing a space for "many fantastic male church leaders who are passionate about supporting women into church leadership". The practical side of this new ministry will be discussing how male clergy, who are currently the majority within the Church of England, can mentor women within their congregation. It would appear that even in church networks which give the impression they encourage women in leadership, it can still be a struggle for those who are called. Church planter and daughter-in-law of the Vineyard founder, Christy Wimber, told Premier Christianity magazine about the difficulties she faced in her church leadership. Being called as the first woman to plant a Vineyard church when there were no women leaders around her was "very difficult and painful", she says.
"What I had to walk through I would not want anybody to walk through." Wimber was quick to add that the situation in the UK is "miles ahead" to that in the USA. Perhaps the heritage of women such as Coltman and Booth still seeps into the UK Church's psyche in raising women up as leaders.
Theological objections
Over the past few decades, platforms and roles have been opened up to women that would have been previously unthinkable. The trajectory within the UK Church is arguably one of affirming female ministry at all levels. But what of those churches and denominations who voice disagreement on the issue?
One of the most prominent church networks which doesn't appoint women to higher levels of leadership – in this case, 'elders' – is Newfrontiers. While the movement values women's ministry, historically it has taught that the New Testament prohibits women from heading up a church community. But while women were prohibited from preaching to mixed congregations in years past, some Newfrontiers congregations now allow this. There's even been speculation from some quarters that the denomination is on the cusp of further significant changes on the issue.
For example, ChristChurch London, which was previously a flagship church for the movement, state they want to have a "diverse" leadership with both genders being represented at "every level of church life". Although ChristChurch London is no longer officially part of Newfrontiers, it is led by David Stroud who previously led Newfrontiers in the UK.
But not everyone believes a movement toward diverse leadership is something churches should aspire to. Natalie Brand, lecturer in systematic and historical theology at Union School of Theology used to have a passion for preaching but in her early 20s encountered the belief that the Bible doesn't permit women to teach men. This wasn't an idea that appealed to Natalie. She "wrestled, prayed and read" and discovered what she now describes as the "thorough and rigorous" theology of complementarity. This position holds that while men and women are created equal, they have distinct and different roles in church life. This position is one which few women feel safe to articulate in the public space for fear of a backlash, especially on social media. But Brand unashamedly talks about her view: "I'm proud to be a part of a community of evangelical men and women who are committed to articulating a contemporary theology of gender that is faithful to Christ, the apostles, the New Testament Church, and the Reformation."
A rights issue?
The topic of women in leadership is seen as a 'gender rights' issue by many, both inside and outside of the Church.
But Wimber disagrees. "When something becomes a rights issue you lose all focus on the kingdom. It becomes about advancing women. No, we're advancing the kingdom."
The increasingly common understanding within the UK seems to be that God calls both men and women to lead and gender does not define a person's calling. The ever-diminishing minority are careful not to simply dismiss women but instead believe they are called to serve in areas of ministry which don't include pastoring or teaching. But barring a substantial and unexpected cultural shift inside the Church over the next few years, churches who hold a traditional or complementarian view look set to become a shrinking minority.