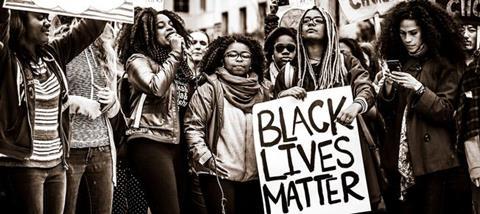 Racism and the oppression of black people is a controversial issue that has never been be an overnight fix. Seemingly, we have morphed from a society that overtly legalises the exploitation and oppression of black people into a more covert operation. This is known as systematic racism. The United States claims to support ethnic minority groups, but is burdened with statistics that tell another story.
But this is not just about America. Black people in Britain still suffer as a community. There are still prejudices and widespread discrimination. This echoes the wickedness of the exploitative empire that thrived on black blood in the 16th century.
What is black lives matter? It is both an organisation and a movement. I have some issues with the African-American organisation branded BLM because as a Christian I am unsure about their evolving concepts around justice for LGBTQI and their visions of "dismantling the patriarchal practice that requires mothers to do double shifts" and to "disrupt the western-prescribed nuclear family structure". While it is an incredible mission to seek justice for people within the LGBTQI community who suffer discrimination and oppression - it is a whole other matter for a Christian to support those life choices.
The organisation BLM seem to present the fight for human equality and the endorsement of alternative sexual life choices as one. But as Christians we have to ask - is that what the Bible is really saying about how to action justice? In order to take a bullet (lay down one's life) for another brother or sister who may also be gay or transgender, for example, do we also have to fully endorse their life choices? Is that what Yeshua's death on the cross is all about?
With all this being said, Black Lives Matter is more than just a controversial organisation. The phrase 'black lives matter' is a protest and an ideology that has potential for activity, change and solutions. Turning our hearts towards a community who are being oppressed on the basis of their skin colour is a God-led, biblical protest. It's one that we should all be joining.
Turning our hearts towards a community who are being oppressed on the basis of their skin colour is a God-led, biblical protest.
Of course, all lives are made in the image of God. But right now the protest is focused on black lives matter. And for good reason. Not all lives are portrayed as intimidating, gun wielding, lazy and over-sexualised. It's not true that all lives struggle to gain employment because they look different. And not all lives are subject to harsher sentencing in trial convictions. Not all lives learn about the demise of their people at school as an introduction to 'who they are'. Not all lives are set up to fail.
All of these issues are prevalent in the UK. Therefore British Christians need to get behind this protest. British Christians of all colours should forget about being colourblind and embrace diversity as divine design. Tim Keller's book Generous Justice highlights some of the structures God put in place for the Hebrews. These biblical economic and social systems worked towards equality, the bearing of each others burdens and took seriously their responsibility to support the downtrodden until they find their feet.
By standing with the black lives matter protest, Christians are actively engaging in a space which has the potential to produce systems for change.
Matthew 25:34-46 is a word of caution and instruction regarding social justice. The righteous questioned the King about how they had ministered to him unknowingly, "The King will reply, 'Truly I tell you, whatever you did [fed, clothed and supported in time of need] for one of the least of these brothers and sisters of mine, you did for me.'"
In the same way for all Christians who claim to love a poor man born 2000 years ago into an oppressed community and slain on the basis of false accusations, shall we not minister to his oppressed children? Is there not a parallel between the life of Christ and lives of many within the black community?
It might feel like race is a hot topic in the political and social spheres. Black history month (October) has just come to an end. With this annual celebration and exploration of black history, legacy and agency fresh in our minds, let it be an encouragement for all of us to stand with the oppressed. Even today. After all, Jesus is not asking for a one month commitment. He's asking for our whole lives.
Eleasah Phoenix Louis is PhD research Student at CCCU (Black Theology and Theological Pedagogy)
Click here to request a free copy of Premier Christianity magazine