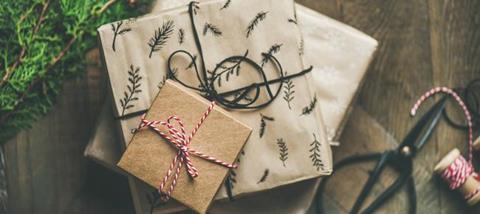 Bamboo cup
£8.99
This eco-friendly reusable bamboo cup is perfect for use at home or on-the-go. Its uplifting message is "There is wonderful joy ahead." It features a removable silicone lid and sleeve and is dishwasher-safe.
Irrepressible by Cathy Madavan
£8.99
This book provides 12 principles for a "courageous, resilient and fulfilling life". With her trademark humour and down-to-earth wisdom Cathy Madavan shares tools to help you develop resilience, capacity and flexibility.
Gentle and Lowly by Dane Ortland
£9.99
This book reflects on the words of Jesus, as he described himself as "gentle and lowly". Using 20 biblical texts, it opens up a neglected yet central truth about who Jesus is for sinners and sufferers today, drawing us back to his tender heart. One of the most talked about Christian books of the year, it makes for an ideal gift for your church leader.
Personalised print by Christian Lettering Company
£16
The words of 'The blessing' have been sung around the world this year. This A4 print features hand-painted watercolour leaves and the words of the blessing from Numbers 6:24–26. It can be personalised to add the name or names of those you are buying it for.
100% recycled lunch bag
£17
Made from recycled coffee sack and waste bicycle inner tubes, this bag is fully lined with a wipe-clean interior. The printing on the coffee sacks means that every lunch bag is completely unique. The logo is from Cycle of Good, who create lasting products with a purpose; helping to end poverty in some of the poorest communities in the world.
Hope diffuser
£17.50
This eco-friendly reed diffuser is made from soya-based renewable resources. The fragrance is creamy, indulgent and musky. The vision behind the seller, Beauty for Ashes, is to support women struggling with life-controlling issues. Currently, they do this by donating to charity Azalea.
Journaling Christmas gift
£19.95
This gift bundle includes an A5 devotional notebook (two styles available), an engraved pen saying "Yes and Amen", a 35g bar of fair-trade Divine chocolate (three flavours available) and a Christmas joy gift tag that can be personalised with the message of your choice.
Gift drops
£22
These brass geometric squares with a dainty golden paper bead have sterling silver ear posts. All jewellery, clothing and accessories from Voice International are handmade in Kampala where artisans are trained and offered creative, sustainable employment.
Buy it from Voice International
Garden of Eden coffee
£30
This gift pack contains four 250g bags of coffee, including one decaffeinated. The coffee is produced in a sustainable way and the company supports ethical coffee plantations across the world. It also directly supports the work of the national Christian helpline, Premier Lifeline.
Zero waste shave giftset
£34.99
This gift set ensures a great shave without adding any plastic waste to the planet. It includes: a stainless steel razor plus ten razor blades, a 95g shaving bar, a stainless steel razor disposal tin and a drawstring gift bag.
A nanny goat
£35
Part of Christian Aid's charity gifts selection, when you buy a goat as a present the money goes into their agriculture and livestock fund, and their local partner uses the money for a particular project – such as supplying goats to families in Ethiopia. Such livestock ownership empowers local women and their households.
A subscription to the UK's leading Christian magazine
£47.95
It's the gift that keeps on giving! Give your loved one 12 print issues of Premier Christianity magazine and they'll enjoy in-depth interviews with leading Christians, analysis on church trends, top columnists, reviews, news and more!