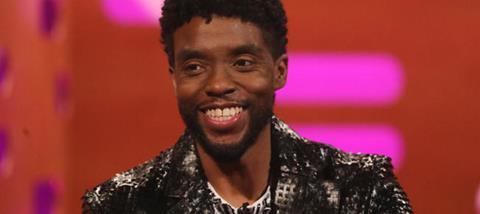 There's a moving scene in Spike Lee's 2020 film Da 5 Bloods, in which the film's four lead characters all sit cross-legged in the Vietnamese jungle, listening intently as 'Stormin' Norman Earl Holloway (played by Chadwick Boseman) sings Marvin Gaye's gospel song 'God Is Love'. Sadly, that scene ended up on the cutting room floor. But since Chadwick passed away on 28 August, it has popped up on YouTube, where it now serves as the late actor's most poignant onscreen declaration of his faith.
Chadwick Aaron Boseman was born in Anderson, South Carolina, in 1976. His mother was a nurse and his father ran an upholstery business. The Boseman family worshipped at Welfare Baptist Church in Anderson, where Chadwick was a member of both the choir and the youth group. Retired pastor Samuel Neely, who had known Boseman as a child at the church in Anderson told a Fox TV station that he was always "doing something, always helping out, always serving. That was his personality."
After leaving high school in 1995, Chadwick studied directing at Howard University in Washington DC, the best known of America's historically black colleges and universities. He graduated in 2000 with a Bachelor of Fine Arts degree. During his time at Howard University, Chadwick was mentored by the actress Phylicia Rashad (best known for playing Clair Huxtable in the hit comedy series The Cosby Show). When Chadwick and some fellow students won places on the British American Drama Academy's Oxford midsummer programme, Rashad helped to fundraise for them to come to Britain (Chadwick would later discover that Denzel Washington had been one of the benefactors who had made his trip to Britain possible).
On his return to the USA, Chadwick settled in New York. He lived in Brooklyn and attended New York City's Digital Film Academy. For a while, he was a drama instructor at the Schomburg Centre for Research in Black Culture in Harlem. He eventually moved to Los Angeles in 2008, where his acting career began. His first regular television role was in the short-lived drama series Lincoln Heights, about a police officer who moves with his family back to the urban community where he grew up. Chadwick played the policeman's son Nathaniel – a young Army veteran suffering from PTSD after serving in Iraq. He was in the show for its last two seasons. During his TV acting days, Chadwick also appeared in episodes of ER and CSI: New York.
Chadwick's breakthrough film role was playing the legendary baseball player Jackie Robinson in the biopic 42 (2013). Soon after he played two other prominent African Americans in films about their lives: the singer James Brown in Get On Up (2014) and Thurgood Marshall, America's first black Supreme Court Justice, in Marshall (2017). But it was playing the Marvel comics character King T'Challa, aka Black Panther, that made him a household name.
Speaking about playing the iconic character, Chadwick said: "I had already written about Black Panther in my journals as something that I wanted to do and I had written down certain things that I would like to see in a movie about Black Panther. I'd had people tell me that if there was going to be a Black Panther movie then I should be the one to play him, so when they called me it was surreal. You pray for something and then it actually occurs, you almost can't believe it."
In 2018, Chadwick delivered the commencement address at his alma mater. He quoted several Bible passages in his speech, including Jeremiah 29:11: "Sometimes, you need to feel the pain and sting of defeat to activate the real passion and purpose God has predestined inside of you. God says in Jeremiah: 'I know the plans I have for you. Plans to prosper you and not to harm you. Plans to give you hope and a future.'"
Chadwick was diagnosed with colon cancer in 2016, but kept his condition a secret while working on the most high profile roles of his career – including Black Panther. After his death, Chadwick's family revealed that he had married the singer Taylor Simone Ledward late last year (the couple had been dating since 2015).
Chadwick's final film role was playing the trumpeter Levee in Ma Rainey's Black Bottom, a biopic about the legendary blues singer Ma Rainey. The film is scheduled to be released later this year.
George Luke is a writer, radio producer and DJ