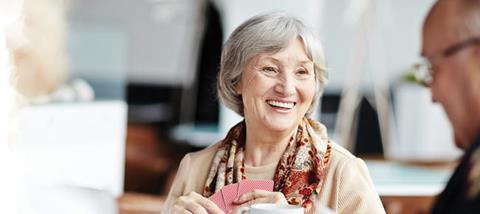 I can't be alone in viewing the prospect of getting old with some trepidation. There do seem to be some serious downsides. For example, the Campaign to End Loneliness has published some pretty horrifying figures for the UK. Two-fifths of older people say the television is their main source of company. That's 3.9 million people who lack meaningful human interaction. Seventeen per cent of older people are in contact with family, friends and neighbours less than once a week.
As we get older, loneliness seems to become an occupational hazard. Isolation has an evil twin – dementia. Memory loss, confusion and personality change are affecting thousands of people across the country.
But all is not lost – far from it. At our funny old church of St Cuthbert's North Wembley we have found great joy in creative ministry to older people. It's led to a rebirth of our church and stories of such hope that it's taken our collective breath away. And the best bit is it's so simple that it only requires a kettle, a few teabags and a quiz or two.
I've always wanted to do something about loneliness. As a teenager I remember visiting my grandmother at her flat. My visits were unannounced, but each time I arrived, she would be looking out of her window. I realised that she was looking out because she was lonely and was hoping that someone might call. But it was only when I came to St Cuthbert's as a priest two years ago that the opportunity to combat the problem of loneliness really arose. Our parish is made up of a roundabout and a housing estate. There are no pubs, shops or gathering places and we have a high number of older residents, often living alone. Our Sunday attendance figures were very low and the church was closed in the week.
It was with this in mind that we decided to start a memory café. We didn't really know what a memory café was, but we liked the idea of a café and we knew that memory issues were big news in these parts. So we printed some flyers, put the kettle on and with the help of the Alzheimer's Society developed a few memory games such as spot the difference and missing words.
I remember praying just before we opened the doors on our first week, "Lord, if just six people would turn up, that would be great." Twelve people turned up to that first café and two years later we're now welcoming up to 100 people each week.
As we grew, we added texture and colour. We now have a community choir session and seated exercise. We also invite people in to speak and do some crafts together. Practical advice is often shared. For example, older folk are very vulnerable to scams so we remind them to ignore dangerous emails and not let dodgy roofers into their homes.
What is dementia?
Dementia is the name of a group of symptoms that commonly involves problems with memory, thinking, problem-solving, language and perception. Dementia is not a disease or a natural part of ageing. The symptoms are caused by different diseases, which affect the brain, such as Alzheimer's.
We encourage gentle banter, especially when aimed at the vicar
What's formed is an unexpected explosion of cheerfulness. We do not underestimate the challenges of getting old, but for two hours every week we have fun and enjoy being together. We also encourage gentle banter, especially when aimed at the vicar.
There are so many heartwarming stories to tell. One week I met a fellow in our church car park. He told me he loved bats and was there to rescue a wounded bat that had been reported to him. I invited him to come and give a talk at the café. A few weeks later he turned up with the bat. The poor thing had lost a wing, but was a bonny fellow. We have since adopted this bat as our café mascot. After all, metaphorically speaking, many of us have lost a wing as well.
Mini-resurrections
What has surprised us is the way people use very Christian language to describe what the café means to them and the impact it is having.
Some Christians worry that we don't do overt evangelism – although we pray each week. But sometimes it is best to let God's love do the talking. About half of those who attend come from a Hindu or Sikh background. It's been so exciting to see how these communities have embraced us. It is touching to see children bringing their elderly parents and trusting us with their care and to love them. For many it's the first time they've set foot inside a church. They often now come to services here and we have formed some beautiful friendships. We feel the memory café is a testament to the glory of God and a bold statement that God loves people – whether they are Sikh, Hindu, Muslim, Buddhist or of no faith at all.
A few weeks ago a long-term member of the café said to me: "Steve, before memory café I had lost all hope. I was ill and didn't see anyone from week to week. I tended to just stay in bed. I realise that I was depressed. Before I retired I'd had an active life, but my wife died and my family live miles away. To be honest I would have gone to Switzerland and finished myself off if I could have done it. But now I have memory café, I feel I have started my life again. I would never miss a week. Goodbye depression!"
We call this one of our miniresurrections. It's intriguing the way people use the language of resurrection when speaking about the power of a healing community – which, after all, is what Church is.
How can memory games help with dementia?
• Cognitive simulation – exercising the mind and brain, helping concentration and memory through recollection.
• Encouraging social interaction – if people are forgetful and remember something or help someone else, this enhances well-being and self-esteem. • Enhancing emotionality – for example, smiling and laughing aids well-being.
• Reducing social isolation – being alone and isolated can contribute to the onset of dementia
Ministry to elders
There is a lot of work to be done in exploring the spirituality of older people and ministry with them. A while back I looked at the job adverts for priests in the Church Times to test my theory that creative ministry with the elderly is often lacking. In the week I chose there were 65 adverts for vicars. Of these, 36 asked for someone with experience and a special ministry towards young people, children and families. Some wanted creativity in relation to this demographic. But not one of the adverts asked for any specialist, creative or plain straightforward ministry towards older people. The only times elders were mentioned was in relation to doing home visits and caring for the sick.
While I've no interest in knocking churches, it needs to be clearly stated that older people are not a burden and ministry with them is not just about home visits.
The generation of older people we have are full of wisdom and playfulness. We've seen our Sunday numbers grow quite dramatically with older folk coming and playing a real part in the life of our church. This has led to a more balanced intergenerational community.
Beyond dementia
When we started our café we wondered what kind of people might come. Our association with Alzheimer's Society and our focus on memory seemed to point towards those with dementia. But it hasn't worked out that way.
Around 40 per cent of those attending have Alzheimer's. The rest are just local people – often lonely. This has led to a lovely dynamic. We don't medicalise the sessions. There are no long talks on dementia. We figure that people have lots of information already; what they want is a break from it all.
Instead we concentrate on being a mixed community – some with memory problems and some who would rather not get them.
For many older people, church used to be a part of their life but for whatever reason, they stopped coming. Some tell me that the charismatic revival left them cold. Others that they felt out of place and that some of the traditions they loved were discarded. Many stopped coming when they didn't get a visit when they were sick.
But what is clear is that many still long for God and for a church that sees them as an asset.
No rota needed
There's no reason why every church in the land couldn't set up a memory café. They are virtually free to run and easy to staff. We still run ours on five volunteers. We don't even have a rota!
As a parish priest I'm all too used to telling a person's story at their funeral. But we've decided not to wait that long and instead start listening and learning now, while people are still alive. We've started recording memories from our guests. When we listen to older people they are sometimes amazed that people are interested in them. One of our guests told me: "I had got to feel that I was pretty useless. I used to be a head teacher, but I was just invisible."
At memory café, guests become volunteers. That volunteering is a lifeline and an affirmation. As I sometimes say "there's still petrol in the tank".
Our memory café is open for two hours every Thursday, 51 weeks a year. I wouldn't miss it for the world. As one lovely Hindu told me: "I have had an operation for stomach cancer. I was told to stay indoors for six weeks. This is my first day I am allowed out and so I came again to memory café. It was looking forward to coming and seeing all my friends that kept me alive."
Memory café is part of a call to the Church to think about what it is to grow old and how we respond. My challenge is for every church to find its own creative ministry to older people. I am convinced we have only scratched the surface.
REV STEVE MORRIS is vicar at St Cuthbert's North Wembley