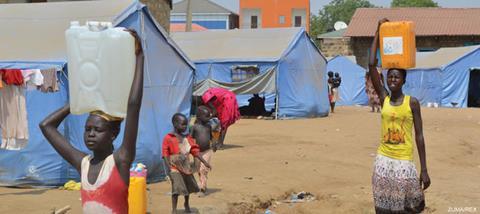 The world's newest country, which split from Sudan after a long and bitter civil war, has seen violence between different ethnic groups – notably the Dinka and Nuer tribes – following an outbreak of fighting among members of the presidential guard last December. The violence developed into a conflict between soldiers loyal to President Salva Kiir and those loyal to former vice-president Riek Machar. Both sides have committed atrocities against civilians.
In their latest pastoral statement, the ecumenical Church leaders – who have previously warned against stereotyping the conflict as a purely ethnic one – condemn the violence and outline their vision for a strategy for peace.
'We are saddened by the delay and the lack of progress in the peace talks in Addis Ababa, and we are horrified by the ongoing armed mobilisation by the conflicting parties in and outside the country,' the statement says.
'We envision a country where justice, liberty and prosperity for all shall truly reign; a country where people will live long and children will not die young and senselessly.
'The lesson from history is that the longer we wait to resolve issues, the more complicated they will become, and the suffering of people will continue.'
Among other outbreaks of violence, a massacre in Bentiu, the capital of the oil-producing Unity state, saw more than 200 people sheltering inside a mosque killed by rebel forces. Nuer men, women and children at the local hospital were killed after refusing to join other Nuer cheering the rebels.
Aid agencies, including Tearfund, Christian Aid and CAFOD, are responding to the humanitarian crisis, which has seen more than 1 million people forced from their homes and around 4.6 million in need of humanitarian assistance.
'As the rainy season rapidly approaches, we are extremely concerned about the implications for the 7 million people who are at risk of food insecurity,' said Christian Aid's senior advocacy and policy officer for East Africa, Natalia Chan.
'Many families have missed the planting season because they have been displaced by the violence, and the conflict continues to impede humanitarian access to the most vulnerable.
'Once the rainy season is upon us, two-thirds of the country will be cut off – we need immediate action now or the situation will get much worse.'