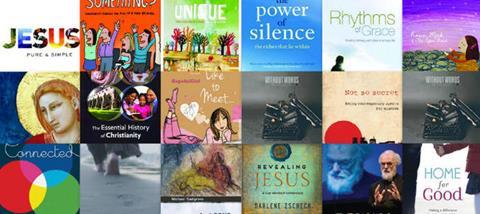 GOD OF EVERY STORY
Laura Story
Fair Trade Services
Unlike many female artists Laura Story has not been picked by a label simply for her stunning looks or brilliant voice, though she's hardly challenged in either of those areas. She began her career as a bass player for a band with whom she completed four albums. She was soon recognised as a solo talent, and left to make her first album named after the title track 'Indescribable'. She's since become associate worship leader at Perimeter Church in Atlanta. This is her fourth album, and earlier recordings have met with great success. Her song 'Blessings' reached number one on the USA Billboard Christian chart, making her one of the few female Christian artists to ever succeed there.
All these songs are piano-based with some strong melodies, and there's a beautiful honesty and guileless quality about her singing. Notable tracks include 'You Gave Your Life' and 'God Of Every Story'. Story sings not for fame or fortune but because she's passionate about Jesus. Not every song is great but I highly recommend this album. JP
SPIRIT BURN: LIVE FROM LONDON
Various Artists
Vineyard Records
This is a collaborative effort from 17 Vineyard worship leaders from across the UK and Ireland, comprised of songs that reflect a similarly broad geographical spread. The two-disc album includes 13 newly written tracks, alongside an update of Kevin Prosch's classic 'Show Your Power', and a restyling of Samuel Lane's more recent 'O My Soul'
The title track, 'Spirit Burn', written by Daniel Wheeldon and Marc James, is distinctive and musically creative, with a gutsyAmerican blues feel. It establishes the spiritual context of the album ? asking God for a fresh movement of his Spirit across the nation. This theme develops through a prayerful collection of songs. Tracks such as 'My Soul Finds Rest' and 'The Light' have simple melodies that will no doubt become part of the soundtrack to our private and corporate worship.
The whole album benefits from the relaxed atmosphere of a live recording ? giving space for music and prayer to merge. There are few tracks that really stand out from the crowd, but as a whole it's an enjoyable collection. LBJ
3 SONGS TO CHEER YOU UP IN THE NEW YEAR
BY LUKE HELLEBRONTH
LIGHT IT UP - ONEREPUBLIC
I love [lead singer] Ryan Tedder's voice and songwriting on this track. It's a great arrangement.
THIS IS AMAZING GRACE - PHIL WICKHAM
Great, upbeat song with such truth in it.
MIRRORS - JUSTIN TIMBERLAKE
Perhaps a bit of a surprising choice, but again the songwriting is great, and I love the vibe of this song.
Luke Hellebronth is part of Worship Central and leads worship at HTB. His debut album Stand Up is out now
REVIEWERS:
LC - LUCINDA BORKETT-JONES ? deputy editor at Christianity
ABP - AMY BOUCHER PYE ? writer, speaker and editor
KK - KRISH KANDIAH ? executive director: churches in mission, Evangelical Alliance
TL - TONY LANE ? professor of historical theology, London School of Theology
JP - JOHN PANTRY ? head of music at Premier Christian Radio
RV - RUTH VALERIO ? theology director for A Rocha UK
WVDH - WILL VAN DER HART ? vicar of St Peter's Church, West Harrow