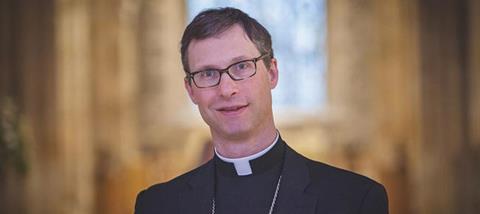 Rt Revd Philip North said the decision to refuse the nomination was made "with regret and sadness" but he believed his arrival "would not be acceptable to many" and be "counterproductive" for local mission.
Bishop Philip's traditional views on female ordination have put him at odds with others within the Church of England. The Anglican Church agreed to the "mutual flourishing" of clergy on both sides of the debate when the vote to allow female bishops took place in 2014.
However, Bishop Philip had been under pressure to decline the nomination after Martyn Percy, the dean of Christ Church, Oxford wrote that the appointment would "cause significant pastoral and public damage Philip North declines Sheffield role after controversy over women priests to the church".
In a statement Bishop Philip said: "The highly individualised nature of the attacks upon me have been extremely hard to bear. "If, as Christians, we cannot relate to each other within the bounds of love, how can we possibly presume to transform a nation in the name of Christ?"
Canon Emma Percy, the chair of campaigning group Women and the Church (WATCH) which opposed Bishop North's nomination, said: "We have always been clear that this is a theological debate and not personal, yet we know that this is not always how comments are heard…We are sad that it has happened this way."
Bishop of Doncaster, Rt Revd Peter Burrows said he was "deeply and personally saddened" by the news. He said: "This has clearly been a difficult and painful journey for the Diocese over the past few weeks as it has also been for Bishop Philip. "There will be much to reflect on and there will be time to consider what lessons may be learned over the coming weeks and months."
A Church of England spokesperson previously stated North was "in favour of women's leadership and would actively promote it". Downing Street said that Archbishop of York, Dr John Sentamu will "in due course submit the name of an alternative candidate for this diocese".
In 2012 North stepped aside from his appointment as Bishop of Whitby after similar protests.
Writing on the Premier Christianity blog, Jules Middleton, a curate in Lewes, Sussex said, "Here in the Diocese of Chichester our diocesan Bishop Martin Warner, does not ordain women as Priests and yet I can honestly say that I have never felt unsupported by him. In fact the complete opposite…So, it is more than possible to take a considered theological viewpoint and yet act in a way that both allows for and encourages other views…Bishop Martin, Bishop Philip and others have shown that there is a way to hold a deep theological view and yet work towards the support and encouragement of all, with grace.
"I, as an ordained woman want to publicly say that I am appalled at the way Bishop Philip has been treated and sad that he has felt the need to step aside, which can only be due to the recent and public objections – how is this in any way enabling mutual flourishing?"