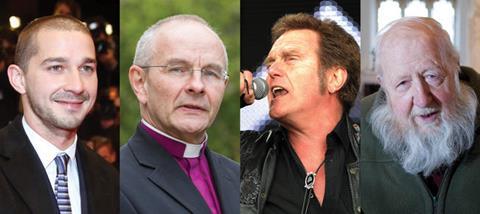 FURY ROLE LEADS LABEOUF TO CHRIST
Jewish-born actor Shia LaBeouf has reportedly converted to Christianity, having 'found God' while playing a devoted Christian in his latest film, Fury. He says Fury director David Ayer and co-star Brad Pitt helped him through the conversion process.
GLAM ROCKER ALVIN STARDUST DIES
Alvin Stardust, known as the 'Godfather of British Rock 'n' Roll', has died aged 72. The committed Christian was recently diagnosed with metastatic prostate cancer. He died at home with his wife and family around him.
BISHOP OFFERS SPARE ROOM TO HOMELESS
Bishop of Jarrow Mark Bryant is encouraging Christians to join him in offering spare rooms to the homeless through Depaul UK's Nightstop scheme. Last year the scheme provided almost 12,000 beds for the night.
PENSIONER SAVES ANCIENT CHURCH
Bob Davey, 85, has spent more than 20 years restoring St Mary's in Houghton on the Hill, Norfolk, amid death threats from Satanists who were previously using the building. 'If you want a good retirement, take on a ruined church. You'll never look back,' he said.
Click here to receive your free copy of Premier Christianity magazine.