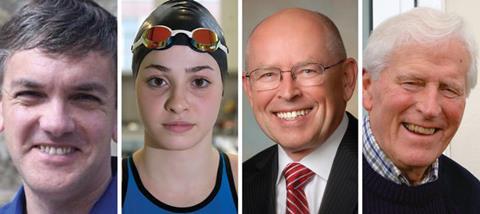 HARCOURT TO LEAD NEW WINE
Rev Paul Harcourt has been appointed as the national leader of New Wine. He will begin the role in October and will remain vicar of All Saints' Woodford Wells in London. His appointment comes after his predecessor, Rev Mark Bailey, stepped down following an affair.
REFUGEE SWIMMER WINS IN RIO
Syrian refugee Yusra Mardini, 18, has won her heat in the 100-metre butterfly at the Olympics in Rio. After fleeing Damascus, the Christian swam for three-and-a-half hours, pulling a broken boat and its 20 passengers to the island of Lesbos.
GRUDEM BACKS TRUMP
Prominent evangelical theologian Wayne Grudem has said voting for Donald Trump to be US President would be a 'morally good' choice for Christians. He called Trump 'egotistical, bombastic, and brash', but argued that he is a 'good candidate with flaws'.
REV JIM GRAHAM DIES
Former president of Youth for Christ, Rev Jim Graham, has died. In a statement, his family said: 'His death leaves a great chasm in our lives but we are deeply comforted by the reality that he is… more alive and more fully himself than he has ever been.'