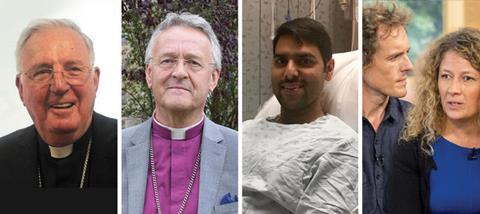 CARDINAL CORMACK LAID TO REST
The former Archbishop of Westminster Cardinal Cormac Murphy-O'Connor, 85 has died after a battle with cancer. He was laid to rest within Westminster Cathedral following a Requiem Mass, which was attended by more than 1,000 people
NEW ARCHBISHOP OF WALES
John Davies, the current Bishop of Swansea and Brecon, has been elected as the next Archbishop of Wales, succeeding Dr Barry Morgan. The selection of Archbishop John marks the first time a bishop from his diocese has been chosen.
CHILDREN PULLED FROM SCHOOL OVER TRANSGENDER PUPIL
A Christian couple have removed their two sons from school after their 6-year-old said there was a boy in his class who wore a dress. Nigel and Sally Rowe have decided to homeschool their children.
NABEEL QURESHI FACES TERMINAL DIAGNOSIS
Prominent Christian convert Nabeel Qureshi has entered the final stages of palliative care following medical advice that no more can be done to treat his advanced stomach cancer.