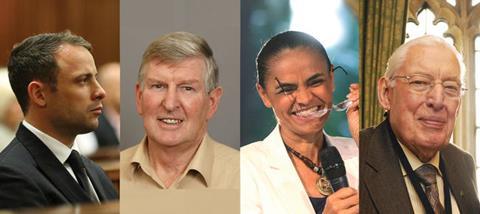 PISTORIUS PRAYS AFTER GUILTY VERDICT

South African athlete Oscar Pistorius prayed with sister Aimee shortly after he was found guilty of culpable homicide on 12th September. He shot dead girlfriend Reeva Steenkamp, a model, in February. He will be sentenced on 13th October.

CHRISTIAN RUNS FOR BRAZILIAN PRESIDENCY

Evangelical Christian Marina Silva has been confirmed as the next Brazilian Socialist Party's presidential candidate. The environmentalist was put forward after previous candidate Eduardo Campos died in a plane crash.

VICTOR'S HALF CENTURY OF SERVICE

Suffolk-based evangelist Victor Jack is celebrating 50 years of service with Christian charity Counties. Victor has been involved in pioneer evangelism and Bible teaching since August 1964.

REV IAN PAISLEY DIES

Founding member of the Free Presbyterian Church of Ulster Rev Dr Ian Paisley has died aged 88. Wife Eileen said the family was 'heartbroken' but hopes for a 'grand reunion'.
Click here to receive your free copy of Premier Christianity magazine.