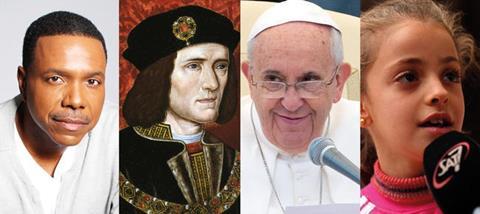 DOLLAR'S MILLIONS
Atlanta-based megachurch pastor Creflo Dollar appealed online for 200,000 people to donate $300 so he could buy a private jet worth $65m. When news of the appeal spread, criticism of the prosperity preacher grew and Dollar cancelled his campaign.
RETURN OF THE KING
Fifteenth-century monarch Richard III has been reinterred at Leicester Cathedral. Three days before the burial, Cardinal Vincent Nichols celebrated mass for the repose of the soul, wearing an ancient vestment believed to be from Richard III's royal wardrobe.
RESIST THE MAFIA
Pope Francis has urged young people in Italy to resist crime's lure of 'easy earnings'. He said young people must hold on to hope and not be taken into a life of crime by local 'dons'. The Pope also called on the Mafia to abandon its criminal ways and turn to God.
IRAQI GIRL FORGIVES ISIS
Myriam, 10, from Mosul has said she asks God to forgive Isis. Despite her family losing their home, Myriam told TV channel Sat-7: 'God loves us, and wouldn't let Isis kill us. I won't do anything to them [Isis]. I will only ask God to forgive them.'