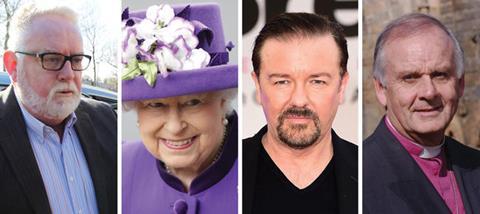 'Incredible' move of God is happening says Welby
The Archbishop of Canterbury Justin Welby has said a "bizarre and incredible" move of the Spirit is happening. Justin Welby was speaking at the 2017 launch of the global prayer movement 'Thy Kingdom Come' which encourages Christians to pray between Ascension and Pentecost (25th May–4th June) for the Holy Spirit to aid Christian evangelism. Large-scale events will be held at cathedrals and individuals are being encouraged to commit to praying by signing up online at thykingdomcome. global and downloading free resources. He said the project was "not an Anglican thing, it's not a Church of England thing, it's certainly not an Archbishop thing. It's a God thing".
The month in figures
Seven per cent of Catholic priests in Australia have been accused of sexual abuse between 1950 and 2010. An inquiry found that children from more than 1,000 Catholic institutions have reported sexual abuse.
Muslim pupils now outnumber Christians at over 30 UK Church schools. The Church of England says around 20 of its schools have a majority of Muslim pupils.
Christian farmers are urging us to limit how much fresh produce we import from abroad. Morrisons is limiting customers to two lettuces and three heads of broccoli each.
Over 2,400 people gathered in and around St Paul's Cathedral to bid farewell to the 132nd Bishop of London, the Right Reverend Richard Chartres after 21 years in the post.
New Bishop of Sheffield announced
Rt Rev Philip North has been made the new Bishop of Sheffield. He will take over from Rt Rev Steven Croft who has moved to the Diocese of Oxford. The appointment of the traditionalist Anglo-Catholic will be of interest to many in the Church due to his opposition to the appointment of women as priests. He said: "I am both excited and challenged by the prospect of succeeding Bishop Steven. "I will enjoy...ensuring that all the people in this area know that they can find a warm welcome...in their local church." Bishop North will be installed at Sheffield Cathedral in June.
People in the news
The Queen is an Evangelist
Royal biographer Catherine Butcher has hailed Queen Elizabeth as the "best female evangelist" Britain has ever seen. Butcher said that Her Majesty is "very clear in speaking about her personal faith".
Archbishop of Wales retires
Dr Barry Morgan has retired from his role as Archbishop of Wales. He has served in the position for nearly 14 years and is the longest serving archbishop in the worldwide Anglican Communion.
Crystal Methodist removed
Disgraced former Co-operative Bank boss Paul Flowers has been removed from the list of ministers of the Methodist Church. The 66-yearold was suspended by the church in 2013 for possessing illegal drugs.
Gervais & God
A video of Ricky Gervais being challenged on his atheism during a US television chat show has gone viral. For a response from David Robertson see premierchristianity.com/blog